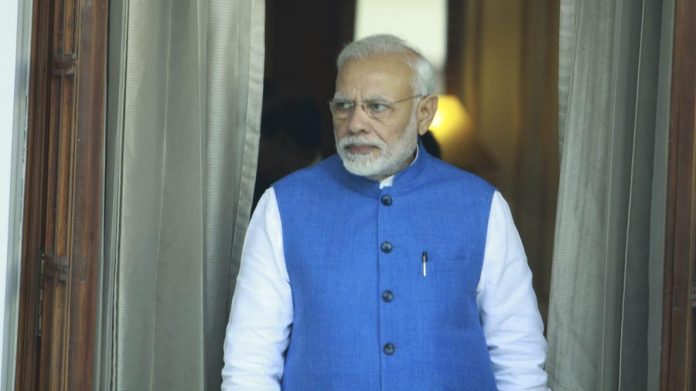 Text Size:
Modi is moderating his approach towards an 'equidistant' Patnaik, but BJP's state unit wants pointed attacks ahead of assembly polls.
New Delhi: With the Bharatiya Janata Party (BJP) consistently losing allies and unable to attract new ones, Prime Minister Narendra Modi has decided to adopt a more moderate approach towards Biju Janata Dal (BJD)'s Naveen Patnaik. But his party's Odisha unit isn't too happy with this.
In his frequent public meetings in Odisha, Modi has changed his policy towards Patnaik from direct, stinging attacks to more muted criticism of his government, without mentioning his name.
Highly placed sources in the party said this has been a deliberate and calibrated shift, given the BJP high command "does not want to antagonise a relatively neutral" Patnaik.
However, sources in the BJP's Odisha state unit say they are "unhappy" with this move and concerned about it, considering they were hoping to build the party's electoral base there ahead of next year's assembly polls based on a strong anti-BJD strategy.
Shifting approach
In his more recent rallies in Odisha, Modi has gone relatively easy on Patnaik.
At a rally in Baripada last week, Modi said, "Ayushmaan Bharat has revolutionised our health sector and is being widely praised all over. It has enabled a healthier life for the poor and downtrodden."
"I once again appeal to the Odisha government to be a part of this scheme. They should forget politics and think of the poor," he said.
While he did condemn the BJD government, he steered clear of naming Patnaik.
Similarly, in a 35-minute-long speech at a political rally in Khurda late December, Modi toed the same line. "States even weaker than Odisha have moved ahead. Why is that so? Why is Odisha not moving?
"From chit fund to PC (percentage commission) culture, the demon of corruption has become so powerful here… Today people of Odisha are asking why Odisha has not accepted Pradhan Mantri Jan Arogya Yojana," he said, slamming the government but with no direct reference to the chief minister.
However, just three months ago, it was a different Modi in Odisha, as he directly took on Patnaik in public meetings in Talcher and Jharsuguda.
"Everyone is aware of the importance of Ayushman Bharat scheme, but Naveen babu does not understand. Odisha government should come forward and join the programme," he had said while talking about the culture of "percentage commission" in the state.
"Once again, I publicly urge Naveen babu to link people of the state with Ayushman Bharat health insurance scheme," he had said.
"I had told Naveen ji about the importance of swachhata and I once again request him to give cleanliness due importance," Modi had said.
---
Also read: BJP's 'friend' Naveen Patnaik turns up the heat on govt as BJD plans rally in Delhi
---
BJD's 'equidistant' policy
On his part, Patnaik has maintained his party would remain "equidistant" from both Congress and BJP. He has refrained from attending any Congress-led opposition meet and has kept his cards very close to his chest.
However, he is now upping the ante against Modi. On Tuesday, he accused Modi of betraying farmers as he led led a farmer protest in the national capital.
BJP sources say despite his stance, Patnaik's move of staying away from any overt friendship with the Congress — unlike other opposition parties — has prompted the BJP top leadership to reorient its strategy towards him, especially since the Odisha chief minister has supported the BJP government at the Centre on some occasions.
For instance, the BJD walked out of Parliament before the no-trust vote against the Modi government last year, seen as a tacit support to the Centre. It had also backed NDA's candidate Ram Nath Kovind during the presidential elections.
BJP's 'unhappy' state unit
The prime minister's diminishing aggression towards Patnaik has left the BJP's state unit displeased.
In Odisha, assembly elections are due along with the Lok Sabha polls and the BJP is trying to model itself as the principal opposition party. For this, the party's state leaders and workers feel it is imperative to aggressively take on Patnaik and attack him directly, given he has ruled the state for nearly two decades now.
Sources in the Odisha BJP say they feel "Modi holding rallies in the state but not raising the pitch against Patnaik is a wasted opportunity".
"The PM is known for his sharp and effective attacks on his rivals. When he says something, the message goes down right to the cadre and voters," said an Odisha BJP leader who did not wish to be named.
"But by toning that down as far as Naveen babu is concerned and choosing not to name him in recent rallies, we are sending out a message that he isn't a key enemy. We cannot afford this just months ahead of assembly polls," said the leader.
Leaders in Delhi, however, believe the top command has to walk the tightrope — between aggressively building its base in the state and maintaining a more toned-down approach towards a relatively neutral force.
---
Also read: The writing on the wall is clear: Welcome 2019, goodbye, Narendra Modi
---
Read Global Pulse for a sampler of the big international stories, and why they matter.