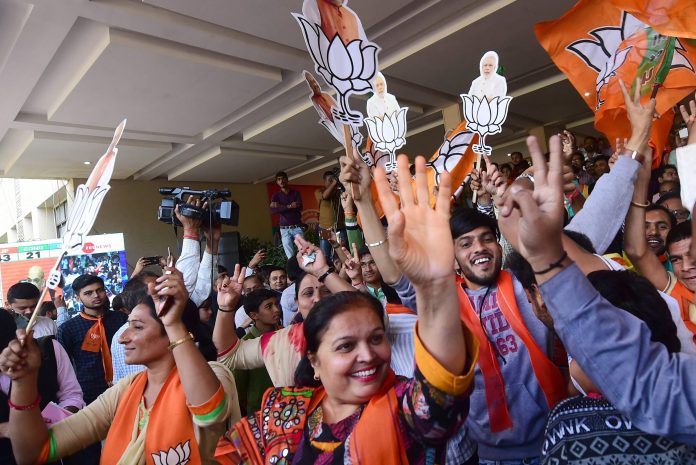 Text Size:
GST, note ban and Patidar agitation did not have a major impact on urban voters, who have traditionally backed BJP.
New Delhi: The BJP has clearly maintained its grip over urban Gujarat, with the party nearly sweeping the key urban pockets of the state and leading/winning in 16 of 21 seats in Ahmedabad, 15 of 16 in Surat and six of eight in Rajkot.
Surat, where the BJP had won all 16 seats in 2012, has come as the biggest surprise. Being the hub of the anti-GST protests led by the textile and diamond industries here, as well as given the Patidar agitation, the opposition had thought it would be a vulnerable spot for the BJP.
Evidently, however, the traders and the business community have thrown their weight behind the BJP. In its report from Surat, ThePrint had found there was anger over GST, with businesses still to recover from the effects of the new tax regime. But the business community had also clearly indicated its support for the BJP for what it said was the "lack of an alternative".
Young MLA Harsh Sanghavi who emerged victorious by over 85,000 votes from Majura, Surat, has been a big winner.
Rajkot has also been a significant victory for the BJP, lifting its numbers in Saurashtra where it has otherwise faced reverses. The BJP managed to withstand the Patidar anger in the district, giving chief minister Vijay Rupani a comfortable win with a nearly 54,000-votes margin from Rajkot West.
While the Patidar rebellion may have played out in bits, it seems clear that urban Gujarat was not affected by it. Demonetisation and GST, both tough decisions that could have put the BJP at risk, do not seem to have mattered as much as expected.
The BJP will find solace in the fact that two of its key bases—the urban voters and the business community—still stand firmly behind it, and that Prime Minister Narendra Modi continues to remain very popular among them.
Check out My543, our comprehensive report card of all Lok Sabha MPs.