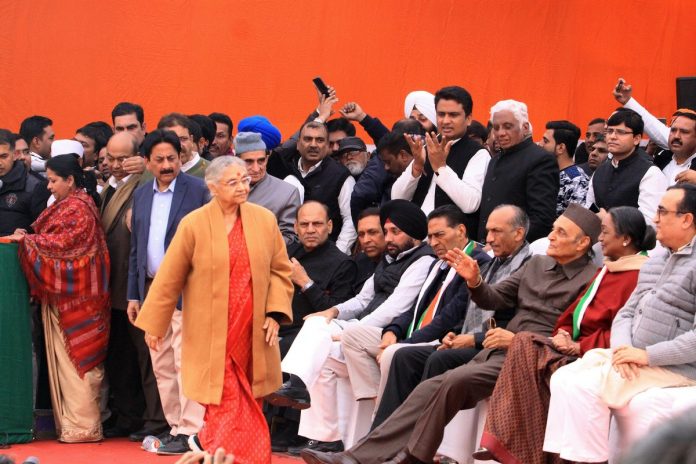 Text Size:
New Delhi: Three-time Delhi chief minister Sheila Dikshit and former state unit chief Ajay Maken are among the six Lok Sabha candidates that the Congress announced for Delhi Monday morning.
The Congress, which had been holding talks with the Aam Aadmi Party (AAP) for a possible alliance in the national capital, has now decided to go solo.
It has decided to field Delhi Pradesh Congress in-charge and former chief minister Sheila Dikshit from the North East Delhi constituency, Mahabal Mishra from West Delhi, Arvinder Singh Lovely from East Delhi, Ajay Maken from New Delhi, Jai Prakash Agarwal from Chandni Chowk and Rajesh Lilothia from North West Delhi.
However, the party hasn't announced a candidate from the South Delhi constituency.
In North East Delhi, Sheila Dikshit has been pitted against her BJP counterpart, state unit chief Manoj Tiwari, and  AAP's Dilip Pandey.
All the seven Lok Sabha seats in Delhi are held by the BJP. The national capital votes on 12 May.
---
Also read: Congress announces 9th list for Lok Sabha polls, Karti Chidambaram to fight from Sivaganga
---
Congress going solo as it didn't want an alliance with AAP in Haryana
The talks between the Congress and AAP fell through over seat-sharing arrangements inHaryana.
"We had a dialogue with Arvind Kejriwal and it was decided that an alliance for Delhi will be held and seats were also decided," P.C. Chacko, the senior Congress leader in-charge of Delhi, had told ThePrint Friday. "But later on, AAP leaders mentioned that they wanted an alliance in other states like Haryana, Punjab etc. We are not in favour of that."
"If AAP is ready to ally only in Delhi, then we will go ahead but apart from that, we don't want an alliance," Chacko had told ThePrint.
Even as a number of senior Congress leaders including party president Rahul Gandhi had favoured an alliance with AAP, the party's state unit was against it and Dikshit had opposed the move vehemently in the past too. On Saturday, AAP leaders once again maintained that the alliance seemed unlikely as the Congress did not want an alliance in Haryana.
---
Also read: Congress wants to field Sheila Dikshit from East Delhi, readies list as talks go on with AAP
---
Get the PrintEssential to make sense of the day's key developments