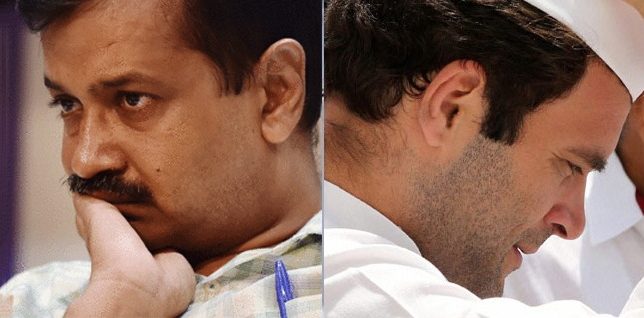 Text Size:
New Delhi: The Congress has finalised its list of Delhi candidates for the Lok Sabha elections even as it continues to hold parleys with the Aam Admi Party (AAP) for a possible alliance in the national capital. The list is likely to get a go-ahead from Congress president Rahul Gandhi Saturday.
Sources said the party will retain the candidates it fielded in the 2014 Lok Sabha elections except in the East Delhi constituency, where it is keen on fielding three-time Delhi chief minister and the Congress' state unit chief, Sheila Dikshit.
Her son, Sandeep Dikshit, had contested for the party in the constituency in 2014 but he has already indicated that he is not interested in being in the poll fray again.
Sources said that Sheila Dikshit's name has been included in the list as the Congress wants to provide stiff competition to the Bhartiya Janata Party (BJP), which holds all the seven seats in the capital.
A senior Congress leader told ThePrint that the Congress would go through with its list if its attempt at an alliance with AAP collapses.
"We had a dialogue with Arvind Kejriwal and it was decided that an alliance for Delhi will be held and seats were also decided," said P.C. Chacko, the senior Congress leader incharge of Delhi. "But later on, AAP leaders mentioned that they wanted an alliance in other states like Haryana, Punjab etc. We are not in favour of that."
He further said that a list of Delhi candidates has been prepared and sent to Congress president Rahul Gandhi for approval.
"If AAP is ready to ally only in Delhi, then we will go ahead but apart from that, we don't want an alliance," Chacko told ThePrint. "We will hopefully release our tomorrow."
---
Also read: Tie-up with Congress is all that Arvind Kejriwal needs to declare AAP's moral death
---
Alliance still a possibility
Neither AAP nor the Congress has so far clarified on whether an alliance will be formed in the national capital.
On Friday, however, AAP's Delhi secretary Gopal Rai said the party was offering the Congress another chance to forge a tie-up for the elections. He said the party was, therefore, delaying filing nominations.
AAP's East Delhi candidate Atishi, Chandni Chowk candidate Pankaj Gupta, and North-West Delhi candidate Gugan Singh were to file their nominations Saturday, 20 April. The nominations are now expected to be filed on Monday, 22 April. The last day to file nominations is 23 April.
"There is a lot of pressure on us to ally, especially from civil society," a source in AAP told ThePrint. "The Congress has sent feelers that it too wants an alliance. If the nominations are filed tomorrow, there would be no possibility of talks, so we have hit the pause button for now."
The AAP source, however, asserted that the Congress' earlier offer of 4-3 in favour of AAP won't work. "There will be no alliance only in Delhi," the source said. "We want a stake in Haryana too."
---
Also read: Congress willing to ally in Delhi, but AAP wants Punjab, Haryana & Goa too
---
Check out My543, our comprehensive report card of all Lok Sabha MPs.