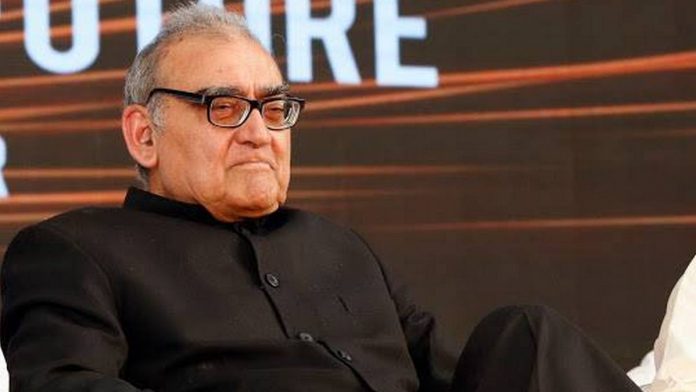 Text Size:
Prime Time
The numbers game over the airstrike continued Tuesday, with the government refusing to confirm 250 terrorists killed at Balakot — as claimed by Bharatiya Janata Party (BJP) president Amit Shah.
During CNN News18 debate, "Is anti-terror airstrikes, Modi's biggest 2019 trump card?", CPI leader Dinesh Varshney also disputed the number: "There's satellite imagery and carbon D-13; a world-famous lab has revealed that there were no casualties in the area where the bombs were dropped," he said,
By evening, the focus shifted to Pakistan's detention of 44 terrorists, including Masood Azhar's brother and son.
Zee News anchor Sudhir Chaudhary outlined how Pakistan had been forced to act under overwhelming "pressure".
He then claimed Pakistan was badly hit by the Balakot air strike: "2,700 flights have been cancelled, tomato (prices) have reached Rs. 150 per kg, Pakistan's stock market 5 to 6 per cent. Also, Pakistan might arrest terrorist organisations."
India TV's Rajat Sharma, however, was unimpressed by Pakistan's move: he agreed with WION TV that the move was merely "cosmetic" and done under world pressure. He cited the example of Hafiz Saeed after the 26/11 Mumbai terror attack and argued that the terrorists "will be freed".
He then claimed that the Pakistani security forces would be absorbed the disbanded terrorists — this was based on a tweet by Pakistani journalist Hamid Mir.
Several News channels like Times Now asked if BJP "was making political capital" out of Balakot: "… are you milking this" for the elections, Times Now anchor Rahul Shivshankar asked BJP's Gaurav Bhatia.
On Republic TV anchor Arnab Goswami wanted to know what was wrong with saying "Jai Hind" on Air India flights.
Retd. Major General G.D. Bakshi said was perplexed: "First they (critics) had a problem with 'Vande Mataram' and now there's a problem with 'Jai Hind'. What is wrong with saying it?"
Political analyst Ashok Bharti recalled, "In our generation for the attendance-call in schools, we used to say 'Jai Hind'."
Pakistan TV
In a discussion on Pakistan's Geo NEWS on whether Narendra Modi's statement " Main zyada intezaar nai kar sakta … Hum ghar main ghus ke marenge" defuses tension or increases the risk of war", former Chairman of Press Council of India Markandey Katju assured everyone, " No war is taking place, both the countries are nuclear powers and we both are poor countries- war is not going to anyone."
He went on to call Pakistan PM a "scholar and his speech should be circulated worldwide" and "he deserves the Nobel Prize."
Front Page
The morning newspapers are lightweight this morning, with fewer advertisements from central and state governments –in the Delhi edition, particularly from Aam Aadmi Party (AAP).
And while the fallout of the Pulwama attack continues to dominate the front pages, US President Donald Trump makes an appearance — for the wrong reasons as far as India is concerned with his proposal to remove India as a beneficiary of its trade concessions under the Generalised System of Preferences (GSP).
Pakistan's detention of Masood Azhar's son and brother is big news on Page 1. But with varying interpretations of the move.
The Times of India thinks it is due to "pressure from the global community to rein in terror outfits operating from its soil in the wake of the Pulwama attack", and it warns, "…Masood Azhar himself continues to be a free bird".
The Indian Express thinks Islamabad is "sending signals of a rethink".
Hindustan Times quotes Pakistan's minister of state interior and the interior secretary as saying, "…the move was aimed at securing Pakistan's future".
"In New Delhi, sources looked at the developments with some "caution" and said similar action had been taken in the past without yielding results," explains Express.
It also claims that according to Indian "sources", "military action is over for now and the focus is on fighting the terror infrastructure in Pakistan".
SC and 6 convicts
Common to most front pages is the Supreme Court reversing its death row sentence for 6 men accused of rape and murder.
The Hindu calls it a "volte-face", while TOI, Express, and HT emphasise how rare the judgment is — "the first ever such instance" of judicial reversal writes TOI.
Congress-AAP
"On a day that began with strong speculation of a "gathbandhan" finally taking shape in the capital, Congress scotched all such talk Tuesday evening and said it wouldn't have an alliance with AAP for the LS polls," writes TOI.
Express analysis suggests, "This is symptomatic of the challenges the Congress faces in forging an Opposition alliance against the BJP for the Lok Sabha polls. While the inter-party disagreement has stalled Opposition unity in Uttar Pradesh, dissent within the party has blocked an alliance against the BJP in Delhi."
The Hindu on Rafale-Exclusive
As the dust on Pulwama begins to settle, The Hindu returns to its series on Rafale, this one titled, "No bank guarantees meant a more expensive new Rafale deal."
From official documents accessed by the paper, Hindu's chairman N. Ram finds, "The final offer of 7878.98 M€ (excluding additional mandatory weapons supplies of 10.55 M€) is 327.89 M€ lower than the aligned cost of 8205.87 M€…without taking into account the impact of BG [Bank Guarantees]"
"The INT report reveals that the Indian negotiators repeatedly pressed the French side to provide bank guarantees," says the report. No bank guarantees were eventually given.
Opinion
The withdrawal of trade concessions to India by US was topmost in editorial comment.
Oddly, TOI and its sister publication, Economic Times ignore it on in their edits.
Business Standard's "Trade Error," says the withdrawal of GSP is "disturbing" for Indian exporters — it's "serious setback for Indo-US trade ties" as many exports have a "wafer thin" competitive advantage. It singles out the impact on chemicals and engineering sectors — precisely the export areas "India needs to grow" to create "sustainable jobs". India ought to have been "more proactive" given the "flux" in trading networks, it concludes.
Hindu in "Life without GSP" observes the decision stems "from complaints by American medical and dairy industries" which say India isn't providing "equitable" access to its markets. In addition, India's policies on data localisation and FDI in e-commerce have hurt US companies like Amazon and Walmart. Thus, the GSP review is not as "a surprise".
HT in "Headwinds for India-US trade," backgrounds the GPS review, saying India, the "biggest beneficiary" under the programme, had "adequate warning" of such a move — "Trump is a hawk when it comes to trade," it writes.
What can India do? With elections due, the government will have little interest in "hammering out a trade deal with the US" so it's a task for the new government, it writes.
Hindi dailies
Dainik Jagran and Bhaskar highlight Pakistan's action against banned organizations with Bhaskar adding the rider that India feels it's only meant to show the world it is tightening the noose around extremist forces, under international pressure.
Unusually, Bhaskar leads with an interview of investment expert Ruchir Sharma on his book about the elections. Sharma says after incidents such as Pulwama and Balakot, people usually stand behind their governments so Modi can be challenged only if a strong Mahagathbandhan is formed.
Amar Ujala leads with " Sheila boli AAP se koi gathbandhan nahi," on the failure of an alliance Aam Admi Party and Congress in Delhi.
Ujala also carries a report on the naval chief, Admiral Sunil Lamba saying is a terror threat now emanates from the seas. The newpaper also reports Pakistan claims of stopping an Indian submarine is false.
Tweet of the day
Which wonderland do these sources live in? Despite Pakistan's gesture of returning WC Abhinandan, seems like the war propaganda is being forced down everyones throat. https://t.co/oqrLK4tnUI

— Mehbooba Mufti (@MehboobaMufti) March 5, 2019
Check out My543, our comprehensive report card of all Lok Sabha MPs.