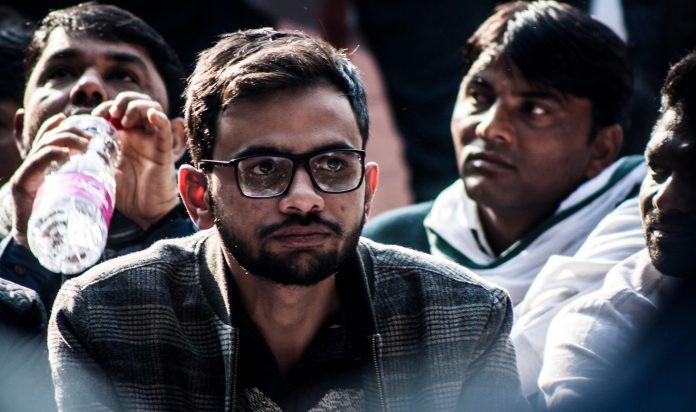 Text Size:
Front Page
Today's newspapers appear to live in a time warp: Jawaharlal Nehru University's Kanhaiya Kumar, Umar Khalid, and Anirban Bhattacharya — who have since moved on with their lives — are back in the news. They have been charged with sedition for alleged comments made on February 9, 2016,  "three years after they allegedly raised "anti-India" slogans at an event at the university" (Hindustan Times).
The Times of India boasts of being "the first to report, in Monday's edition, that a chargesheet would be filed in a court on Monday", but fights shy, today, of the word "sedition" in its headline, "2016 JNU protests were outcome of a well-planned conspiracy: Chargesheet".
Surprisingly, The Indian Express has no page 1 report on the case — perhaps because of two rather large advertisements?
In a grave matter like sedition, the evidence, needs to be assessed, carefully. However, the newspapers choose exhaustive, even exhausting, detailed coverage of the Delhi Police chargesheet instead: "the investigation into the JNU sedition case can be called one of the most exhaustive probes conducted by Special Cell in recent years," writes TOI, in "When sleuths turned college-goers".
The Hindu in "Sedition law a tool against free speech?", does provide substance to the reporting with an analysis of the "case … (that) hinges on a single factor: that is, whether the acts of the university students…. amounted to subversion of the government…"
The Hindu, also writes an edit on the subject. In "Sedition, again" it addresses sedition charges against three in Assam which could apply equally to the JNU case: "Unless there is actual incitement to take up arms or resort to violence, even demands that go against the legal or constitutional scheme of things would not amount to sedition."
In politics, "K'taka govt, BJP accuse each other of trying to poach MLAs" reads HT's headline, The Hindu goes with "BJP sequesters Karnataka MLAs in hotel near Delhi". It follows up with a rather baffling first paragraph: "BJP MLAs from Karnataka, 101 out of a total of 104, were being sequestered…with allegations of poaching of MLAs from both sides, the Congress-Janata Dal (S) and the BJP, raising the political temperature in Bengaluru."
Confusing? So is most of the reporting — no one really seems to know what is going on.
"Bulandshahr: NSA against 3 held for cow slaughter" finds a single column space on page 1 of Express and Hindu. However, The Telegraph from Kolkata leads with it — and that too strongly.
It says the three "have been slapped with the National Security Act to ensure they are denied bail". Meanwhile, a main accused in the incitement of violence, Yogesh Raj, features on posters "extending Makar Sankranti and Republic Day greetings" on behalf of the Vishwa Hindu Parishad and Bajrang Dal.
On the edit pages, Abhinav Kumar, "an IPS officer serving in Kashmir", writes a strongly worded piece, "Propaganda in an exit" (Express). He takes on IAS topper Shah Faesal, who resigned from service last week, citing the unabated violence in Jammu and Kashmir and government indifference as reasons for his resignation.
Kumar writes that on Kashmir, Faesal "pays homage to a narrative that is at considerable variance with both facts on the ground and sentiment of the majority of liberal, secular India, outside Kashmir…"
His comments are likely to stoke controversy given Faesal's popularity among liberals.
Prime Time
The sedition case against Kanhaiya Kumar and others, Monday, saw Zee News in a combative mood. The channel has taken a very strong line against Kumar since the  February 2016. Now, one of its videos has been included in the Delhi Police chargesheet.
At the time, the channel had aired a "Pakistan Zindabad" video that was later said to be fake.
On Monday, anchor Sudhir Chaudhary chose to politicise the chargesheet. He played clips of Congress president Rahul Gandhi speaking in support of Kumar, three years ago. Chaudhary also claimed that Congress leader Shashi Tharoor had compared Kumar with freedom fighter Bhagat Singh.
Republic TV's 10 pm debate tackled the sedition case, too. Anchor Arnab Goswami alleged that "some media groups, NGOs" in order to protect Kumar and the others, had "tried to change the line of Bharat tere tukre honge, Inshallah Inshallah" heard at the event.
Goswami attacked the Congress in the earlier 9 pm debate. How will Congress run a 20-party coalition at the Centre when it is not able to run Karnataka with just two parties, he demanded. This is a reference to alleged attempts at MLA-trading in Karnataka.
Since Congress spokespersons don't appear on Republic TV, NCP spokesperson Sanjay Tatkare had to speak on its behalf: the BJP had grown "so restless in 200 days out of power, that by hook or crook'' it wanted to capture power, he said.
Aaj Tak anchor Rohit Sardana was also after the Congress, this time in Uttar Pradesh: had the Congress's popularity fallen so low that SP-BSP did not consult it on their seat-sharing formula, he asked.
Unwilling to comment on potential allies, Congress spokesperson Priyanka Chaturvedi simply said the party would contest all 80 seats from UP in the Lok Sabha and defeat those wooing voters on the basis of caste and religion.
Senior journalist Sharat Pradhan had the last word: "The day when Congress refused to share seats with BSP in the elections of the Hindi heartland states, everything became clear. Mayawati had then decided not to allow Congress to be a part of the Uttar Pradesh alliance."
For the second time in as many months India Today's Rajdeep Sardesai interviewed Meghalaya chief minister Conrad Sangma on the 15 miners trapped in a rathole mine. Was there any hope for them 32 days after the accident, Sardesai asked.
Sangma said the chances of survival were negligible now. "We are looking at a very bleak situation. Even if we are able to retrieve the bodies of the individuals it will be a kind of consolation."
Rat-hole mining became illegal only after 2014: Meghalaya CM @ConradSangma to @sardesairajdeep
Watch the full interview on #NewsToday – https://t.co/C1ZdLAXTdr pic.twitter.com/LiZm7OJ4a5

— India Today (@IndiaToday) January 14, 2019
Tweets of the day
मोदी जी से हमने 15 लाख, रोज़गार और अच्छे दिन माँगे थे, देश के अच्छे दिन आए न आए कम से कम चुनाव से पहले हमारे ख़िलाफ़ चार्जशीट तो आई है। अगर यह ख़बर सही है तो मोदी जी और उनकी पुलिस को बहुत-बहुत धन्यवाद।

— Kanhaiya Kumar (@kanhaiyakumar) January 14, 2019
If it takes 3 years and 1200 pages to make out a charge of sedition (based on a public speech), that alone exposes the motive of the government.

— P. Chidambaram (@PChidambaram_IN) January 14, 2019
Check out My543, our comprehensive report card of all Lok Sabha MPs.