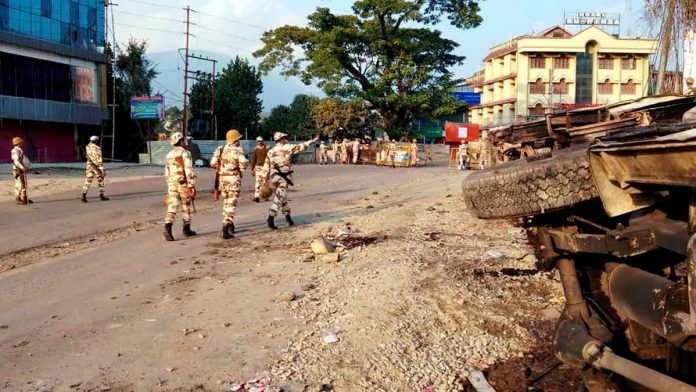 Text Size:
Front page
In politics, developments in Kashmir continue to be the focus of attention along with the violence in Arunachal Pradesh.
In economic news, it's the GST cut in housing tax rates as well as the Rs 75,000 crore PM Kisan Samman Nidhi launch.
Arunachal violence
All major newspapers carry Arunachal Pradesh on page 1 but are divided on what matters more: human life or government property. For The Times of India and Hindustan Times, it's the latter: "Dy CM's home set ablaze" and "Arunachal dy CM's home set on fire…" is the focus for them.
The Hindu and The Indian Express highlight "Protests, arson rock Itangar, two dead," "Protests on status to tribes spread, 2 killed" (Express). "Two protesters were killed in firing by security forces and three others injured…over granting permanent resident certificates to six communities (PRCs)," explains The Hindu. The PRC proposal was "rejected," Hindu and Express add on page 1.
HT reports "one dead" while TOI has four dead in three days protests.
Kashmir
Here again, newspapers choose to focus on different aspects of the story.
TOI and Express lead with the Jammu and Kashmir government's attempt to calm "panic" in the state, HT pushes that story to the inside pages and Hindu ignores it.
Hindu and HT go with "Police officer, Army jawan killed in Kulgam encounter" (Hindu) on page 1.
Express in "From Art 35A to extra security deployed": J&K governor tries to lower heat'', concentrates on the J&K government's assertion that "ìt had sought adjournment of a hearing on the contentious Article 35A in the Supreme Court' to `quell panic and protests in the Valley sparked by rumours of an ordinance to repeal the Article…''
Along with The Economic Times, it quotes principal secretary Rohit Kansal (Express describes him as "newly appointed spokesperson") urging "people not to pay heed to rumours."
TOI highlights opposition parties' warning: "Scrapping Art 35 A will be a disaster, Mehbooba, Cong & Lone to Centre."
HT in "Kashmir shuts down over arrests, Guv calls for calm" (page 8) traces the "crackdown" over the weekend on separatist leaders.
GST
The cut in housing tax sees some precision reporting. HT in "GST rates on real estate slashed to boost key sector" says tax will be only 1 per cent on "properties valued up to Rs 45 lakh." Express adds details, "with a carpet areas of 60 sq m in metros." Hindu and TOI remain vague by saying "affordable homes."
PM photo op
Hindu gives the photograph of the day — the PM "at the confluence" in Prayagraj fulsome display below the fold of the newspaper. HT has him "taking a holy dip" above the fold. Express carries a similar but smaller photograph of Modi "at the Kumbh" while TOI chooses a barely discernible single column image of the PM washing the feet of "Kumbh sanitation workers" with its lead report, "I'll be back: PM in last Mann ki Baat of term."
Amar Ujala also published a photograph of PM Modi washing the feet of sanitation workers with a report headlined,` Pradhanmantri ne lagayi dubki: kumbh ke safaikaramchario ka payr dho kar kiya samman. "
Advertisements for myself
As more government ads appear with the end of the financial year and elections around the corner, some media is promoting itself, this morning: there are full page page 1 advertisements for "India's biggest television event" — the News 18 Rising India summit — in TOI, HT and Express.
ET opts to promote its own Global Business Summit by using it as its lead story: "One Summit, Many Highs."
Opinion
Editorials and columnists ponder the aftershocks of Pulwama and how to move forward given Pakistan's limited responses.
In Express, Islamabad-based columnist Ayesha Siddiqa says "the first reality is the nuclear-deterrence that imposes limits on how far India can go in responding to Pakistan."
A second is that Pakistan is "engaged with multiple international players": Pakistan is an important part of China's Belt and Road Initiative as well as negotiator in talks between the US and Taliban. "The choice is now between de-escalation of talks and escalation of war…talks also do not hold promise if their purpose would mainly be conflict management. Could an arbiter be created?"
TOI's editorial suggests manipulating Pakistan through international interventions: "New Delhi must strongly lobby international financial agencies such as IMF or FATF to blacklist Pakistan and deny it financial bailouts, till such time as it can roll up its terror infrastructure."
Fact checking TOI's fact check
In an unusual move, TOI removed a report from its news portal published on Friday that conducted a `fact check' which disputed Congress allegations that PM Modi was at a Discovery film shoot at Corbett Park, three hours after the Pulwama attack. The TOI story quoted a `senior government functionary' as the source for its `fact check'.
TOI's fact check was then fact-checked by other media outlets, including Altnews.in which found holes in the TOI report: "The itinerary specified in the TOI article has no details as to when the Discovery shoot started or ended, the issue which is of primary contention,'' writes Altnews.in. TOI uses the term "short shoot" and "doesn't have any timestamps of PM's activities till 4 pm''.
Check out My543, our comprehensive report card of all Lok Sabha MPs.