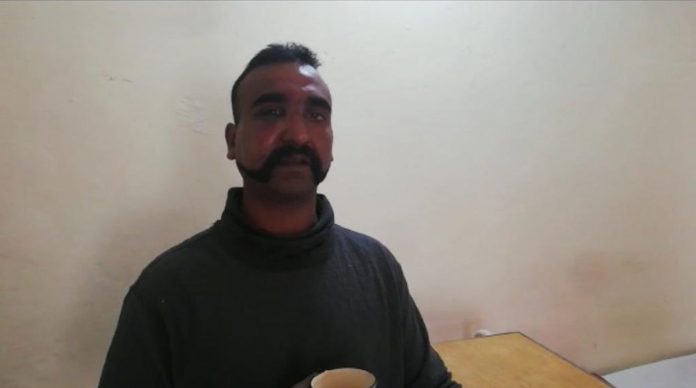 Text Size:
Prime Time
It was a curious Thursday for television news — viewers may have experienced déjà vu as most channels continued where they had left off Wednesday — that is with the debris of Pakistan's F-16 fighter jet, downed the previous day. Times Now still warned viewers not to "become a victim of Pakistan's fakery".
Visuals of an engine, parts of an aircraft were on display like trophies as proof of the F-16's crash (Zee News). News X paraded "exclusive" footage of `wreckage' of the plane — "Pak hiding wreckage," it claimed.
After US President Donald Trump set the stage for conciliatory moves by Pakistan, at his press conference in Hanoi saying he had "attractive news", Pakistan PM Imran Khan announced the return of the MIG-21 pilot, Abhinandan Varthaman as "a peace gesture".
TV news saw it as a triumph of India's unrelenting position: "Victory" proclaimed CNN News 18. Pakistan "cracks under pressure", added Times Now.
This set the stage for the prime time debates which were basically all about "Escalation vs. De-escalation".
While Republic TV's Arnab Goswami wanted "escalation", NDTV's Ravish Kumar thanked "all those who wants that war should not take place".
India Today anchor Shiv Aroor asked Retd Air Vice-Marshal Arjun Subramanian why Pakistan was returning Wing Commander Abhinandan to India.
Subramanian said, "The Indian Air Force donned a realist's hat when (it) said that Pakistan had no choice but to oblige (under) the Geneva convention."
What will the government do next, Aroor asked BJP spokesperson Syed Zafar Islam.
Islam replied: "India is not going to take a step back in the fight against terror, there is diplomatic pressure from across the globe on Pakistan."
On RepublicTV, Goswami said India shouldn't de-escalate; instead it should go for a "#final strike".
Political analyst/please check once/ Abdul Razack Khan said, "It is unfortunate that peace lovers are branded as Pakistan lovers."
BJP spokesperson Gaurav Bhatia was muscular: "It's mazboot Bharat vs majboor Pakistan — we have isolated Pak diplomatically, they are scared."
On Times Now, former foreign secretary Vivek Katju told anchor Padmaja Joshi, "Imran Khan doesn't matter. The people who matter are the generals in Pakistan."
Zee News anchor Sudhir Chaudhary hit out at his fellow media professionals: "There is a large section in Indian media which believes what Pakistan media has to say but will question the Indian government."
Front Page
"Release and relief" sighs The Indian Express this morning, welcoming Wing Commander Abhinandan Varthaman's return to India Friday from Pakistan. It calls this among the "first signs of de-escalation of tensions between India and Pakistan".
The Indian media sees the homecoming as a victory for India's successful hard-nosed approach — it dismisses the release as a "peace gesture" as Pakistan's prime minister called it.
The Times of India writes in "Abhi Coming Home, India Won't Budge On Terror", "The Indian side remained unconvinced about Khan's sincerity, pointing out that his 'peace gesture' was not voluntary but was prompted by international pressure".
Hindustan Times in "Airman coming home" says Imran Khan "played a gambit for de-escalating tensions with India…against the backdrop of pressure from New Delhi and other countries to act against terror."
TOI feels Abhinandan's release "might provide an opening to the two countries to edge away from the brink temporarily…but India is unlikely to ease the pressure on Pakistan to take action against the Jaish-e-Mohammed leadership anytime soon."
The Telegraph chooses to focus on a detail that other papers bury: "'Premature' tag on number of deaths" reads its headline. This is an aspect international media — from Al Jazeera to Reuters — has focused on, too.
Telegraph says 325 terrorists reportedly killed in India's airstrikes is an arbitrary number as long as there's no evidence to back it up. It quotes Air Vice-Marshal R.G.K. Kapoor from Thursday's press conference who declined to put a number on those killed because "it will be premature to say".
"The confusion can be cleared if the Indian political leadership takes a cue from the air vice-marshal and releases the evidence," says the newspaper.
GDP
There's great confusion on the latest GDP figures The December quarter of 2018-19 now stands at a growth rate of 6.6 per cent—the lowest in six quarters, say Hindu, Express and Business Standard.
HT, TOI and Economic Times say it's a five-quarter low. Oddly for a business paper, ET carries the report in the bottom right hand corner of Page 1.
Either way, the number "is likely to take some sheen away from the economic record of the NDA government," writes HT
Hindi dailies
Hindi dailies are also looking forward to the return of the IAF pilot.
Dainik Bhaskar says both pun on Varthaman's name: "Ghutnon par pakistan, Bharat ka abhinandan" (Pakistan on its knees…)
Daink Jagran reflects this sentiment "Jhuka Pakistan, Vartman ka aaj bharat me 'abhinandan'."
Amar Ujala sees this as a diplomatic win for India and Pakistan's isolation in the international community. Ujala claims Pakistan tried to negotiate through the day before Imran Khan's announcement.
Dainik Bhaskar's editorial says "Yeh badle huey bharat ke liye duniya ka abhinandan hai" (A changing India is welcomed by the world). The speed at which he is being returned and Pakistan's inability to extract any concession from India, indicates a diplomatic win for India.
Jagran says the release of Abhinandan is also an image making exercise for Paksitan. Pakistan wants to free itself of international pressure building up from US, France and others.
Opinion
Editorials in TOI, HT, Express and Hindu welcome the return of Varthaman as an opportunity to "de-escalate" tensions, while two comment pieces warn of the way ahead.
In Hindu's "Living on the edge", Jawaharlal Nehru University's Happymon Jacob wonders how de-escalation can be achieved between India and Pakistan "without either losing face". The piece was written before Varthaman's release was announced, is relevant nevertheless for he argues that in the current stand-off, "India did not gain any military advantage over Pakistan…making it difficult to claim victory". And, "BJP needs a victory" he writes, which Pakistan "will not give without a war of attrition." Jacob suggests the best way to de-escalate without a loss of face for either side, is to "open back channel negotiations" as was done during the Kargil conflict.
In HT's "Stop reducing war to a spectacle", senior journalist Rajdeep Sardesai, who anchors TV news and debates on India Today, warns against a "jingoistic television media rooting for war". "…anyone who questions the government… is branded an anti-national" he writes, and cites how Sunil Gavaskar and Sachin Tendulkar are "being questioned" because they don't "endorse" a boycott of Pakistan at the forthcoming World Cup.
Sardesai recalls a previous BJP attempt to equate the party with "the credo of Hindu nationalism" in 2002 Gujarat after the communal riots. The BJP won the subsequent state elections, spectacularly. Now, too, a "scary narrative…" of a nation "at risk from internal and external enemies" is being created, he writes. While "war gaming" raises Television Rating Points, "a responsible government cannot take a war for votes approach to national security", he writes.
Check out My543, our comprehensive report card of all Lok Sabha MPs.