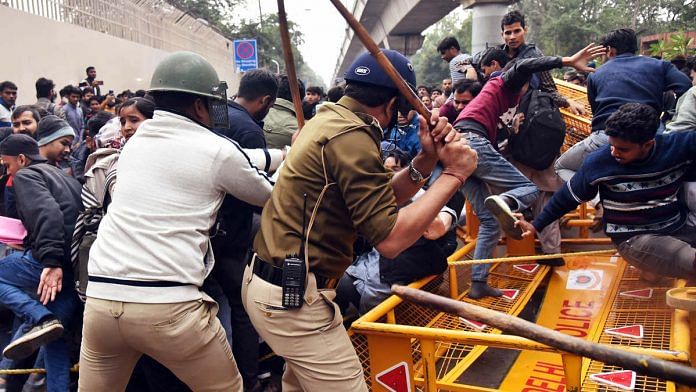 Text Size:
India has been in the middle of a protest cycle. The scale and geographic spread of the protests against the Citizenship (Amendment) Act and the proposed National Register of Citizens have surprised the Bharatiya Janata Party government as well as India watchers. The BJP leadership, nationally and in the states, has tried to crush the protests and dismissed concerns of those against the CAA-NRC. But an electorally secure Narendra Modi government could have avoided an over-the-top response, which may have robbed it of its legitimacy.
The puzzle of overreaction
Consider the BJP government's reaction to the anti-CAA-NRC protests in the light of the following three facts.
First, the reality of any protest, including the current round, is that far fewer people are required to organise an effective protest, even shut down a large city, than are needed to win a legislative assembly seat, let alone a parliamentary seat. The threshold for protest mobilisation and electoral mobilisation is vastly different in magnitude. A generous estimate would put the total number of anti-CAA protesters across India at a few hundred thousand and most certainly under a million (10 lakh). By contrast, the BJP had 229 million voters (22.9 crore) turn up in its support during the 2019 Lok Sabha election.
Second, anti-government protests in democracies, no matter how compelling their grievance, are easier to sustain around political opportunities that enable mobilisation of mass support. Impending elections or fragile coalition governments represent such opportunities, during which throwing one's weight behind a protest can be politically consequential. We clearly are not in such a moment of opportunity. The BJP government enjoys a comfortable parliamentary majority – 303 out of 543 Lok Sabha seats. The election that can potentially remove Narendra Modi's government is four-and-a-half years away.
Third, most protests in India are peaceful. According to the Bureau of Police Research and Development, 99.1 per cent protests between 2004 and 2016 and 93 per cent protests between 2016 and 2019, as per the Armed Conflict Location & Event Data Project, were peaceful. The protests in the current cycle are no different. Among the dozens of protests against the CAA from across India, very few have turned violent.
So why is Narendra Modi's BJP government, which had millions of voters come out in support of it, fretting about protests against the CAA? Why are his government ministers and his party's chief ministers demonising protesters who are carrying the Indian flag and agitating in the name of India's Constitution as terrorists, 'Urban Naxals', and anti-national? Why is the Modi government using draconian measures against the protesters? Three clear reasons are driving this response.
---
Also read: India to Africa: Protest has helped define the first two decades of the 21st century
---
Zero tolerance for dissent
Dissent is routine in democracy. "Andolan toh jantantra ka gehna hai." Protest is the ornament of democracy; an agitating Dalit leader had told us during a protest in Nagpur a few years ago. An electorally secure government should not feel threatened by protests and accept them as irritants that it is required to engage with as a part of the political system. After all, the BJP's own political history is based on protest movements, even violent ones.
The Narendra Modi government was democratically elected, but it lacks the democratic temperament. As Gujarat's chief minister between 2001 and 2014, Modi did not tolerate dissent within the BJP and outside; and since 2014, he and party chief Amit Shah have brought the same temperament to national politics. All told, by 2024, the Modi-Shah political partnership would have been in power at the state and national levels for 23 years. During this period, they would have only run majority governments. This long duration of unchallenged power has curtailed their ability to tolerate dissent, build bridges across the political divide, and accommodate different opinions – skills that are necessary to govern the world's largest and arguably most diverse democracy.
This is not an ideology-related behavioural flaw, but a personality driven one. And institutional conditions may have only deepened it. Indira Gandhi, for example, had similar instincts when she headed the Congress party governments, while Atal Bihari Vajpayee did not when he headed BJP-led governments.
---
Also read: 'No rectal bleeding, but police thrashed us and said drink urine': UP madrasa students
---
The fear of non–violence
Even in moments of electoral security, peaceful protests carry the possibility of reshaping the political narrative. They can be disruptive, they provide a spectacle for media, and they produce compelling images, songs, and leaders who denounce the government. Non-violent protest movements, which draw from a broader range of participants, are likely to gather greater sympathy, and challenge the legitimacy of a violent response by state agencies. This is why the BJP government has gone to great lengths to emphasise the few violent incidents and suggested connections of protesters with insurgent groups to discredit them.
Ironically, the BJP government's behaviour has added to the salience of the anti-CAA protests. The political climate today is beginning to appear like Indira Gandhi's authoritarian stint between 1975 and 1977. State's investigative agencies are being used to intimidate the political opposition. The BJP government appears to have tamed the courts and most of the media, the usual providers of checks and balances in a democratic system. In this extraordinary moment, the street has been empowered as a legitimate political space. The government realises this, and is therefore wary of the protests.
---
Also read: Modi govt now snubbing critics in other countries too. And US, UK won't hold back for long
---
Marginalising Muslims
The BJP has been speedily fulfilling its controversial, ideologically-driven promises since its election victory in 2019. Most of the legislation pointedly targets Muslims, including the laws, which link citizenship to religion. Not surprisingly, then, members of the Muslim community have been at the forefront of the CAA-NRC protests. But other communities who are agitating in defence of India's secular ethos have joined them. In Assam and Tripura, protesters are agitated for different reasons. They are angry about the CAA's neglect of their ethnolinguistic concerns for the sake of the larger Hindu identity. Still, the BJP government has portrayed the protests as a Muslim-only uprising.
The intolerance to dissent notwithstanding, Narendra Modi's BJP government has faced other major protests; however, there is a clear difference in how these were managed. Consider two recent large-scale protests. In 2018, when Dalits protested against the Supreme Court ruling that they said weakened the SC/ST Act designed to protect them from atrocities, the Modi government promised legislation to address their concerns. In 2016, when Jats went on a rampage in regions adjoining Delhi to demand a higher share in state jobs, the BJP government did not exercise the same level of brutality to crush the protests. Why?
The BJP relies on the electoral support of Dalits as well as Jats, and actively woos the two groups. Muslims, by contrast, are 'untouchables' for the party. In many states, the BJP relies on mobilising Hindu votes against Muslims. Faced with Muslim protesters, then, the BJP government's response has been disproportionately harsh. It has focused on isolating and punishing them.
Protests are a routine and legitimate form of demand articulation in a democracy. The BJP government is using its power to crush protests, but exercising of coercive power against a legitimate political actor extracts a price. It slowly eats away at the authority required to use the power.
Amit Ahuja is an Associate Professor of Political Science at the University of California – Santa Barbara and the author of Mobilizing the Marginalized: Ethnic Parties Without Ethnic Movements. Rajkamal Singh is a graduate student in Political Science at the University of California – Santa Barbara. Views are personal.
Subscribe to our channels on YouTube & Telegram
Why news media is in crisis & How you can fix it
India needs free, fair, non-hyphenated and questioning journalism even more as it faces multiple crises.
But the news media is in a crisis of its own. There have been brutal layoffs and pay-cuts. The best of journalism is shrinking, yielding to crude prime-time spectacle.
ThePrint has the finest young reporters, columnists and editors working for it. Sustaining journalism of this quality needs smart and thinking people like you to pay for it. Whether you live in India or overseas, you can do it here.