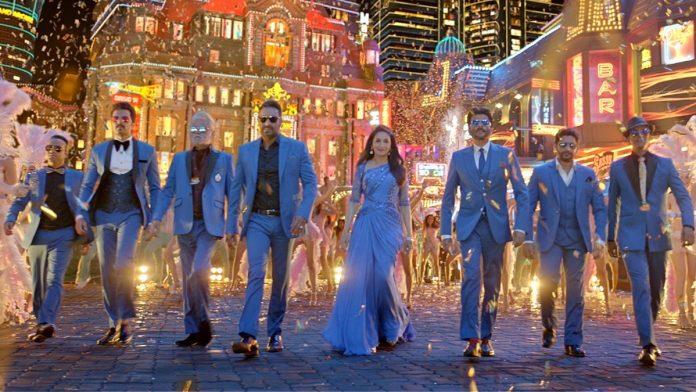 Text Size:
Laughter may be the best medicine but in the hands of Bollywood, it often turns into a dose of sleeping pills. Indra Kumar's Total Dhamaal, the third movie in the series that began with Dhamaal in 2007, is merely supplying some more of that dose and you don't want to be taking it from a pack of headache-inducing characters (and cast) in a zoo.
Total Dhamaal kicks off (mind you, the fun never does) with its star-studded cast of Madhuri Dixit, Anil Kapoor, Arshad Warsi, Ajay Devgn, Jaaved Jaaferi, Johnny Lever and Sanjay Mishra rolling over a pile of money and dancing to a remix of 'Paisa Yeh Paisa' from Karz (1980). (They have to go on a treasure hunt in a zoo later in the film, and so the reference. That's also the movie's story, by the way.)
As if the makers couldn't think of one original scene to start things off, the dance routine is next followed by Ajay Devgn and Sanjay Mishra's characters trying to give you a play-by-play memory of a scene from The Hangover (2009) as they dash off after throwing away a suitcase full of money to dangle from a hotel room balcony. There are a few changes in the props to make you wonder if the franchise got a Las Vegas upgrade. Before you can ward off that déjà vu feeling, you are next pulled into a Bhojpuri-speaking (or what could pass off as one) Riteish Deshmukh, posing as a firefighter and demanding money to save a life.
Total Dhamaal then sets about picking on every regional identity it could think of, without ever moving away from the usual stereotypes. So, a South Indian is sipping a coconut, a Bengali is singing Tagore's ekla cholo re, and the Bihari, of course, has a gamchha around his neck. For the longest of time, Bollywood has often searched for laughter in the casual regional identity tropes and Total Dhamaal of course wasn't going to attempt innovation. The movie keeps itself at a safe distance from that word.
---
Also read: Comedy king Mehmood who earned more than the lead actors of his films
---
One can be forgiven to imagine that the only other point (besides the moolah, of course) the makers saw in returning to the 'franchise' after eight years was that director Indra Kumar may have been struck with the idea of pairing his lead couple from the 1992 hit, Beta. Because, seeing Anil Kapoor and Madhuri Dixit back on the screen after 18 years makes you take note of the screen in hope but you quickly turn off your senses when Dixit's Bindu returns with the same shocked, mascara-laden eyes after every fifteen minutes. Her head jingles her perfect curls whether she is almost drowning or falling from a tree. The duo's act of a couple in the middle of a divorce is marred by banal dialogues — "mard hona iss zamane mein loss hai," says Kapoor's Avinash Patel, almost in the hope that other husbands would take the cue when playing the victim card.
The only actors (or characters if you will; Bollywood rarely shows it knows the difference) who manage some sort of passable comedic moments are Arshad Warsi and Jaaved Jaaferi. When they are on the screen, you would wish if they stayed there for whatever duration is left in the movie. Else, there is nothing in the movie for the Pakistanis to feel bad about missing it.
As the movie takes its characters, but possibly without its audience, into a journey to the zoo, the never-ending obstacles along the way remain a boring lesson on which ride not to take when on a treasure hunt. After a multitude of helicopter and car crashes, the lack of even one funny scene just begins to feel like a baggage you wish you could unload soon.
Much like the voice on the GPS that asks Ajay Devgn's character, in Hindi, whether he thinks he is 'in a Rohit Shetty film' when he flies his car across a desert, you wish to yourself if you were. After all, how bad could it get?
---
Also read: A Chinese black comedy film on treating cancer with Indian medicine raked in over $140 mn
---
Get the PrintEssential to make sense of the day's key developments