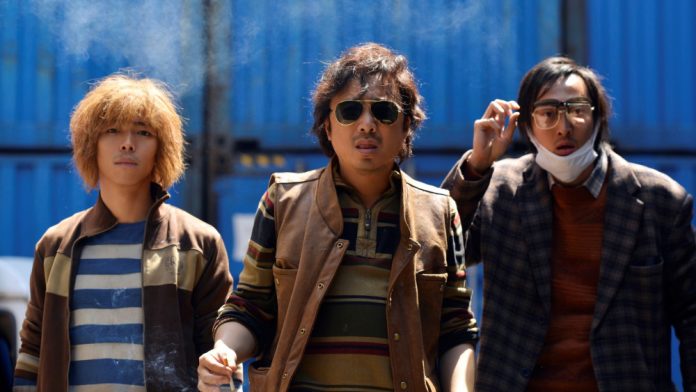 Text Size:
Boris Johnson among two UK cabinet ministers to resign over Theresa May's 'soft Brexit' push, and four more Thai teens rescued from flooded cave.
Dark comedy about cancer treatment sets China box office on fire
A black comedy film, Dying to Survive, has made 920 million yuan, nearly $140 million, over the weekend in China, reports Global Times. The film "focuses on a businessman who imports generic pharmaceutical medicine from India to provide affordable treatment to leukaemia patients in China". It is now the second highest grossing film in China, surpassing the weekend debut of last year's Wolf Warrior 2.
The film's producers announced that they will be donating 2 million yuan to leukaemia charities, and will continue to donate 300,000 yuan for every million yuan the film makes.
"Kicking off a limited-release run on 30 June and official debuting on Thursday, the film has made an estimated 1.3 billion yuan in total and is the 50th movie to break the 1 billion yuan mark in China," the report adds.
Britain's foreign secretary Boris Johnson has resigned from his office
Britain's foreign secretary Boris Johnson has resigned over the Brexit crisis, the second minister to exit the cabinet within 24 hours after Prime Minister Theresa May pushed for a proposal that would keep Britain more closely tied to the EU than what the Conservatives would like, The New York Times reported. Earlier, David Davis, May's 'Brexit minister', had put in his papers, The Washington Post reported. 
Johnson's decision comes eight months before Britain's exit from the European Union.
Chris Green, the parliamentary private secretary to transport secretary Chris Grayling,  also resigned after expressing displeasure over the manner in which the deal was being carried out.
Amid rising political pressure, there is mounting economic concern too. Automobile giants such as Jaguar Land Rover have expressed concerns over the chaotic Brexit deal that could cost Britain investment plans worth hundreds of billions. BMW and Airbus have also raised questions on whether they would continue manufacturing units after the formal exit takes place.
Four more Thai boys rescued from the cave
Four more boys were rescued Monday from the flooded cave complex in Thailand where they have been stranded for over two weeks, and taken to hospital, a local official told The New York Times.
With this, eight of the 13 trapped in the cave — 12 teen football players and their coach — have been brought out in a precarious operation that last week cost one diver his life.
Iranian women are dancing to protest a girl's arrest
Iran has arrested a number of people for posting "inappropriate" content on Instagram. One of these people is Maedeh Hojabri, who had over 6,00,000 followers and would post videos of herself dancing to Iranian and Western music.
"The Iranian government has strict rules governing women's clothing, and dancing with members of the opposite sex in public is banned, except in front of immediate family members," BBC reported. On Friday, state TV showed her "confessing", the report adds. "It wasn't for attracting attention," she said, "I had some followers and these videos were for them. I did not have any intention to encourage others doing the same … I didn't work with a team, I received no training. I only do gymnastics."
To protest her arrest, women have been taking to social media and posting pictures of themselves dancing online, with the hashtag #dancing_isn't_a_crime.
هر جای دنیا بگویی که دختران ۱۷ و ۱۸ ساله را بخاطر رقص، شادی و زیبایی‌شان به جرم اشاعه فحشا بازداشت و زندانی کردند و در مقابل متجاوزان به کودکان و … آزاد هستند، می‌خندند! چون برای‌شان باور پذیر نیست!#مائده_هژبری #رقص#آزادی pic.twitter.com/skkYw0gVGt

— Hossein Ronaghi (@HosseinRonaghi) July 7, 2018
I dance in a public park in Tehran to support Maedeh the 19 year old girl who got arrested for dancing.
در پارک هنرمندان بدون‌حجاب اجباری رقصیدم ولی نوازنده نگران اینکه بساطش جمع بشه با عذرخواهی آهنگ رو قطع کرد.
برای حمایت از #مائده_هژبری بیا #برقص_تا_برقصیم pic.twitter.com/8JtGU4QOzI

— Masih Alinejad ?️ (@AlinejadMasih) July 7, 2018
South Africa ex-President Jacob Zuma's son has been arrested for corruption
Duduzane Zuma has been accused of colluding in a conspiracy to to bribe Mcebisi Jonas, the former South African finance minister, reports Al Jazeera. He denies all charges of conspiracy and corruption, and has been released on bail. He has been asked to reappear in court in January 2019.
"His court appearance marks a dramatic turnaround from Jacob Zuma's nine years in power, when corruption allegations involving top officials in South Africa were rarely investigated. Zuma's successor President Cyril Ramaphosa has staked his reputation on rooting out corruption since becoming head of state in February," the report adds.
Ex-minister Jonas gave evidence that Zuma orchestrated a meeting between himself and businessman Ajay Gupta, in which he was allegedly offered $45 million to become the finance minister. The Guptas were an influential family during the Zuma administration, and their whereabouts are currently unknown.
China is cutting tariffs on Indian medicines
On Monday, the Chinese foreign ministry said it had "reached an agreement with India to reduce tariffs and increase imports of Indian medicines, particularly anti-cancer drugs", reports India Today. The move comes as an attempt to broaden its trade relations with other countries during its ongoing spat with the United States.
"There is widespread demand in China for Indian anti-cancer drugs that are often one-tenth the cost of the Western drugs that are available in China," the report adds.
India and China cut import tariffs of a range of products starting 1 July, following the fourth round of negotiations under the Asia Pacific Trade Agreement (APTA). APTA also includes Bangladesh, Laos, South Korea and Sri Lanka.
China is reducing tariffs on nearly 9,000 items, including chemical and agricultural products.
Myanmar court presses charges against Reuters reporters
"A court in Myanmar Monday charged two jailed Reuters journalists with obtaining secret state documents, moving the landmark press freedom case into its trial stage after six months of preliminary hearings," reports Reuters.
The two reporters have been charged with violating the Official Secrets Act, which carries an imprisonment term of 14 years. Both journalists have denied all charges. They were arrested during a sting operation by police in December, for their reportage on the Rohingya crisis.
The prosecution alleges "that they collected and obtained secret documents pertaining to the security forces with the intention to harm national security". The court's verdict has been met with global disappointment and outrage, and has been called a "setback to press freedom". Stephen J. Adler, president and editor-in-chief of Reuters called the case against the reporters "baseless".
A #MeToo movement in Japan is an economic indicator
A BBC documentary, Japan's Secret Shame, is about journalist Shiori Ito's rape allegations against a male media personality, but it also shows why Abenomics is failing, writes William Pesek in the South China Morning Post.
Japanese Prime Minister Shinzo Abe's pledge to make women empowerment a key agenda of his economic reform seems to be failing, as indicated by the Japanese media's reluctance to cover sexual harassment in the country, Pesek suggests.
Abe's "feminist turn is heavy on spin, light on policy", says Pesek. "He's talked about prodding companies to hire and promote women, but demurred on mandates or quotas. Abe opted against incentivising companies to better utilise Japan's female labour pool through tax breaks or preferential access to government contracts. His 20-member cabinet features just two women, neither of which play a key role. Were Abe to lead by example he'd entrust a vital portfolio to a woman — finance, foreign affairs or chief cabinet secretary," the write-up states.
Check out My543, our comprehensive report card of all Lok Sabha MPs.