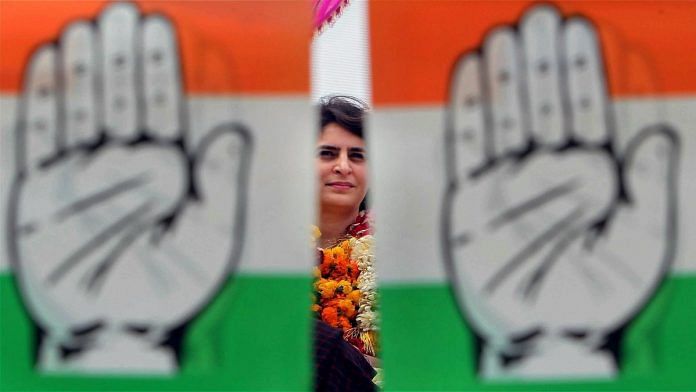 Text Size:
Shaktisinh Gohil, Congress leader from Gujarat, is the party's Bihar and Delhi state union in-charge. Rajiv Satav of Maharashtra is in charge of Gujarat. Similarly, A. Chellakumar of Tamil Nadu is in charge of the Goa unit, and so on.
This mechanism makes sure that the central leader in charge of a state has an outsider's view, does not have stakes in the local system (such as aspirations to hold political office in that state), and, as an outsider, is unable to overshadow a leader from that state.
This idea goes for a toss when Priyanka Gandhi becomes the Uttar Pradesh in-charge. She goes a step further and increases our confusion by taking to public campaigning in the state. If one is a voter in Uttar Pradesh, one is left wondering, who is the party's chief ministerial candidate, Priyanka Gandhi or state president Ajay Kumar Lallu?
News of Priyanka Gandhi moving to Lucknow has been appearing and re-appearing seasonally like the monsoons. Just like Priyanka Gandhi entered politics after years of speculation, we have now learnt over and over again of Sheila Kaul's house in Lucknow being renovated for the Congress state in-charge. In a way, the Congress way of doing politics is very Lakhnavi, cooking a slow dum biryani, while the nawabs play chess.
---
Also read: Priyanka Gandhi to move to Lucknow after vacating govt bungalow in Delhi: Congress leaders
---
Divide and rule
If and when Priyanka Gandhi does move to Lucknow, it will probably be as ceremonial a move as her once-in-a-blue-moon visit to the state organised so badly the cameras can't even capture her. The move to Lucknow now looks like a best-possible reply to the Narendra Modi government taking away her Lodhi Estate bungalow. But will Priyanka Gandhi actually spend more time in Uttar Pradesh than in Delhi? So far she hasn't shown that she's willing to make such a sacrifice on her time with family and friends in Delhi.
Ceremonial or real, Priyanka Gandhi will definitely spend some time in Gokhale Marg as the Uttar Pradesh assembly election come closer. February 2022 is now less than two years away. The harder Priyanka Gandhi works for it, the more people will wonder if the party's face is Gandhi or Lallu?
To be sure, this question will only bother those in Uttar Pradesh who have some interest in the Congress party. And that's not too many people. For all the media hype that Priyanka Gandhi and Yogi Adityanath generate by taking on each other, UP 2022 is — as of now — largely a Yogi vs Akhilesh contest, Bharatiya Janata Party vs Samajwadi Party.
This is why the BJP is happy to give attention to Priyanka Gandhi. It wants to pretend its main competition is the Congress, so that the anti-BJP vote, especially the Muslim vote, remains firmly divided between the Samajwadi Party (SP), the Bahujan Samaj Party (BSP) and the Congress. This will make sure the BJP wins the election even if its vote-share comes down due to anti-incumbency.
Yogi versus who?
In such a situation, if any of the three opposition parties — SP, BSP, Congress — want to have even a semblance of a chance at defeating the BJP, they have only one option. A strong presidential-style campaign that makes it clear to every voter that the election is about deciding who's better CM material: Yogi or Akhilesh? Yogi or Mayawati? Yogi or Ajay Kumar Lallu?
As is obvious, the weakest possibility there is Ajay Kumar Lallu. He's a grassroots leader, but even if he has the potential to become a popular-statewide face, the looming shadow of Priyanka Gandhi won't let him.
There is thus no option for Priyanka Gandhi but to state in as many words that she is the Congress party's chief ministerial candidate in Uttar Pradesh. If she fails to do that, then despite Yogi's best efforts to promote her, the Congress party will still get fewer seats than the largest bus in Rajasthan.
By having her Communist student leader aide tweet about UP in shuddh Hindi, she can make media headlines but it doesn't get the Congress party any traction in the streets of UP. By declaring herself as the CM candidate, Priyanka Gandhi will send out a strong message to voters in the state that the Congress party is serious about UP. That is what it will take for UP voters to even start thinking about the Congress as an option.
Priyanka Gandhi as a declared Congress CM candidate, spending at least five days a week in UP, will be Yogi Adityanath's dream come true. He will do his best to make sure the state's political conversation is all about Yogi versus Priyanka. The BSP and SP will be sidelined to the extent that voters won't be able to tell who the BJP's main opponent is.
---
Also read: Congress has split into three parties, and not one of them is good at politics
---
No guts, no glory
Priyanka Gandhi's hesitation in declaring herself a CM candidate would be the risk. If she fails, the Congress 'Brahmastra' will officially be declared a damp squib. Yet if she doesn't declare herself the CM candidate, she's going to fail anyway.
The Congress party has been winning around 30-odd seats in the state assembly since 1993, until 2017 when it dipped to 7. That is where it is likely to stay with the Gandhi-or-Lallu confusion. For all that she's investing in the state, Priyanka will then be declared a failure at par with brother Rahul. Remember, Rahul Gandhi had also taken it upon himself to 'revive' the party in the state when he first joined politics.
If Priyanka Gandhi campaigns as a CM candidate, many might want to give her a chance just out of curiosity. This will ensure that the Congress will at least be able to break out of its 30-seat stagnation. If the party can win even 50 seats, that's more than what the party has ever won since 1991. Priyanka Gandhi can show that as achievement — incremental progress.
---
Also read: On UP's political turf, a new rivalry is unfolding: Mayawati vs Priyanka Gandhi
---
The audacity of Indira
And it doesn't have to be incremental progress. The Aam Aadmi Party went from being part of a movement in 2012 to having the Delhi CM's chair in 2013. The BJP went from being out of the game in Uttar Pradesh to winning 71 of UP's 80 seats in the 2014 Lok Sabha election. In the Uttar Pradesh assembly, the BJP went from 47 of 403 seats in 2012 to a stupendous 312 seats in 2017.
There's no law that prohibits the Congress from increasing its tally in Uttar Pradesh from 7 seats in 2017 to 202 seats in 2022. That would need a transformative, disruptive, game-changing campaign. That disruption can only be Priyanka Gandhi showing the audacity to be the CM candidate.
It would no doubt take a lot of courage to do so, not to speak of hard work. Just because Priyanka Gandhi resembles her grandmother, doesn't mean she has her courage too.
The author is contributing editor, ThePrint. Views are personal.
Subscribe to our channels on YouTube & Telegram
Why news media is in crisis & How you can fix it
India needs free, fair, non-hyphenated and questioning journalism even more as it faces multiple crises.
But the news media is in a crisis of its own. There have been brutal layoffs and pay-cuts. The best of journalism is shrinking, yielding to crude prime-time spectacle.
ThePrint has the finest young reporters, columnists and editors working for it. Sustaining journalism of this quality needs smart and thinking people like you to pay for it. Whether you live in India or overseas, you can do it here.