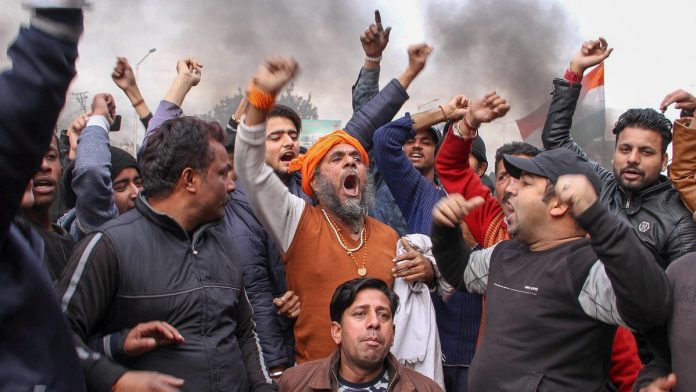 Text Size:
The post-Pulwama battlefield, until Tuesday, had been the TV studios. Wednesday, it moved to the cricket pitch: '#NoPakAtWorld Cup' was the NewsX exultant, if somewhat misleading, headline. Law minister Ravi Shankar Prasad said in 'exclusive conversation' with Times Now, Republic TV and any other channel that reached out to him, that India should 'take a call', 'rethink' playing Pakistan at this year's cricket extravaganza.
CNN News18 announced that 'Cricket and terror can't go together: RS Prasad' but then queered the pitch by adding that we will probably play the scheduled group match between the two countries.
So, will we, or won't we?
This Shakespearean dilemma suits TV news admirably: it allows news channels to speculate, exaggerate, overdramatise and even falsify events or opinions with complete impunity.
---
Also read: How incidents like Pulwama terror attack catch liberals on the wrong foot
---
Which brings us to a week ago: 'Indian blood spilt on streets' (Times Now), after 40 'bravehearts' (Republic TV) were 'martyred' (India Today, CNN News18 and others) in the Pulwama 'terror attack' (NDTV 24×7).
Within the hour of the news hitting the headlines last Thursday afternoon, ABP News had thrown black paint on the suicide bomber Adil Dar's posters and covered the crime scene with the Indian tricolour.
Aaj Tak immediately called for 'revenge' (badla), 'war' (jung) and worse, the ruination of the enemy ('barbaad karna hai') — i.e. Pakistan. Elsewhere it was, 'Modi ji hamla karo' (India News), 'India demands justice' (Times Now) — no, 'India Wants Revenge' (Republic TV).
That same evening, on NDTV India, Ravish Kumar called for restraint by the news channels. That's like asking them to practice journalism — why, what's that?
Journalism is alien to the very genetic structure of what is often practiced in its name by TV news channels. Rational, objective and verified statements of facts may be for channels like DD News (when it can tear itself away from its daily doses of Modi-nama), the prim Mirror Now, the 'propah' NDTV or the matter-of-fact business and economic channels. But everywhere else, it's emotional atyachaar.
In other words, jingoism, melodrama, hyperbole.
And so, TV news and News Nation felt 'ghar ghar mein gussa' — just like the prime minister did — and conveyed it in bright red banner headlines, dripping venom: 'the nation is seething with anger', seethed Republic.
---
Also read: TV reduced Pulwama terror attack to a question on electoral prospects of Narendra Modi
---
Simultaneously, TV news left not a dry eye in the nation – Navika Kumar was tearful on Times Now – with heartrending footage of the coffins carrying home the remains of the dead jawans, the painful reactions of their families and the stirring, emotional farewell by Major Dhaundiyal's wife, Nikita.
Was this catharsis TV-style? Perhaps.
It was certainly schizophrenic. For the first part of the day, TV news followed the events – the homecoming of coffins, the all-party meet during the weekend, Monday's 'payback' when 'Jaish butchers (were) cornered' (Times Now) or Imran Khan's speech on Tuesday.
By evening, they were Dracula-like frothing at the mouth, thirsty for blood.  On Monday, in 'Pak TV against India', the Hindi language News Nation featured Pakistan TV channels like Samaa, where panel discussions ridiculed India and its allegations of Pakistan's involvement in the Pulwama attack for which the Pakistan-based Jaish-e-Mohammed had owned responsibility.
Indian news channels sound and behave increasingly like Pakistani news channels.
None of this is new. Recall September 2016 and the attack on an army base in Uri: 'Abki baar, Pakistan par seedha war' karo on News World India, harks back to 'Abki baar, seema paar' (ETV); and 'Kar lo maidan fatah' now is the answer to 'Kya full-fledged war ho sakta hai' then on Zee News.
There's another similarity with the TV coverage of 2016. Then, within 24 hours of the Uri attack, some channels targeted those who advocated peace talks in Kashmir, and the Congress —they were the 'enemy within'. Rahul Shivshankar on Times Now was one of those anchors.
This time it has taken a few days longer for politics to break out on the air, probably because Congress president Rahul Gandhi and senior opposition leaders expressed solidarity with the government and then, wisely, remained silent.
However, by Tuesday, it was as if Shivshankar could no longer contain himself. And so, he fished out an alleged 2016 Pakistan Senate Committee policy document that spoke of Pakistan's attempt to influence 'anti-Modi groups', and went after lawyer Prashant Bhushan, PDP's chief Mehbooba Mufti, National Conference vice-president Omar Abdullah, Congressman Navjot Singh Sidhu, Divya Spandana (Congress' social media cell) for what Arnab Goswami on Republic TV called being the 'anti-national within'.
Why, Goswami even compared Imran Khan's words with those of Prashant Bhushan and found they 'matched'.
---
Also read: Don't politicise Pulwama attack, Modi & Shah say but won't stop themselves
---
A striking difference, this time, is the military's response – on television debates. In 2016, they led the battle cry. Now, while senior military officers have appeared in fatigues and their regiment's colourful headgear, they have been circumspect and conservative in their comments on the strategy ahead.
As Gen V. K. Malik, former chief of the army staff, said, '(We) carry the cross' of politics. Army officers didn't join in to sing 'the battle hymn of the republic' or call for an all-out war. They have seen the theatre of war and it isn't a TV studio.
Meanwhile, Wednesday afternoon began to ease back into politics as usual with 'Vadra at ED' (Times Now), 'Priyanka and Rahul in UP' (NDTV 24X7). As The Carpenters sang, 'It's yesterday once more'.
This article was updated to reflect a correction in the name of a news channel.
Get the PrintEssential to make sense of the day's key developments