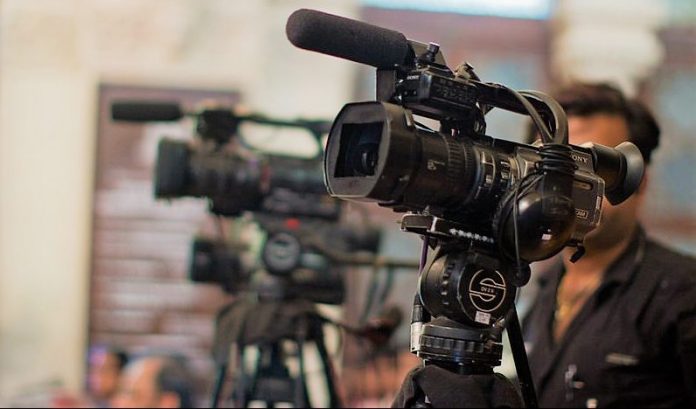 Text Size:
In the 'dogfight' that passes for news in TV war zones, Ayodhya and Rafale got the better of Balakot and the MiG-21 Bison Wednesday afternoon, following hearings in the Supreme Court. There were 'sensational charges' by Attorney General that the Ministry of Defence's secret Rafale deal documents had been stolen (Times Now), while 'Hindu groups oppose mediation' in Ayodhya (India Today).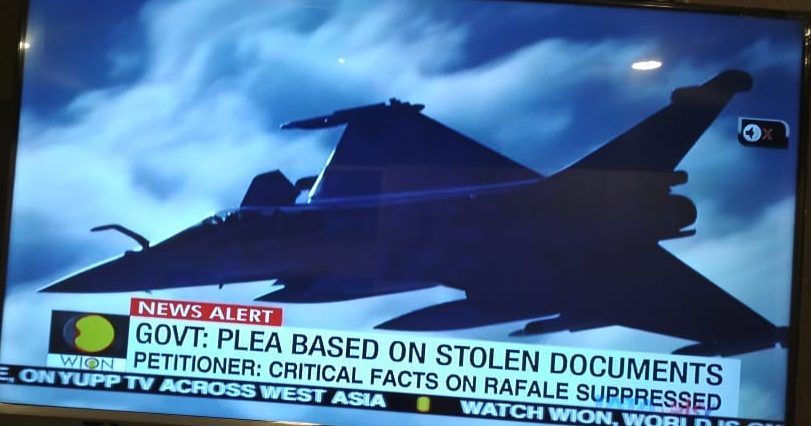 CNN News18 had Union minister V.K. Singh shooting from his mouth as he warned that 'doubters' of the IAF airstrikes would be 'air dropped' into Balakot, to count the casualties.
And ABP had discovered a 'khooni darwaza' that allowed terrorists into Kashmir.
Since Pulwama and Balakot, mirch-masala TV channels have been doing everything they can to whet and then satisfy viewers' appetite for all things hot 'n spicy.
If, in this burning cauldron, there are casualties (like facts), so be it – this is 'war', 'badla' and woe unto you if you protest: they'll drop you with the air bombs.
---
Also read: Documents on Rafale deal stolen from defence ministry: Govt tells Supreme Court
---
And so ABP produced a 'film' on Wing Commander Abhinandan Varthaman, Sunday, recreating his forced landing in Pakistani territory, his attempt to evade local hooded men, brandishing a pistol before his capture by Pakistani soldiers.
Coincidentally, Zee News announced a Bollywood film about Abhinandan with Ranveer Singh possibly playing the IAF officer — on account of his luxurious moustache, no doubt.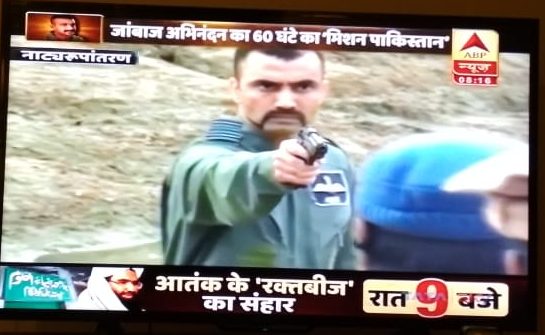 A WION exclusive, also Sunday, promised the 'True Story' from ground zero in Balakot by a WION correspondent – his name was withheld. Earlier, it had reported that according to an 'Italian journalist' and based on eyewitness accounts, many terrorists had died in the attack.
The 'True Story' accompanied a young man, carrying a microphone through hilly terrain, along the civilian route towards Jabha Top and into the bombed area in Balakot. Locals confirmed 'craters' – so said the voiceover but there were no on-the-spot interviews—as well as the presence of 600-700 terrorists at the 'seminary'. The casualties, added the voiceover, were higher than Pakistani claims.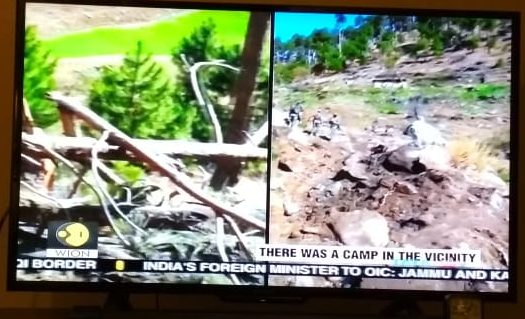 Meanwhile, bombs continue to explode on maps, planes fly across 'Pakistani territory' as devastating fires engulf people, places and things. No wonder, India Today said, 'Pak spooked by India' and Times Now claimed 'Panic grips Imran – Pak orders massive mobilisation'.
Did the channels read Imran Khan's mind or have a 'source' for these lurid stories?
---
Also read: Opposition justified in seeking Balakot evidence or shouldn't politicise national security?
---
That brings us to another ingredient in this spice route to higher television rating points (TRPs). TV news tend to quote 'sources' for stories that are unconfirmed, possibly untrue, and often contradicted or repudiated by later reports.
'Sources' are legitimate and are quoted to protect an informant—but should be handled with care and some due diligence.
But since the Pulwama terrorist attack, 'sources' are being deployed wildly and wantonly—by print too, only more starkly by TV news channels— with the same alacrity as the drop bombs.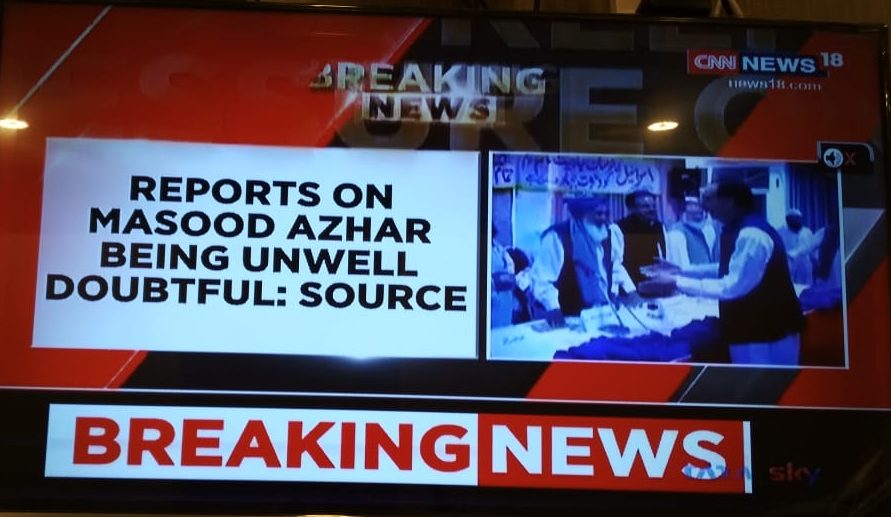 Wednesday's mega exclusives on India Today, Times Now and Republic of 'final proof of air strike' were 'accessed' by Republic 'sourced' from '12 pages of high resolution images' on India Today, which scrupulously added that the proof was provided by IAF, and shared with Times Now at a 'meeting with top sources in the government'.
On Sunday, when Masood Azhar allegedly, 'reportedly', 'died' on ABP, Zee News, Aaj Tak and CNN News18, Zee Hindustan quoted 'local sources' and CNN News18, 'top intel sources' for this speculation.
When Aaj Tak reported his death, it justified it by saying 'all channels' were carrying the news of his demise.
As if his death was not satisfying enough, News18, Zee News and ABP also suggested that he had been killed at Balakot –'maara gaya sabse bada shaitan' wrote News18 India. No source was identified by any of them.
---
Also read: Itching for an India-Pak war, TV news channels decided a simulated one is as good as any
---
On Tuesday, CNN News18 claimed 'Reports on Masood Azhar being unwell doubtful: Source'.
And ABP dispensed with sources as it boldly proclaimed, '13 ko mar jayega Masood!'
These came after Sunday's reports on his alleged 'death'.
WION said 'sources' told them Abhinandan had been by released by Pakistan under pressure, Tuesday.
NDTV 24X7 went with the headline: 'Sources on Balakot: Meant to demonstrate will'. 'Action on J.E.M camp over'.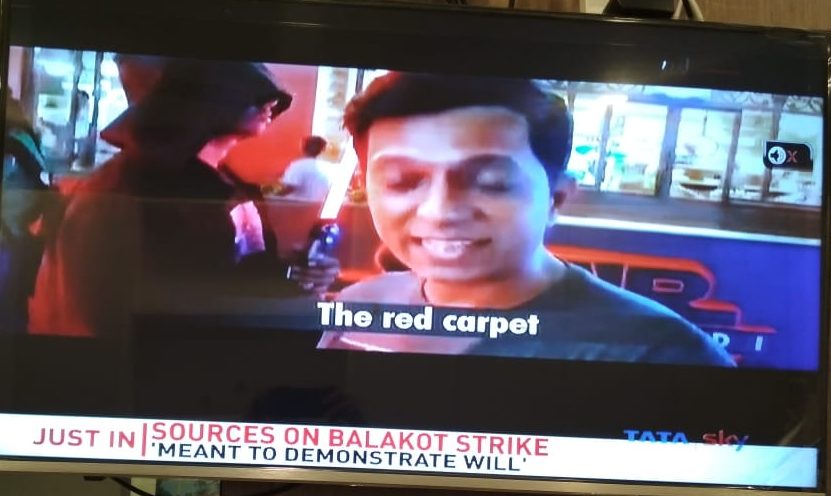 Tuesday morning, the channel had reported that the AAP and the Congress would ally in Delhi, according to that font of information — 'sources'. By 3 pm it carried an interview with Delhi Congress chief Sheila Dikshit: 'no alliance'.
Sometimes, the source or proof is laughable: on Tuesday, Zee Hindustan announced that Pakistan was 'completely flustered'. The proof of this was that it had stopped Indian TV series on its channels, among other things.
It's been more than 10 days since the Balakot air strike and the news channels needed to keep viewer interest alive by any means. Wednesday afternoon, they were having fun with the 'ghus ghus ke maara' proof of the air strikes or the impressive videos of the Rafale fighter jet (WION).
Just like children play 'house-house', TV news channels play war games to entertain viewers.
Get the PrintEssential to make sense of the day's key developments