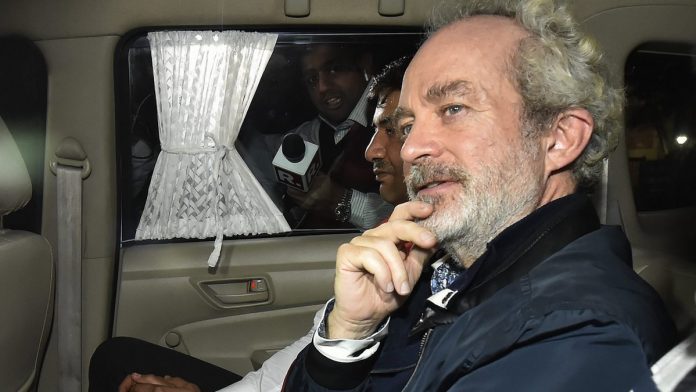 Text Size:
TV news channels were in a celebratory mood over the 'big success of CBI, RAW and the Modi government'
India hooked to Michel coverage', crowed Times Now, Wednesday morning, as it sought to collar the story of the accused in the AgustaWestland VIP chopper deal case hook, line and sinker. 'News breaks here first', it continued, claiming 'access to CBI questionnaire' — surely, that's a breach-leak of security? What will the Supreme Court think of this?
Well, we don't know about India, but certainly TV news was 'hooked' all night long to MGM: no, it's not a movie channel, but '#ModiGetsMichel' that was up and running into the wee hours of Wednesday.
And when you woke up on Wednesday, you'd have realised that the TV's vigil was not in vain: all channels had a grizzly-looking Christian Michel, in a car, arriving at the CBI HQ, New Delhi. Hmm.
---
Also read: A 6-year probe & a multinational hunt: How Christian Michel James was brought to India
---
The drama began Tuesday night, post-dinner, around 11 pm: 'Michel had landed' and been landed by the CBI (NDTV 24×7). The IGI airport was crawling with TV reporters, staking out for first sightings of the AgustaWestland middleman. Alas, none was to be had. So, from NDTV 24×7 to Republic with Times Now, India Today, CNN News18, NewsX in between, long shots of the IGI corridors awaiting Christian Michel's footfall, filled the screen.
Republic, News X, CNN News18 waited outside (brrr) in the technical area, where the CNN News18reporter said, 'in all likability', Michel would exit on his way to the CBI HQ where more reporters from the same channels waited to receive him.
Then a grainy photo of a man, seemingly pushed into boarding a flight, appeared across channels. Frankly, he didn't look like Michel, Michael or anybody else for that matter, but we let it pass. Move quickly onto 'Operation Unicorn' devised by NSA Ajit Doval, according to Republic. Now, we'd learn which 'fam' got '28 million' and whether Michel had 'contacted' Mrs Sonia Gandhi (Times Now). First 'Herald', now 'Agusta', wrote Times Now, trying to catch the Congress party's Gandhi family in the 'net' along with Michel (NewsX). On Monday, the Supreme Court allowed the income tax department to reassess The Herald's accounts.
---
Also read: Youth Congress leader appears for Christian Michel in court, sparks controversy
---
India Today thought Michel should be heard, in absentia, and replayed an old interview where he denies contact with the 'fam' or 'political corruption': 'None whatsoever'.
But who cared for that? News channels were in a celebratory mood over the 'big success of CBI, RAW and the Modi government' (NDTV 24×7), which apparently was sending 'nervous jitters' down Vijay Mallya's spine, for one (Times Now), while Air Marshal Tyagi, allegedly involved in the AgustaWestland deal, was either 'unsettled' or angry, depending on whether you watch CNN News18 or Republic.
Wednesday was the last campaign day in Rajasthan; at a rally, PM Modi spoke of the Herald case and Michel 'who was on the run':  'Now we will see how you escape,' he thundered to the crowd – and presumably to the 'family'. Meanwhile, BJP President Amit Shah held a press conference where he also went after Christian Michel. Interesting or fortuitous that Michel and the Herald case landed in BJP's lap during the poll campaign.
Hindi news channels were less moved by Michel's landing. They reported his arrival, but the mob violence in Bulandshahr, Monday, was more critical to them, although Congress MP Navjot Singh Sidhu's Pakistan-nama still fascinated Zee News (Tuesday).
Since Monday afternoon, Hindi and English news had gone after the 'cow fiends' (CNN News18), who had 'run amok' (Mirror Now) leaving two dead, including a police officer. While India TV's Rajat Sharma claimed there was a conspiracy to create communal discord, Times Now, NDTV 24×7 and others called out UP CM Yogi Adityanath for enjoying 'a sound and light show' while 'Bulandshahr burned' (Times Now). Else, he was in campaign mode in Telangana, crossing words with the Owaisi brothers, much to the delight of TV news, which likes nothing better than motormouth clashes. All Monday, we watch Yogi's taunt that Owaisi would run away like the 'Nizam' of Hyderabad and Asaduddin giving him a 'zero in history', while Akbaruddin went after the Modi's 'chai' habits.
India Today's anchor spoke of a 'bitter campaign' with efforts to 'polarise' the public, a reference to the Yogi-Owaisi confrontation and the earlier ones between Congress President Rahul Gandhi and Modi on 'Hinduism'. APN said, rightly, that the public's concerns were being ignored in the elections.
---
Also read: What is the AgustaWestland scam, and how Christian Michel's extradition will impact it
---
Is anyone really surprised? The motto of the BJP's poll campaign sums it up nicely: 'Phir se'. Once again, election campaigns have descended into 'filth', as Modi called it on Monday in Jodhpur. Remember Gujarat?
Lastly, former India cricketer Gautam Gambhir announced his retirement from all forms of cricket in a unique way. Tuesday evening saw a video of him seated on a stool explaining the reasons for his farewell, which was run on all news channels. Well batted, Gauti.
Get the PrintEssential to make sense of the day's key developments