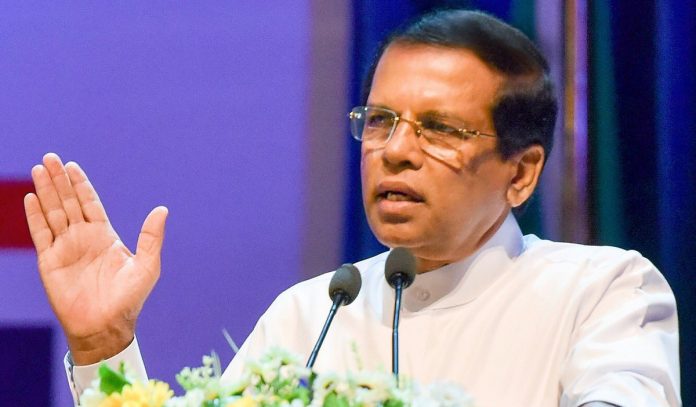 Text Size:
At the United Nations Human Rights Council's 40th session, which concluded 22 March, Sri Lanka came under sharp scrutiny. The session was a reminder of how little things have changed over the past four years.
Yet another resolution was passed on Sri Lanka, giving the island nation another two years to prosecute those involved in wartime atrocities during the over two-decade-long civil war among a host of other issues requiring urgent attention. But don't expect this resolution to result in any meaningful reform.
Frankly, it's difficult to understand how another Human Rights Council (HRC) resolution is useful. The HRC has passed six country-specific resolutions on Sri Lanka since 2012. The past three have even been co-sponsored by Colombo. But none of this had led to a consequential change. Shortly after the latest resolution's passage, Sri Lankan president Maithripala Sirisena "distanced himself from the government's recent co-sponsorship".
---
Also read: Rajapaksa's dark legacy looms large over Sri Lanka and won't clear anytime soon
---
These resolutions are non-binding and have never been taken seriously by Sri Lanka's political elite. In recent times, the government has instead used them to deflect international pressure and deceive the global community. Besides, after the recent homegrown political crisis in the country, it's become increasingly clear that Sirisena isn't even particularly keen on adhering to the country's constitution and basic democratic precepts.
A country in flux
For the past several years, Sri Lanka has been a country in flux. Following an unexpected transfer of power in 2015, many people believed that the war-torn country was set to chart a very different course. While the nation is on a less authoritarian path now, those hoping for a complete turnaround have been left disappointed.
Then coalition government's reform programme – the Sri Lanka Freedom Party and the United National Party formed an alliance in 2015 – included elements of improved governance, constitutional reform, transitional justice and anti-corruption. Unfortunately, the administration was plagued with incompetence, corruption and feckless leadership.
What's more, the country is still recovering from the recent political crisis. On 26 October, Sirisena and former Sri Lankan president Mahinda Rajapaksa conspired to appoint the latter as the prime minister through illegal means. The coalition government had become increasingly unpopular and the relationship between Sirisena and current prime minister Ranil Wickremesinghe deteriorated. Sirisena aligned with Rajapaksa because he saw no other way of winning a second term as president.
---
Also read: Sri Lanka's widely acclaimed 'democratic transition' has fallen far short of expectations
---
The coup attempt failed but Rajapaksa and his allies are still major players in Sri Lanka. They may do well in the upcoming elections – a presidential poll is expected later this year and a parliamentary election is due in 2020. The start of the embarrassing imbroglio also marked the end of the rudderless coalition.
HRC not a viable option
In January, Amnesty International published a report that looks at Sri Lanka's progress on transitional justice and the human rights commitments made by the former coalition government at the HRC. Unsurprisingly, things don't look good.
The Office on Missing Persons – one of the four major transitional justice mechanisms the government said it would create – is finally operational. However, broadly speaking, Sri Lanka has largely ignored its HRC commitments.
The High Commissioner for Human Rights' report on Sri Lanka, which was released during the recently concluded HRC session, is extremely critical too. From reconciliation and accountability to transitional justice to confidence-building measures and more, the document demonstrates Sri Lanka's poor progress.
However, effecting significant change through the HRC, always a long shot, is no longer a viable option. Nonetheless, the country obviously deserves continued scrutiny over its disappointing human rights record. A better and more prudent approach means acknowledging the limits of a chequered multilateral institution while embracing more direct action.
---
Also read: By giving a 'war criminal' the top Army post, Sri Lanka proves Tamil lives don't matter
---
Building some international consensus and pushing several of Sri Lanka's key trading partners to recalibrate their bilateral ties could yield results.
Additionally, finally narrowing down cooperation with a military (very credibly) accused of horrific wartime atrocities and rethinking foreign aid and investment – both are areas where other nations wield significant leverage – would be sensible places to start.
The author is an Adjunct Fellow at Pacific Forum. Follow him on Twitter @taylordibbert.
Check out My543, our comprehensive report card of all Lok Sabha MPs.