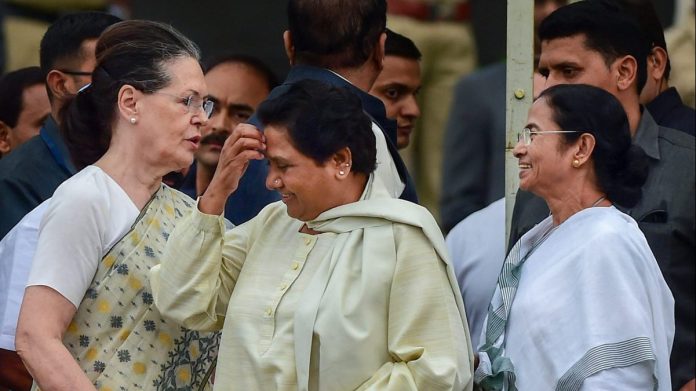 Text Size:
Even die-hard Congress enthusiasts are unsure of Rahul Gandhi's ability to edge out Narendra Modi-led BJP in 2019.
Mamata Banerjee or Mayawati? Congress circles are weighing various options between two women politicians to head the opposition mahagatbandhan against the Bharatiya Janata Party (BJP) in 2019 general elections.
The speculation around these two names comes just three months after Rahul Gandhi, the president of the Congress party, said in Bengaluru that he is ready to become the prime minister if the party emerges as the winner. But even die-hard Congress enthusiasts are unsure of Rahul Gandhi's ability to edge out Narendra Modi-led BJP in 2019.
Between Mamata and Mayawati, it will finally come down to the question of personal proximity and political symbolism. The comfort level of 10 Janpath with the West Bengal chief minister is high, but Congress members from the Hindi heartland prefer Mayawati because the Dalit icon can enhance their winnability from panchayat to Parliament.
---
Also read: Mamata and Congress sink differences, decide to fight 2019 polls together
---
As per conventional wisdom, Mamata should be the preferred choice for the Congress. She is an ex-Congressperson and closest to the grand old party ideologically. Over the past two decades, despite several political realignments, Mamata has stood by 10 Janpath.
Sonia Gandhi was not in active politics on the night of 22 December 1997 when Mamata walked out of the Congress – or was rather expelled from the party. Sonia had made special efforts to keep Mamata in the Congress parivar. She pleaded with former AICC chief Sitaram Kesri to keep Mamata in and even opened the doors of 10 Janpath at midnight for a last-minute meeting.
Mamata told Sonia that she owed everything to Rajiv Gandhi but could not stay in the Congress because of Pranab Mukherjee, who was heading the anti-Mamata faction in the Congress. (Page 192 in Sonia: A Biography, Penguin 2003).
Interestingly, Mamata used to repeatedly say she would return to Congress if Sonia takes charge of the party. But by the time Sonia joined the Congress and took over the party leadership in March 1998, Mamata had started enjoying being the supreme leader of the breakaway group.
Sonia's affection for Mamata was visible when the two hugged as soon as the latter was sworn-in as an NDA minister at Rashtrapati Bhavan on 13 October 1999. "Congratulations", Sonia said, "but will you come back?" Both realised the invite was just an emotional gesture. (Page 216 in Sonia: A Biography, Penguin 2003).
Mamata even blocked a proposed NDA legislation that barred people of foreign origin from holding high office, mooted at one of the new government's first cabinet meetings.
During the UPA-2 rule, the Congress' ties with the Trinamool Congress turned from bad to worse. When Mamata led a spectacular electoral victory in West Bengal state polls, unseating the Left after 34 years in 2011, she expected both Sonia and Rahul to be at her swearing-in ceremony. But the mother-son duo skipped the event on the grounds that "national leaders" do not go to swearing-in of state leaders and allies.
This hurt Mamata, especially because it was Pranab who had advised Sonia against going to Kolkata. But now, Congress old-timers wonder that had Rahul gone, Bengal and national politics would have been different.
A section of the Congress, however, views Mayawati as someone more effective and "solid" than Mamata to lead an anti-BJP alliance. Despite the absence of personal rapport – although Sonia and Mayawati glued their heads together for a few moments in a public display of affection at H.D. Kumaraswamy's swearing-in ceremony in May – her caste background and the massive Dalit following that she commands gives an advantage.
Dalit support for the Congress at the national level will help the grand old party bounce back, some say, and will help counter the Sangh ideology more effectively. Average Congressmen from the north and central India want the revival of the party's old template of Brahmin-Muslim-Dalit voters that kept it in power for decades.
---
Also read: Mayawati should give up her prime ministerial ambitions
---
But Sonia and Mayawati had been close to each other rather inconsistently. In February 1999, Sonia had attended Mayawati's birthday under the watchful eyes of BSP ideologue Kanshi Ram. Mayawati returned Sonia's goodwill gesture by voting against Atal Bihari Vajpayee government in April 1999 when it fell short by a single vote in Parliament. Sonia and Mayawati were reportedly brought together by the czarina of herbal beauty treatment, Shahnaz Husain. In the 1990s, both Sonia and Mayawati were Hussain's high-profile clients. (Page 47 in Sonia: A Biography, Penguin 2003)
Sonia-Mayawati bonhomie, however, did not last long. In 2008, Mayawati accused Sonia of deceiving poor villagers and orchestrating a campaign to starve India's most populous state of funds and development. The Congress responded angrily, accusing Mayawati of indulging in "dirty politics" and spreading a "pack of lies".
The determining factor between Mayawati and Mamata is electoral dividends. While Mamata's Trinamool is certain to pick up the bulk of 42 Lok Sabha seats from West Bengal, the same cannot be said about Mayawati's Bahujan Samaj Party, which currently has zero representation from home state, Uttar Pradesh, in the 16th Lok Sabha. But her Dalit politics is likely to help the Congress get support from many allies and smaller parties across India.
---
Also read:  No-confidence motion against Modi was a clear sign that 2019 mahagatbandhan is yet to form
---
If the 17th Lok Sabha throws up a fractured mandate, the Congress will have to move far more quickly than it did in 1996 when a ragtag United Front government was formed under H.D. Deve Gowda.
Twenty two years later, Rahul Gandhi is unwilling to repeat a Sitaram Kesri-Deve Gowda experience. The 47-year-old is not a power wielder, but fancies himself as a trustee of power. He and his team of trusted advisers are looking for a person from among the regional satraps who can not only lead the grand alliance but also politically deal with the BJP, Modi-Shah, and the Sangh parivar.
Rasheed Kidwai is an ORF visiting fellow, author and journalist. The views expressed here are his own.
Get the PrintEssential to make sense of the day's key developments