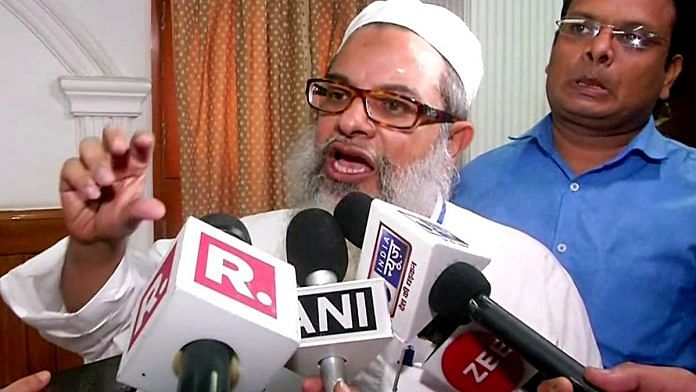 Text Size:
Maulana Mahmood Madani's recent remarks on Kashmir and the NRC are not at all confrontational. He is trying to carve out a space for himself as a spokesperson of India's Muslim community in a highly polarised communal environment by invoking an outdated model of Ulema politics of the Nehru and Indira Gandhi decades.
Ironically, Madani wants to be the voice of Muslims at a time when they have chosen to remain silent on contentious issues like Kashmir and Assam's NRC.
Madani isn't making these statements in his official capacity as the general secretary of the Jamiat Ulama-i-Hind (JUH) — one of most influential Muslim religious organisations in India. Instead, he appears to be positioning himself as the undisputed leader of Muslims who can speak on their behalf.
---
Also read: Article 370 has put us in a dilemma: Should we choose Constitution's letter or its spirit?
---
The politics of Ulema politics
Last week, when Mahmood Madani said that Jammu and Kashmir is and will always remain an "integral part of India" and that Pakistan was banking on the Kashmir issue to create the impression that 'India's Muslims are against India', this certainly underscored a nationalist Muslim gesture.
Similarly, his assertion that "the NRC should be conducted in the whole country as it will help in knowing how many intruders are here" goes well with the growing sentiment that there is a serious need to redefine the very notion of Indian citizenship.
Mahmood Madani's own status as a religious elite-cum-professional politician is inextricably linked to a kind of Ulema politics that evolved out of the compulsions of electoral power play in post-colonial India.
The Constitution of India envisaged a mechanism by which a voter as a rational individual would be able to elect his or her representative to Parliament on a purely secular basis. However, the electoral politics of the 1950s in India saw the Congress continuing to rely on the colonial-era language of communal representation of religious groups, especially the Muslims.
Former Prime Minister Jawaharlal Nehru tried to solve this inherent contradiction between constitutional principles and political practices in an interesting way. He opposed the idea of proportional representation based on religious lines; and yet, the pro-Congress Ulema were recognised by the party as legitimate stakeholders to reach out to Muslims, especially in northern states.
---
Also read: Contrary to belief, Muslims listen to Ulema but not when it comes to their election fatwas
---
Indispensable allies
JUH, which played a significant role in the Indian freedom movement and was known for its opposition to Mohammad Ali Jinnah's two-nation theory in the 1940s, emerged as the natural collaborator with Congress in this endeavour. The Jamiat gave up politics in 1955 and called upon Muslims to actively participate in the nation-building project.
This apolitical pro-Congress gesture of the JUH transformed completely in the post-1967 period when its leaders started taking part in active politics as members of the Congress party. In fact, JUH leaders adapted themselves well with Indira Gandhi's politics of religion that forced the pro-Congress religious elites to work directly for the party as committed workers.
Maulana Asad Madani's induction in the Rajya Sabha as a Congress MP from Uttar Pradesh in 1968 must be seen in this context. Congress recognised Madani as a Muslim representative in the more formal sense of the term. In fact, his presence in Parliament was often invoked by his party to legitimise Congress's attitude towards Muslims. This might be the reason why Madani was given two more Rajya Sabha terms by the Congress in 1980 and 1988.
The decline of the Congress did not negatively affect this trend of Ulema politics. The JUH continued to use its influence to bargain with other political parties after the demolition of the Babri Masjid. The outcome was obvious. Mahmood Madani, the present chief of the JUH, was given a Rajya Sabha seat from UP by the Rashtriya Lok Dal in 2006.
---
Also read: Are Indian Muslims more religious than other communities?
---
Norms of Ulema politics
JUH's Ulema politics, broadly speaking, follows two specific norms.
Ulema as political guardian of the Muslims: It is asserted by some quarters that the Muslim political identity in India can only be understood in Islamic terms. This adherence to Islamisation helps the Ulema class to claim that only the JUH as a religious body can represent the 'Muslim interest' in public life
To justify this claim, JUH leaders often invoke the religious and cultural rights guaranteed to the Muslims by the Constitution. It is argued that the Ulema not merely led Muslims in their participation in the freedom struggle, but also collaborated with the nationalist leaders after Partition. The minority rights, in this schema, are presented as the outcome of the efforts of the religious elite.
Mahmood Madani's remarks on Kashmir and the NRC correspond to this norm. His public presence as a visible Muslim alim justifies the dominant and highly misleading perception that all Muslims are deeply religious and that Madani represents their views.
We do not have any evidence that may suggest that the abrogation of Article 370 and the NRC are the Muslim issues of our current time. Although, there is certainly anxiety among the Muslims about the anti-Muslim discourse conjured up by the ruling class and the media with regard to Kashmir and the NRC. Muslims communities living outside Kashmir and Assam are virtually silent about them.
The Muslim religious plurality and sociological diversity actually do not allow Muslims to behave as a politically homogeneous community. But Madani wants to capitalise on this Muslim silence to transform Article 370 abrogation and the NRC into the Muslim issues.
State patronage: JUH-style Ulema politics depends on direct state patronage for its survival. The manner in which Maulana Asad Madani and Mahmood Madani have been accommodated in the Rajya Sabha for more than two decades shows that the Ulema class needs state recognition for asserting its elite status in public life.
Madani, it seems, is fully aware of the fact that the BJP cannot offer Congress-style patronage to JUH. So, to get accommodated in the Hindutva-driven BJP discourse, Mahmood Madani invokes JUH's famous thesis — the Muttahida Qaumiyat ("composite nationalism") with some interesting modifications.
In order to legitimise his status as the ideal Muslim leader, Madani recognises the Rashtriya Swayamsevak Sangh (RSS) as the representative organisation of the Hindus. He recently praised RSS chief Mohan Bhagwat's openness — after he met Maulana Madani, the leader of JUH's breakaway faction — and suggested that the dialogue between the RSS and his organisation should be strengthened to minimise the differences between Hindus and Muslims.
---
Also read: How to be BJP's version of a 'good Muslim' – A guide by Arif Mohammad Khan
---
No one knows the future of this pro-Hindutva version of JUH's composite nationalism. But one thing is certain. It will contribute to the upward political mobility of Mahmood Madani.
The author is associate professor at CSDS, and author of the new book titled Siyasi Muslims: A Story of Political Islams in India. Views are personal.
Subscribe to our channels on YouTube & Telegram
Why news media is in crisis & How you can fix it
India needs free, fair, non-hyphenated and questioning journalism even more as it faces multiple crises.
But the news media is in a crisis of its own. There have been brutal layoffs and pay-cuts. The best of journalism is shrinking, yielding to crude prime-time spectacle.
ThePrint has the finest young reporters, columnists and editors working for it. Sustaining journalism of this quality needs smart and thinking people like you to pay for it. Whether you live in India or overseas, you can do it here.