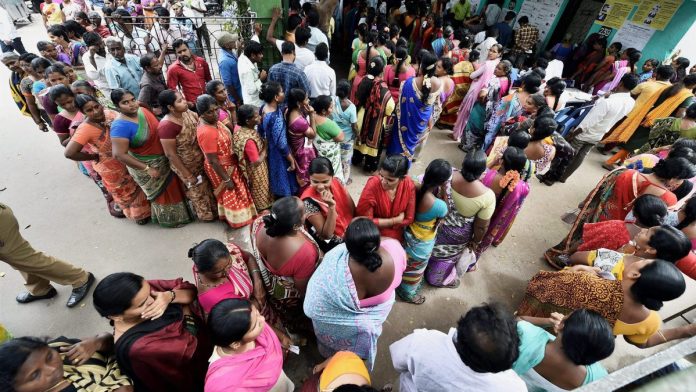 Text Size:
Half-truths are spread by way of manipulation and political points are scored right before elections.
A video in which young Indians on the streets are asked about the 'rashtrapati' of Madhya Pradesh and the 'pradhan mantri' of Delhi to gauge their political awareness recently went viral.
Forget getting the names of political leaders right, they were blithely unaware of what the words 'rashtrapati' and 'pradhan mantri' mean—what is more, not a single person pointed out that Indian states are headed by a 'mukhyamantri' (chief minister).
pic.twitter.com/MKXIjzxnF5
"Kejriwal toh wohi hai… Narendra Modi"
While we play politics-politics on Twitter, the janta is oblivious of basic political knowledge.
Why?
They don't care?
They are stupid?
Or there's lack of communication between people & their representatives?

— Zainab Sikander (@zainabsikander) December 19, 2018
The obvious question: on what basis are these young citizens voting—do they even know about the powers vested in the offices of chief ministers or the prime minister? Have we left the future of our nation to dimwits?
When facts aren't facts
I realised that the young urban voter suffers from an affliction called 'information addiction'. With the advent of Google and the mobile phone, virtually a surgical attachment to our hands, suddenly everyone started overdosing on information without necessarily gaining any knowledge.
When the image of a freshly laid road in Indonesia is shared on Twitter as an example of 'infrastructural push' in a 'distant village' in India by a fan of Prime Minister Narendra Modi, the information addict accepts it happily, experiences 'a hit of bhakti' and passes the misinformation-infected syringe as it were on to thousands of others over social media and/or WhatsApp.
Nobody bothers to check which 'distant village' this could possibly be.
---
Also read: For Indian millennials, 2019 is going to be all about Modi's personality not policy
---
The oh-so-smart politician
When former finance minister P Chidambaram waxes eloquent on terms like 'fiscal deficit' stating, "The current FRBM Act is very malleable. It does set out a fiscal deficit target, but if you miss the target, all that you do is go back and amend the Act to reflect the missed target", most of us are thrown into a tizzy faced with highly technical jargon.
Young voters need to be made politically aware and this can only be achieved if politicians connect with voters and share information in a way that is easy to understand.
The zero-sum game
The reason the Modi wave swept this nation in the 2014 general election was the Bharatiya Janata Party overwhelmed the seemingly dumb Indian voter with all sorts of information and no one really bothered to check what it meant. So, when the term "Gujarat model" became popular, ordinary citizens used it to refer to a Utopian state where all was hunky dory because that is how it was marketed—and a perception created to sway voters in its favour.
However, no one asked what this model really meant. Had Gujarat been transformed into Kyoto? Did voters ask if Gujarat was governed by a different set of rules? "Go and see Gujarat" was the retort you received when you questioned the success of the Gujarat model. Evidently, it is a brilliant marketing term based on zero data.
So, how do we overcome this absence of facts? We must begin by teaching young voters to question their representatives. When a politician promises to 'provide jobs', we shouldn't simply be impressed by the assertion. We must learn to ask where these opportunities will be created or just learn to fry pakodas on the roadside—which the prime minister once suggested was lucrative employment.
When politicians say they will build new schools in Delhi, we should ask where the land is in the overcrowded Indian capital to build institutions of value; we must understand that we would at best get additional classrooms in existing schools. When politicians in Karnataka decide to build a 'Mother Cauvery' statue for 'tourism', we should ask how much its maintenance would cost. Wouldn't we rather the state uses these funds to clean lakes in the state capital Bangalore that look like toxic bubble baths with each passing year?
---
Also read: Sorry urban voters, election 2019 is all about wooing the rural Indian
---
The fake news factor
Why do fake news peddlers flourish? Because they are confident that their bluff won't be called out or that disinformation will cause the intended damage while it spreads. For instance, when Smriti Irani, a Union Minister, retweets a doctored video that shows Congress President Rahul Gandhi going back on his promise of farm loan waiver in Madhya Pradesh, half-truths are spread by way of manipulation and political points are scored right before an election.
It was also said that Rehana Fathima, a Muslim woman, entered the Sabarimala temple to make a point about feminism. But the 'activist' in question later confirmed that she had been associated with a Hindu Right outfit. Facts suggest she attempted to polarise a contentious issue which had always been about gender equality, removed from the 'Hindu-Muslim' divide. However, the voter continues to remain the deer caught in the headlights.
---
Also read: 2018's top 10 fake news: From 'Pak zindabad' to post claiming Congress most 'corrupt party'
---
Politics is not rocket science. When the political class indulges in whataboutery, the conversation between voters and politicians becomes convoluted. The only way to prevent damage is to stick to the basics and hold politicians accountable for delivering on our immediate concerns: jobs, economy, infrastructure, corruption control and social reform.
That is, essentially, democracy.
Zainab Sikander is a political observer and writer.
Get the PrintEssential to make sense of the day's key developments