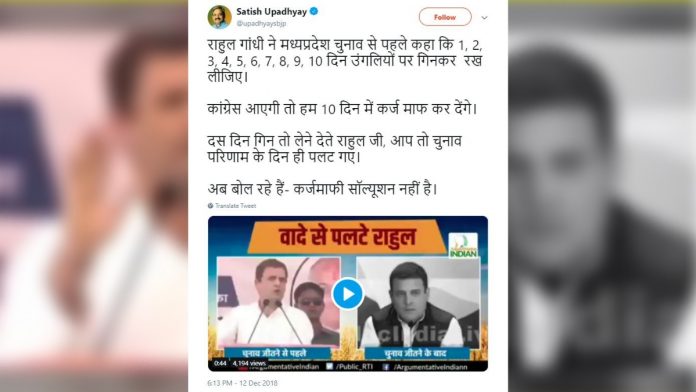 Text Size:
An altered clip from Congress chief Rahul Gandhi's press conference has been retweeted by hundreds, including Delhi BJP chief Satish Upadhyay.
New Delhi: A collage of two videos being circulated on social media claims that Congress president Rahul Gandhi has gone back on his promise of providing loan waivers to farmers in Madhya Pradesh after winning the state election.
Pappu before MP election vs Pappu after MP election. pic.twitter.com/NLxj605TVQ

— Vivekk Ah' Nun (@Oyevivekk) December 12, 2018

The post, with the title "Pappu before MP election vs Pappu after MP election", has two videos.
In the first video, Gandhi is seen promising loan waiver to farmers within 10 days if the Congress comes to power in Madhya Pradesh. "The Congress party will win the elections. After the elections, count till 10… and within 10 days, Congress party will write off farmers' loans."
In the second video, Gandhi can be seen saying: "This is not the solution. The solution will be more complex and the solution will be one that supports farmers, to build better infrastructure, to provide better technology. And frankly speaking, the solution isn't easy, it is challenging."
ThePrint has found that the second clip has been altered.
---
Also read: Video claiming Pakistan's flag being waved at Congress rally is fake
---
At a press conference on Tuesday, when a reporter questioned Gandhi on the issue — "You keep saying that loan waivers played an important role in the 2009 elections, and you will go into 2019 with this promise" — the Congress president cut him off to say, "Look, I have stated in my speeches that loan waiver is a supporting step and not the solution."
This part has been cut out from the altered clip. Gandhi, during the conference, went on to elaborate on the complexity of the solution, which has been strategically put in the second video.
The post has been retweeted 870 times and received more than 1,100 likes. Satish Upadhyay, the Delhi BJP president, was among those who shared the post on Wednesday evening.
राहुल गांधी ने मध्यप्रदेश चुनाव से पहले कहा कि 1, 2, 3, 4, 5, 6, 7, 8, 9, 10 दिन उंगलियों पर गिनकर रख लीजिए।

कांग्रेस आएगी तो हम 10 दिन में कर्ज माफ कर देंगे।

दस दिन गिन तो लेने देते राहुल जी, आप तो चुनाव परिणाम के दिन ही पलट गए।

अब बोल रहे हैं- कर्जमाफी सॉल्यूशन नहीं है। pic.twitter.com/RVSim65y7h

— Satish Upadhyay (@upadhyaysbjp) December 12, 2018

In collaboration with SM Hoaxslayer.
Check out My543, our comprehensive report card of all Lok Sabha MPs.