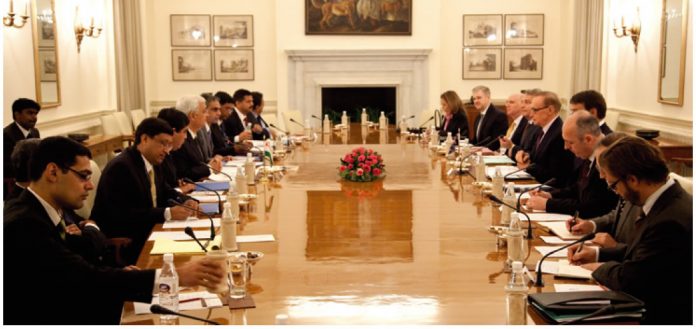 Text Size:
India's bureaucracy is the last refuge of the talented generalist, a tradition inherited from Oxbridge but long since abandoned by the British.
Although the brouhaha over the government's advertisement opening up opportunities for 'talented and motivated' Indians to join the bureaucracy through lateral entry at the Joint Secretary level has died down for the moment, it raises important issues that still require consideration and reflection.
The fact is that as Chairman of the Parliamentary Standing Committee on External Affairs, I have long advocated such a step. My argument was not just that the MEA was short-staffed, which it is – we have fewer than 800 diplomats, about the same as tiny countries like Singapore and New Zealand, whereas Brazil has 1,200, China 6,000, and the US 20,000. It was rather that whenever the changing requirements of Indian foreign policy required expertise that could not be found within the MEA, the government should resort to lateral entry to fill the breach.
In my experience, the MEA has endured, at different times, crippling shortages of climate change experts, public diplomacy mavens, Spanish-speaking professionals, and domain specialists in areas like Baluchistan or North Korea. The ministry's typical response – to increase the annual recruitment intake instead – would help us fill those deficiencies a decade from now, but do nothing to resolve the requirement today. Lateral entry, I argued, was the only solution.
The committee agreed with me, and in a far-reaching report two years ago on the recruitment, training and deployment of the Indian Foreign Service endorsed this recommendation and sent it to Parliament. The then foreign secretary was more receptive than his predecessors. He recruited, laterally, a dozen subject experts, but only at fairly junior levels and only into the policy planning and research division of the ministry, where their role is principally to write papers that may or may not be read and acted upon. No lateral entrants were brought into any position that has decision-making or administrative powers, which of course were reserved for career bureaucrats.
The reaction to the recent government announcement advertising jobs in 10 ministries, in areas of expertise ranging from shipping to climate change, confirmed the resistance from our well-entrenched bureaucracy to opening up government positions to talent from outside – from the academic world, think tanks, and (why not?) even the private sector. But the time to consider such lateral entry has clearly come.
As a recent IAS topper, Shah Faesal, observed from his sabbatical perch at Harvard, there is a stunning lack of professional expertise in our government. He cited his own example: "I am a medical sciences graduate who qualified for the civil services examination with public administration and Urdu literature, got a hands-on training at the LBSNAA and went on to supervise agriculture, rural development, revenue administration as a district collector, and headed school education and energy sector of the state in the last eight years of my service. It is obvious that only an IAS officer can dare to dabble in so many subjects without having a formal educational background in any of these. When we interact with our counterparts from the developed economies, they find it hard to believe that one person can be an expert in so many subjects."
The result, he pointed out, is "a system where a potato expert is looking after defence, a veterinary doctor is supervising engineers, [and] a history graduate is dictating health policy". India's bureaucracy is the last refuge of the talented generalist, a tradition inherited from Oxbridge but long since abandoned by the British who taught it to us. Our system also employs a practice of regular transfers and postings that militates against the development of expertise during a bureaucrat's career. The vast majority of government officials serve tenures of less than 18 months, and are moved just as they acquire mastery of the subjects dealt with in their current portfolio.
As long as we hire our government officials based on their general aptitude rather than their specialisations, this will continue. But where can the government turn when it genuinely needs an expert? In an increasingly complex world where our government officials are coming up against people thoroughly immersed in their areas of expertise, there is a need for qualifications that simply can't be acquired on the hoof. Lateral entry is the only way one can make up for this need.
But that doesn't mean one should grant blanket approval for the government's move. First of all, the positions that have been advertised are surprisingly senior ones. Posts at the Joint Secretary level are usually involved in making and executing policy, not just in offering expert advice. There is certainly a strong argument for reserving them for those who have served in the government, and have some familiarity with its processes, policies and precedents. I would have preferred to start lateral entry a notch or two below that level. Bring in experts and advisers initially, and let them help the decision-makers; don't appoint them at the top where any mistake arising from their inexperience ingovernment matters could do serious damage.
Second, there is a vital need for transparency in the selection process of any lateral entrants. Given the strongly ideological bent of the ruling party, there are understandable concerns that this initiative might in fact be an attempt to induct people who agree with the Bharatiya Janata Party's beliefs or have imbibed the worldview of the RSS. While that is all very well in political positions, it is unwelcome in the civil service, which for good reason is supposed to be apolitical. The government must publish the requirements for each post and spell out the expertise that outside applicants are expected to possess. The UPSC must also review the process and confirm that the expertise sought from outside is not in fact available in the government.
It is not that lateral entry is entirely unprecedented in the Government of India: in the past, many expert economists have been brought in, even at the rank of Secretary. Previous governments have appointed outsiders as ambassadors in a variety of capitals, though this practice has dwindled (currently the only Indian ambassador from outside the Foreign Service is our envoy to Saudi Arabia, but even he is a former bureaucrat, having been an IPS officer). Such recruitments had happened in the past on a case-to-case basis, so a more systematic and less ad-hoc process would be welcome. But the criteria should be spelled out publicly so that lateral entry does not become an alibi for politicisation of the permanent civil service.
Lateral entry would help shake up the bureaucracy, challenge the complacent and enhance recognition of the value of expertise in the civil service. It could also prompt our talented generalists to specialise in certain areas and rise within them, so that one could imagine an IAS officer being known throughout her career as an expert in defence issues or in education. Where vacancies arise and officers with the required core subject-matter knowledge are unavailable, the government could resort to lateral entry.
As long as the criteria are published, the requirements are advertised and the selection is transparent, lateral entry into the bureaucracy can strengthen our government. But if it becomes a means of opening a backdoor to politically committed ideologues, it could destroy the "steel frame" that Sardar Patel considered essential to India's unity and progress.
My conclusion: proceed, but with caution.
Dr Shashi Tharoor is a Member of Parliament for Thiruvananthapuram and former MoS for External Affairs and HRD. He served the UN as an administrator and peacekeeper for three decades. He studied history at St. Stephen's College, Delhi University, and International Relations at Tufts University. Tharoor has authored 17 books, both fiction and non-fiction; his most recent book is 'Why I am a Hindu'. Follow him on Twitter @ShashiTharoor
Check out My543, our comprehensive report card of all Lok Sabha MPs.