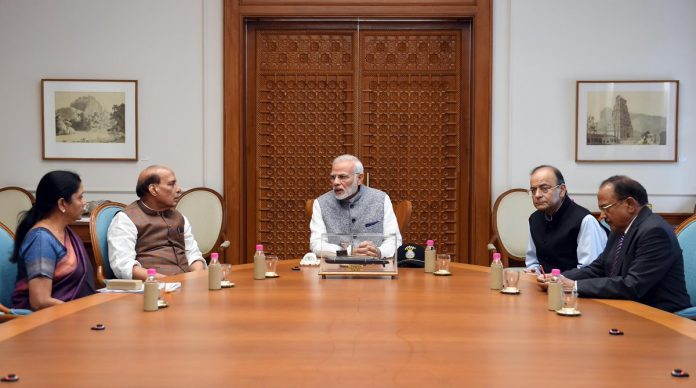 Text Size:
India has expressed its disappointment at the fact that China has once again prevented Jaish-e-Mohammed chief Masood Azhar from being listed as a global terrorist by the UN, but the truth is that hard-knuckled diplomacy could hardly retrieve what was lost on the ground that awful morning of 27 February.
The minute Wing Commander Abhinandan Varthaman's jet was shot down by the Pakistan Air Force over Pakistan-occupied Kashmir, the gains of the Indian Air Force strikes on Balakot the previous day substantially evaporated.
After that, the Narendra Modi government had only one option. Bombing Pakistan again would have put the IAF pilot's life in danger, and in any case the international community would have hardly allowed another attack that risked escalation between two hostile nuclear powers.
The only option was to sue for de-escalation with Pakistan. Prime Minister Modi had no choice but to grit his teeth and give his word. Imran Khan, who forgot to make the peace offer to return Abhinandan Varthaman the first time he stood up and spoke in Pakistan's parliament, has since looked like quite the good guy in the eyes of the international community.
---
Also read: China blocks proposal to tag JeM chief Masood Azhar a terrorist for fourth time at UN
---
Having been forced into a stalemate in the skies, it was now up to India's diplomats to deliver the goods. A statement by the UN had already come condemning the Pulwama attacks, including by China. For the last two weeks or so, the Ministry of External Affairs put its entire weight in a massive lobbying exercise to persuade the Chinese to not come in the way of proscribing Masood Azhar under 1267 Sanctions Committee. The US led the campaign at the UN Security Council and other countries like France, UK and Australia pitched in.
Last night Beijing thumbed its nose in the face of all those asking. Former foreign secretary and National Security Adviser Shivshankar Menon recently told me in an interview that India was using up a lot of its international goodwill for an irrelevance. "What good will it do to ban Masood Azhar? It's not as if the UN is going to march into Islamabad and pick him up?"
Certainly, the Balakot strikes have signalled India's intent to not continue to take pain lying down. The IAF has done a difficult job very well, by targeting the madrassa of the Jaish camp in Balakot. The strikes may or may not have killed people, but they signal India's intention to protect itself by striking at will.
In the end, even the powerful Americans couldn't convince the Chinese to abandon its 'all-weather ally' Pakistan in banning the JeM chief. With Donald Trump and Xi Jinping's top officials talking so they can arrive at some sort of a conclusion over fair trade, it is unlikely Trump would have pushed Xi so much on the India count.
---
Also read: Even if Masood Azhar gets UN terrorist tag, it will likely be only a symbolic win for India
---
Simply put, Trump may not have wanted to go out on a limb for India, even though his officials, admittedly, pushed the Chinese to give in and not look like an outlier.  They probably did more than anyone else in the P-5, even if France and the UK have rushed to take credit. Russia remained taciturn, not willing to antagonise the Chinese.
Equally important, the Chinese don't seem to have listened to the US. In 2008, Beijing blinked when the US pressed for an exemption for India at the Nuclear Suppliers' Group. Today, the Chinese are far more powerful and demand to be treated as such. They demonstrated last night at the Security Council in New York that they needn't listen to the most powerful nation in the world, because they are almost as powerful.
Fact is, the Modi government refused to learn from Atal Bihari Vajpayee and ask why he didn't cross the Line of Control back into Pakistan when India and Pakistan fought a mini-war in Kargil, 20 years ago in 1999. Modi's top national security officials clearly haven't read the files or newspaper clippings quoting then foreign minister Jaswant Singh who said, time and again, "Map-making in the subcontinent must come to an end."
What did Vajpayee and Jaswant Singh and Brajesh Mishra, a predecessor of NSA Ajit Doval, mean in 1999? And why didn't Modi listen to the voices of his own BJP elders and betters?
Vajpayee, Singh and Mishra meant that India could only hope to defang Pakistan if it played divide-and-rule. Divide up the population by supporting civilian initiatives like travel, trade, education and health, and make India so popular inside Pakistan that you can diminish the all-powerful military establishment.
---
Also read: Not designating Masood Azhar a terrorist hurts regional stability: US tells China, UN members
---
Modi has done the exact opposite these last five years. He has played fast and loose with his Pakistan policy, sometimes shunning the Pakistanis, other times inviting himself over for wedding celebrations. At the same time, he has adopted a muscular approach inside Kashmir. The result is for all to see.
The nonchalant Chinese refusal to ban Masood Azhar is a major lesson in realpolitik. India cannot allow itself to be baited by the Beijing-Islamabad duo. It has to choose revenge at a time and place of its own making. That time will come, but it is not now.
Check out My543, our comprehensive report card of all Lok Sabha MPs.