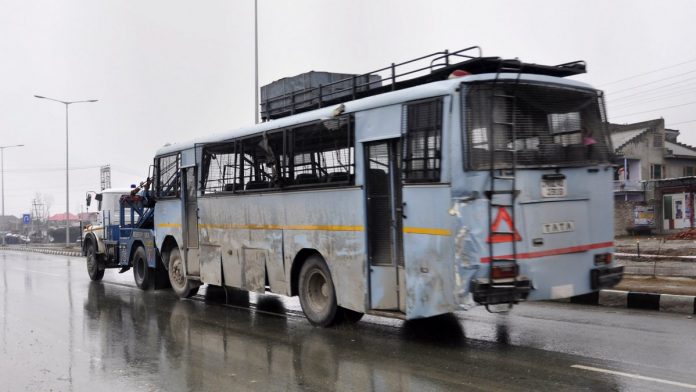 Text Size:
The Pulwama incident in Kashmir was so fatal because it didn't follow the usual methods of attacks on convoys– by planting IEDs on the road, or hurling hand grenades, or firing – for which why we have ROPs in place or road operating parties who clear the roads.
In fact, the ROPs were in place in Pulwama also, but the horrific attack could be pulled off because Indian paramilitary forces were not geared up for a car bomb.
Had there been intelligence inputs about it, the CRPFs could have taken precautions accordingly.
This was not an issue of lack of equipment or safety, because in an attack, the attacker always has the first hand as the other party is unaware of it.
---
Also read: These are the options India is considering to hit back at Pakistan after Pulwama attack
---
For the first time in years terrorists have used such a modus operandi – the 'suicide' car bomb attack – in Kashmir. A car fitted with so much explosives came and rammed into the bus carrying the CRPF personnel.
So much RDX comes into the Valley and there is no information about it – that itself is a basic failure. After all, it's not that the explosives came in, were set up and the incident happened within hours. It must have taken months of planning to bring in so much explosives, store it at various places, assemble it as a bomb, preload it into a vehicle and get a person to drive the vehicle. And nobody had a clue – that is a failure.
I personally feel that the course of action going forward is for the current government to decide, but we must give a clear message that India means business.
We can't say do not do anything to stone pelters, or revoke the FIRs against them, or don't touch the over ground workers (OGWs) because it will lead to political problems. There is no point talking to Hurriyat leaders, who openly support the attackers. So, the message at the top isn't clear.
---
Also read: Post-Pulwama, India needs a calibrated response to terror, not knee-jerk reaction
---
Before Pakistan, we first need to give a clear message to the people of the Valley and to the forces to do something. The Pulwama attack does have a homegrown militancy angle.
What happened was inside the Valley, not in Pakistan. So, the message has to go to the perpetrators here— the people who brought in the explosives, helped in storing it and organised the Pulwama attack. There are so many leads here to work on.
Adil Ahmad, the man driving the car at Pulwama, did not become radicalised in one day. Everyone knows the institutions and people involved in this radicalisation.
Anybody who knows Kashmir, knows what to do now.
As told to ThePrint.
Dilip Trivedi is a former DG, CRPF.
Get the PrintEssential to make sense of the day's key developments