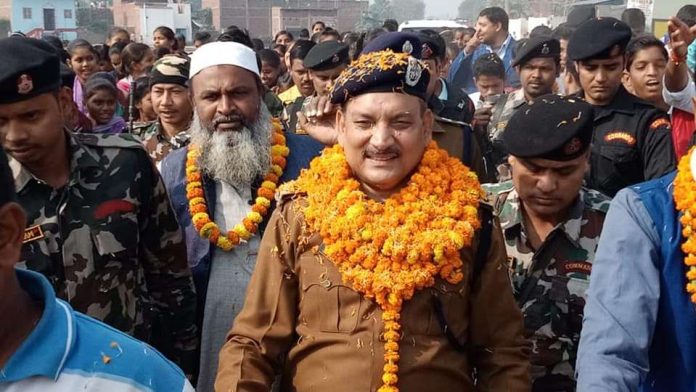 Text Size:
New Delhi: The newly-appointed Bihar director general of police (DGP), Gupteshwar Pandey, was examined by the CBI in 2014 in a high-profile abduction case that remains unsolved.
Five years before that, he left the Indian Police Service (IPS) to join the Bharatiya Janata Party (BJP), but was controversially reinstated by the Bihar government less than nine months later.
Pandey, a 1987-Batch IPS officer, took charge as DGP on 31 January, chosen from a list of three officers shortlisted by the Union Public Service Commission (UPSC) to head Bihar Police.
In 2014, Pandey and two Bihar police personnel were examined by the CBI in the now Supreme-Court-monitored Navaruna case, which centres on the abduction of a 12-year-old girl, Navaruna Chakravarty, from her Muzaffarpur home in 2012.
Pandey was the inspector general of police, Muzaffarpur, at the time.
In September 2012, Navaruna, then a Class VIII student, was abducted from inside her bedroom. Her family alleges the abduction was part of a land-mafia ploy to purchase the plot on which the Bengali family of four was living.
"I had accused Gupteshwar Pandey of being involved in the abduction of my daughter, yet he has gone on to become the DGP," said Atulya Chakravarty, Navaruna's father. "What hope is left for us?"
"Police was involved from start to finish in the case… So the entire IPS lobby got together to save each other," her father Atulya added.
Pandey could not be reached for a comment despite several attempts.
A month after Navaruna's abduction, a skeleton was found from a drain close to their residence. While a DNA test proved that the skeleton was indeed Navaruna's, her family is still hopeful that their daughter will come back.
The case is yet to be closed, even though it was transferred to the CBI five years ago.
A few years before that, Pandey had sought voluntary retirement from the service to contest the Lok Sabha polls on a BJP ticket. Nine months later, the Nitish Kumar administration reinstated him, after he didn't get a ticket.
---
Also read: Why UPSC is shortlisting IPS officers to become state DGPs
---
'Didn't know details'
The UPSC has been asked by the Supreme Court to shortlist three officers for the post of DGP in every state, after which the state government can pick one officer from the list.
The initiative seeks to minimise political influence in appointments to the crucial post, and ensure that officers with clean records are considered for the post.
An IPS officer from Bihar said the "UPSC should not have shortlisted an officer like him [Pandey] in the first place".
"But now that they have," said the officer, "Nobody will say anything because the UPSC is such a reputed agency".
Approached for comment, a senior UPSC official said on the condition of anonymity that the panel was not aware of these details when it shortlisted Pandey.
"We go by the records given to us by the state and central government, and the committee considers only those records," the official added. "But I cannot comment on this since I do not know any of these details."
---
Also read: Central Armed Police Forces to finally get pay parity with their IPS counterparts
---
Get the PrintEssential to make sense of the day's key developments