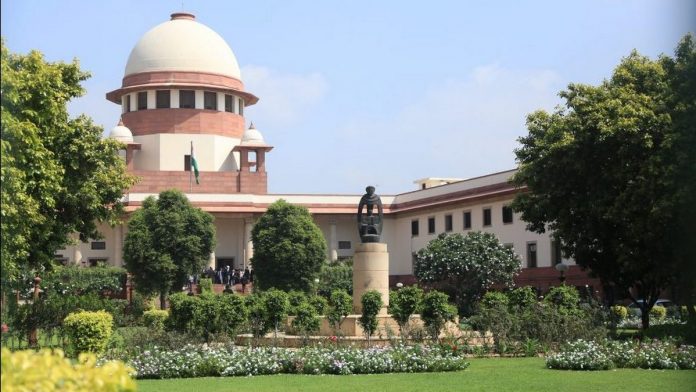 Text Size:
New Delhi: Two days after the Election Commission (EC) announced poll dates giving effect to the Model Code of Conduct, the Supreme Court Tuesday sought to know if the Modi government has complied with its February 2018 order calling for poll reforms.
In its wide-ranging landmark order last year, the top court had directed the Modi government to devise a mechanism to examine those Members of Parliament (MPs) and Members of Legislative Assembly (MLAs) who declared an exponential rise in their assets.
On Tuesday, the bench led by Chief Justice of India Ranjan Gogoi directed the law ministry to file a response within two weeks on the compliance status of the order seeking the mechanism.
The bench, which also comprised Justices Deepak Gupta and Sanjiv Khanna, asked the government whether the declaration form for candidates has been updated to reflect the mandated amendment — declaration of a candidates' source of income and that of his spouse and dependents.
The court's direction came on a contempt plea filed by NGO Lok Prahari which alleged that the poll reforms were not being implemented by the central government. It sought directions from the apex court seeking time-bound assurance by when the reforms would be implemented.
---
Also read: Why Model Code of Conduct for elections cannot act against offending politicians
---
The plea
Lok Prahari filed a plea in October 2018 seeking to initiate contempt proceedings against the legislative department of the law ministry for failing to comply with the directions of the top court.
The NGO asserted that the Modi government was not serious in its attempts to curb corruption.
It further submitted that Prime Minister Narendra Modi's avowed declaration of "na khaunga na khane dunga" could not be taken seriously when the government failed to set up a mechanism to investigate leaders who recorded more than a 100 per cent increase in their assets after elections.
The NGO also mentioned the issues with the declaration form filled by candidates — Form 26, which provides relevant information about eligibility and suitability of candidates.
Lok Prahari said that even though this information is in the public domain, the nomination papers were only with the Returning Officer of the EC, depriving rivals the opportunity to raise objections on its basis at the time of scrutiny.
"Therefore, it is not enough that the information mandated by the Hon'ble Court has been provided for in the nomination papers…sadly even after 8 months the categorical order… in this regard has not been complied with," the petition read.
Apart from the consequences of non-disclosure or disclosure of wrong information, the candidate would also be liable for prosecution for perjury, said the NGO.
---
Also read: The many moods of PM Modi during his last outing before the model code of conduct
---
Check out My543, our comprehensive report card of all Lok Sabha MPs.