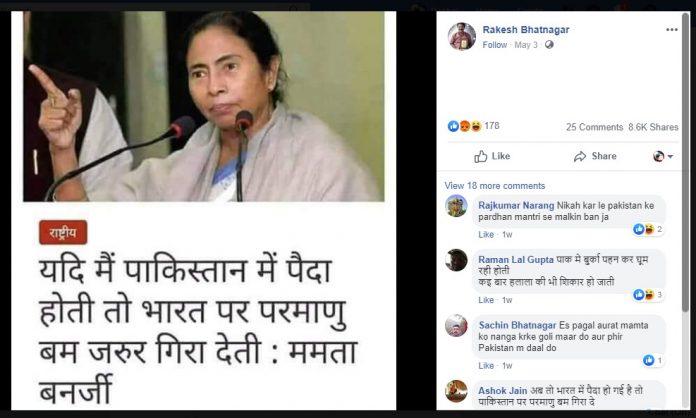 Text Size:
New Delhi: With the seventh and final phase of the Lok Sabha polls in West Bengal just around the corner, Chief Minister Mamata Banerjee has become the primary target of fake news.
On Tuesday, screenshots began doing the rounds of social media, alleging that Banerjee had said, "If I was born in Pakistan, then I would have definitely bombed India."
The article was purportedly posted by a Delhi-based Hindi news website mobilenews24.com, which has a reputation for carrying fake news, and later taken down.
The same article had also been circulated in 2017.
Banerjee has been at loggerheads with the BJP throughout the election campaign, but things got heated up recently when a BJP youth worker Priyanka Sharma was arrested for sharing a meme about the CM. Banerjee also denied permission for BJP president Amit Shah's rally in Jadavpur.
Mobilenews24 a serial offender
This is not the first time mobilenews24.com has come under scrutiny for posting fake news.
On 22 March 2018, the portal attributed a quote to Banerjee, saying that she hates "Hindus so much that if were up to her, she'd chase them all out of Bengal".
मैं हिन्दुओं से नफरत करती हूँ बस चले तो सबको बंगाल से भगा दूँ : ममता बनर्जी https://t.co/sxdLYP0KZR

— MobileNews24 (@mobilenews24com) March 22, 2018
In September 2017, the site claimed that Banerjee said "even if the RSS (Rashtriya Swayamsevak Sangh) slits my throat, I will keep living for the Muslims".
RSS मेरा गला काट दें फिर भी मैं मुसलमानो के लिए ही जीऊँगी: ममता बनर्जी https://t.co/eug9htPKbG pic.twitter.com/N61zrB77F8

— MobileNews24 (@mobilenews24com) September 22, 2017
In May 2017, the same news portal had claimed that Banerjee said her family should have moved to Pakistan after Partition.
बंटवारे के समय मेरे परिवार को पाकिस्तान चला जाना चाहिए था : ममता बनर्जी https://t.co/na6ACdrlky pic.twitter.com/C3FbAUeW9N

— MobileNews24 (@mobilenews24com) May 12, 2017
Although Banerjee seems to be the website's favourite target, it has also posted fake news about Delhi Chief Minister and Aam Aadmi Party convener Arvind Kejriwal.
In July 2016, it had claimed Kejriwal said "India should give up its rights over Kashmir. The people of Kashmir want independence."
None of these claims have proven to be true, or been substantiated by the website.
In collaboration with SM HoaxSlayer.
---
Also read: SC directs Priyanka Sharma to apologise to Mamata Banerjee over morphed image, given bail
---
Get the PrintEssential to make sense of the day's key developments