Police in big cities are turning to social media to spread their message and connect with young, net-savvy Indians.
Meme's the word among India's police departments of late. Confused?
Police forces in cities such as Delhi, Mumbai, Kolkata and Bengaluru are turning to social media to spread awareness on key social problems such as drunk driving, drugs and cyber bullying.
Memes, references to Hindi films or popular international series such as 'Game of Thrones' and 'Narcos', GIFs, as well as videos are coming in handy to spread their message.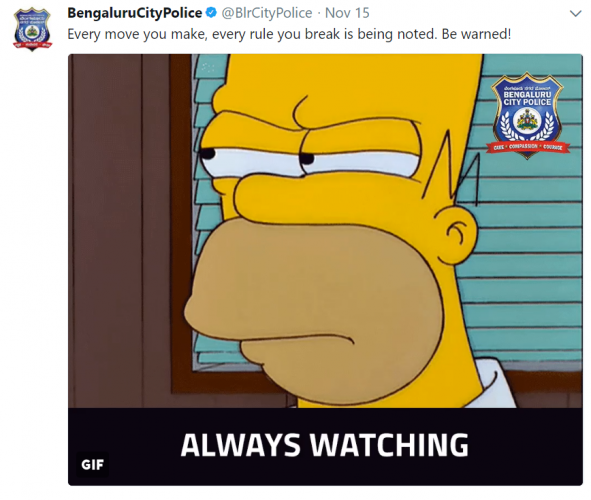 The move seems to be in line with Prime Minister Narendra Modi's idea of making police forces of the country 'SMART'— Strict and Sensitive, Modern and Mobile, Alert and Accountable, Reliable and Responsive as well as Techno-savvy and Trained.
Police in Delhi, Mumbai, Bengaluru, and Kolkata all have social media handles with thousands of followers. By adopting new strategies, they are increasing their visibility and reach among the young and urban population.
A recent tweet by Mumbai Police read, "Cocaine is never a solution, unless you dissolve it in water and flush."
Such messages are gaining traction and are being widely shared, especially among the youth.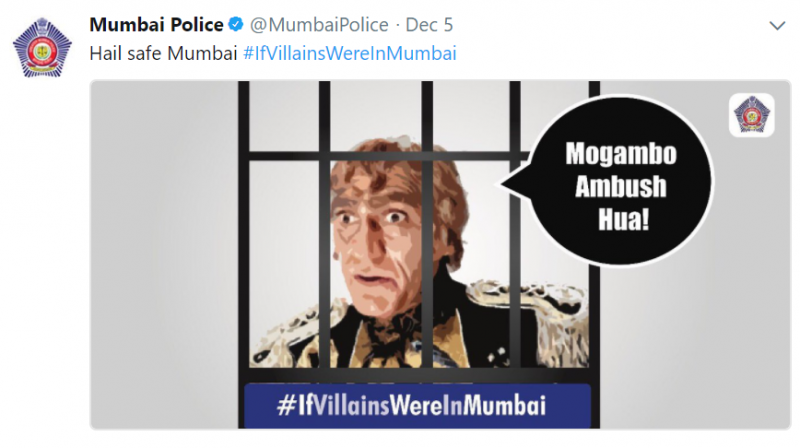 "Social media interaction makes a better police-public relationship," Sunchika Pandey, consultant, content and creative, for Mumbai Police, told ThePrint.
The Mumbai Police has more than 4 million followers on Twitter, where they not only post memes and GIFs but also address grievances and highlight work done by them.
"We want to show the human face of the police force and break the ice with humour," Pandey added.
The Delhi Police, which also posts humourous content, has a segment called 'Kuch Khaas Hai Itihaas' on Twitter. It features anecdotes about police cases from the past, such as that of a pajama worth eight annas stolen in 1897 or the theft of 11 oranges in 1891.
"The mode of communication has changed; it is now social media," Dependra Pathak, special commissioner of Delhi Police, told ThePrint. "The reach of the police with social media is greater, which is in fact encouraging people to come forward to lodge their complaints at police stations as well."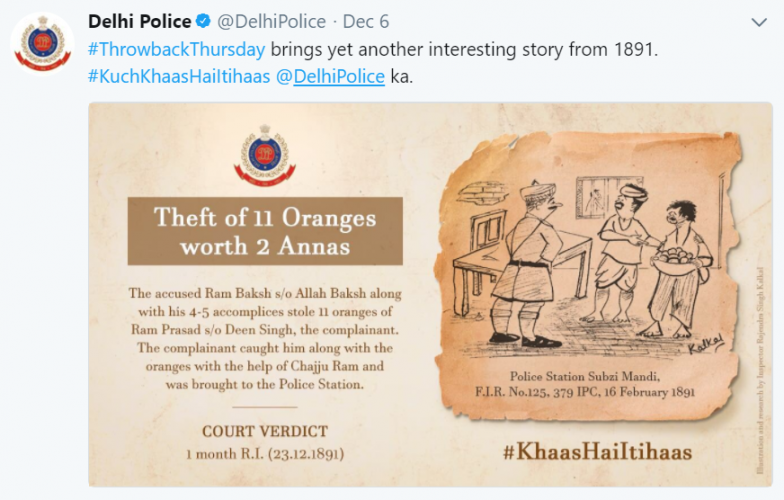 The official social media coordinator for Bengaluru City Police is a cop himself. "Bengaluru Police not only utilises Facebook and Twitter, but also Snapchat and Instagram. We are using advanced technology to make sure each complaint made online is forwarded to the official/ department concerned," said the officer who spoke on condition of anonymity.
In Kolkata, police seem to have adopted 'think global, act local' strategy. After the #MeToo campaign, they had posted an encouraging message on social media saying, "We urge you to be strong, we want you to be very, very angry about the leering, jeering, threats, verbal and physical abuses, we are asking you to be not afraid and to report to the police every time."
The trend is not just limited to big metros only. Even cops in smaller cities like Pune and Thane as well as some places in Uttar Pradesh are using social media to ensure better policing.
"Of late, we have been reaching out to people through social media campaigns," said Rahul Srivastav, PRO and additional SP, UP Police. In Uttar Pradesh, both Hindi and English contents are used and most district police units are now on Twitter.
"We started a 'get well soon' hashtag for the foreign couple who were attacked in Agra recently. Messages started pouring in, which we compiled in a booklet and presented to them," he added.
But the real question is: has the 'virtual reality' has helped cops undergo an image makeover.
Increasing social media presence is likely to bring transparency and accountability, something Indian police has known to lack.
Sunchika Pandey suggests this online presence makes the entire team conscious that they can be criticised and creates an intra-departmental awareness.