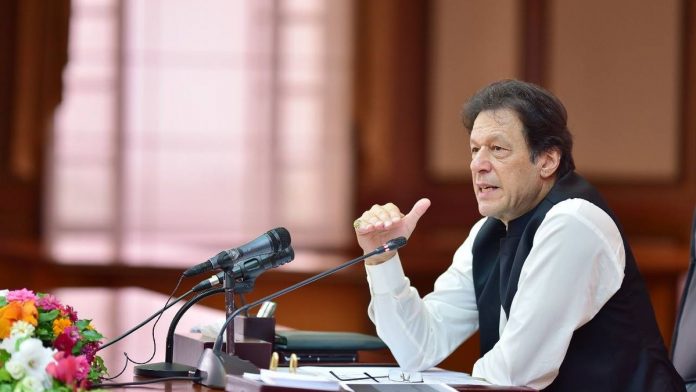 Text Size:
Here's what's happening across the border: Army spokesperson Asif Ghafoor reflects on country's fault lines; Voice of America's Urdu website reportedly blocked in Pakistan.
Imran Khan says would like to have a 'proper relationship with US'
Pakistan Prime Minister Imran Khan in an exclusive interview with the Washington Post said the country would want to have a "proper relationship" with the US.
Last month, Khan and US President Donald Trump had a heated exchange of words on Twitter where the Pakistan PM intended to "set the record straight" by underlining its loss while helping Afghanistan to fight insurgents in Taliban. The string of tweets started when Trump in an interview with Fox News said that Pakistan didn't do a "damn thing for us [US]" in its efforts to advance the peace process in Afghanistan.
In the Post interview, Khan said, "It was not really a Twitter war, it was just setting the record right. The exchange was about being blamed for deeply flawed US policies — the military approach to Afghanistan."
When asked about what kind of a relationship he wanted Pakistan to share with the US, the former star cricketer said, "I would never want to have a relationship where Pakistan is treated like a hired gun — given money to fight someone else's war…We would like a proper relationship with the US."
On US claims that Pakistan was sheltering Taliban leaders, Khan said that there were "no sanctuaries in Pakistan". He claimed that the "border between Pakistan and Afghanistan has the greatest amount of surveillance. The US has satellites and drones. These people crossing would be seen."
He added, "Peace in Afghanistan is in Pakistan's interest. We will do everything".
Pakistan Army spokesperson says nation at 'watershed of history'
Inter-Services Public Relations (ISPR) Director General Major Gen Asif Ghafoor Thursday reflected on the country's "fault lines" and said it suffered for 70 years due to a "weak economy, lack of governance, flaws in judicial and education systems, and religious extremism," reported Dawn.
Elaborating further, the Pakistan army's media wing spokesperson said that Pakistan has "fought wars, tackled terrorism, rendered sacrifices — our economy suffered from it — but today we are at a watershed of history from where the situation can be turned towards betterment."
During his address, he recalled that the country had gone through tough times.
"We lost half of our country, suffered economic crises and faced terrorism, but over the past few years, we have been moving towards betterment," he said.
The ISPR chief alleged that the Indian forces had deliberately indulged in ceasefire violations on the Line of Control (LoC) and Working Boundary. He alleged that 55 civilians had been killed by the actions of the Indian forces this year alone.
Ghafoor also spoke about how Pakistan took several steps for maintaining peaceful relations with India, citing the recent example of the government's willingness to develop the Kartarpur Corridor.
He, however, regretted that the Indian media portrayed a negative image of Pakistan's offer in relation to the Corridor. He expressed hope that India in near future will "positively respond to this goodwill gesture".
Pak army warns Pashtun rights movement against 'crossing the line'
ISPR Director General Major Gen Asif Ghafoor Thursday warned the Pashtun rights movement against 'crossing the line'.
Ghafoor said the Pashtun Tahafuz Movement (PTM) made three demands — a reduction in check posts, clearance of mines and missing persons.
"In 2016 there were 469 check posts in KP and Fata, as we speak today there are 331. We will not keep a single check post if we feel the security situation does not require it," he said.
For the landmines he said, "43 teams of engineers in KP and Fata are working in various districts to clear mines."
He said the PTM suffered in the war and the Army wanted to deal with them politely. However, they would suffer from consequences if they ventured into an unwanted direction, he said.
According to Ghafoor, of the 7,000 missing person cases received 4,000 had been resolved and the rest are under process.
PTM leader and Member of National Assembly Mohsin Dawar responded to Ghafoor's statement on Twitter and accused the Army of "crossing the red line".
It's been you who had always crossed the Red Lines…….
abrogated constitution, hanged elected pm, fought proxy wars, sponsored militancy, destroyed civilian's properties & markets in cosmetic military operations, humiliated & tortured our people.
We have nothing left to loose.

— Mohsin Dawar (@mjdawar) December 6, 2018
He also blamed the Army for running a "malicious propaganda campaign" against the PTM by "registration of fake cases".
Media Watch tweets Voice of America's Urdu website blocked in Pakistan
Pakistan Media Watch, a self-acclaimed autonomous media watchdog, tweeted Friday that the American media agency Voice of America's Urdu website has been blocked in Pakistan.
It claimed that its coverage of Pakistan was not liked by the authorities and concluded that censorship of the media was growing at an "alarming rate".
Voice of America Urdu website blocked in Pakistan. https://t.co/s8QQTPdqQv is inaccessible in Pakistan and reportedly blocked by the authorities over coverage not liked by Pakistani authorities. Censorship and media curbs growing in Pakistan at alarming pace

— Pakistan Media Watch (@PakPressWatch) December 6, 2018
Pakistan remembers singer/scholar Junaid Jamshed on death anniversary
On the second death anniversary of the 'Vital Signs' band member Junaid Jamshed, Pakistan government's official Twitter handle tweeted Friday that he was being remembered across the country.
Iconic #Pakistani singer turned religious scholar #JunaidJamshed is being remembered on his death anniversary. His song "Dil Dil Pakistan" was ranked third among top 10 songs according to #BBC World Service in 2003 and was awarded Tamgha-e-Imtiaz in 2007. pic.twitter.com/tBdQtKYYF6

— Govt of Pakistan (@pid_gov) December 7, 2018
In 1987, Jamshed gained fame with his band in which he was the lead vocalist. Upon a spiritual awakening, he chose to devote his life to religious activities.
His song 'Dil Dil Pakistan' was ranked third among top 10 songs according to the BBC World Service in 2003. He was also awarded Tamgha-e-Imtiaz, Pakistan's fourth highest award, in 2007.
In his memory, media houses published some of his most thoughtful quotes about love, life and how to achieve success in both.
Get the PrintEssential to make sense of the day's key developments