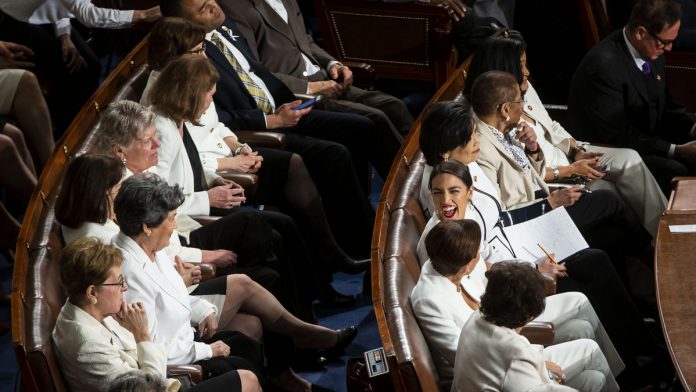 Text Size:
1. Deal to avert another shutdown
Late Monday evening, in a closed-door meeting, the top leadership of the Democrats and the Republicans reached a deal that will ensure that the US government and its federal services do not face another shutdown.
It was only two weeks ago that the longest shutdown in US history, which was brought by President Donald Trump's disagreement with the Democrats over his demand for $5.7 billion from the treasury to fund a wall along the Mexico border.
The details of the deal have not been disclosed yet. But some reports suggest that President Trump has had to climb down a bit from some of his demands.
Some reports suggest that the bill includes $1.375 billion of funding for President's key project – the border wall between the US and Mexico.
Democrats had also demanded a reduction in the number of undocumented immigrants the Immigration and Customs Enforcement (ICE) is allowed to detain, and some reports suggested the limit has come down from 49,057 to 40,250.
If both of these figures are true, this can be seen as a significant victory for Democrats.
What is a shutdown and why did we get a deal this time?
All the federal agencies of the US require federal government funding to function. All the agencies submit their budgets, and the Congress passes these via an annual budget.
In case the Republicans an Democrats cannot reach an agreement, two things might happen. Either a temporary funding provision is made based on the previous year's budget.
In case the Congress fails to pass the annual budget, a shutdown follows, where all the non-essential agencies are temporarily closed down.
The previous shutdown, a couple of weeks ago, lasted 35 days and cost the American economy $11 billion.
---
Also read: With US government shutdown entering record 33rd day, here's everything you need to know
---
If the reports are to be believed, two things can be said about the Republican and Democratic negotiations.
First, given that Democrats now control the House of Representatives, the Republicans have had to give in to their demands.
Second, much like the case everywhere else, closed-door negotiations have a way higher chance of succeeding. Beyond media oversight, politicians find it much easier to compromise and strike a deal.
2. US aims to take back Eastern Europe from Russian and Chinese fold
During a visit to Budapest, Hungary, US secretary of state Mike Pompeo said lashed out at the Obama administration's handling of the relationship with eastern Europe, saying, "America was simply a no-show". "When we're not here, others will show up," he added.
Pompeo also announced that a defence deal had been reached between Washington and Budapest, though he provided no details.
In a provocative statement, Pomeo claimed, "We must not let [Russian president Vladimir] Putin drive wedges between friends in NATO."
"Hungarians know well from their history that an authoritarian Russia will never be a friend to the freedom and sovereignty of smaller nations," he added.
These attacks by Pompeo come as Russia takes on an aggressive stand with respect to NATO's presence in Eastern Europe. Moscow considers Eastern Europe to be a part of Russia's sphere of influence, and thus, has been trying to destabilise NATO.
On a separate note, Pompeo attacked Chinese presence in the region as well. These attacks can be attributed to China's growing presence in the region because of their "16+1" — China, Central and Eastern Europe —bloc.
3. Maldives joins the backlash against Chinese-financed infrastructure projects
Maldives Finance Minister Ibrahim Ameer has said that the new government has a set of demands from Beijing, including asking China to reduce the sums owed, alter the interest rates on loans, and tweak the repayment schedules.
Male is said to have reached the conclusion after they conducted an assessment of the scale and nature of their exposure to Chinese debt.
Mohamed Nasheed, an advisor to the Maldives government, told the Financial Times that "unreported guarantees can bring the total exposure to as high as $3 billion".
The GDP of Maldives is $4.9 billion.
Ameer argued that most of the infrastructure projects funded by the Chinese had inflated costs and the previous leader, Abdulla Yameen, and his officials had pocketed the surplus.
4. Why is the US losing interest in West Asia?
CHART OF THE DAY: U.S. crude #oil exports rose to a record 2.61m b/d in November, up from 2.33m b/d in October (according to data released last week after a big delay due to the government shutdown). #OOTT #TradeWar #Permian pic.twitter.com/AkI0fksVLQ

— Javier Blas (@JavierBlas) February 11, 2019
As the chart shows, US crude oil exports have sky-rocketed over the past few years, growing from 2.33 million barrels per day in October (2018) to 2.61 in November.
Perhaps, this explains why the US is no more interested in being involved in "Middle-Eastern Quagmires".
---
Also read: US making progress in negotiating peace with Taliban: Trump during State of Union address
---
Check out My543, our comprehensive report card of all Lok Sabha MPs.