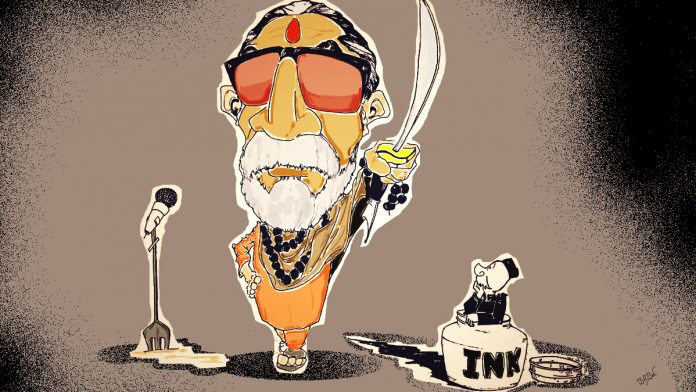 Text Size:
On his 93rd birth anniversary, ThePrint takes a look at the life of former Shiv Sena chief who changed the course of Maharashtra politics forever.
The image of this political firebrand was unmistakable. Thick-lensed glasses, a trademark rudraksh beaded necklace, a razor-sharp tongue and a throng of followers who loved and feared him in equal measure.
This week, the Shiv Sena takes decisive steps to etch the memory of Balasaheb Thackeray more permanently into Mumbai's cityscape and its popular culture.
The party will perform a ceremony at the proposed site of his memorial in Mumbai — a heritage sea-front bungalow and until now the mayor's residence.
Later this week, Thackeray, a biopic produced by senior Shiv Sena MP Sanjay Raut, starring Nawazuddin Siddiqui as the politician, will be released.
These events coincide with Thackeray's 93rd birth anniversary Wednesday.
The Shiv Sena supremo's life was synonymous with a coercive nativist agenda in Maharashtrian politics. He was the original flag-bearer of Marathi chauvinism. But much before that he was a cartoonist with a cause.
On his birth anniversary, ThePrint takes a look at the life of the cartoonist who changed the course of Maharashtra politics permanently.
Early professional life and 'Marmik'
Thackeray was born on 23 January 1926, in Pune to Prabodhankar Thackeray, a leading figure in the United Maharashtra movement which advocated a separate Marathi-speaking political entity out of what was then state of Bombay, said a Time report.
A young Thackeray began his career as a political cartoonist with the Free Press Journal. His cartoons were wielded like a political weapon but he was forced to suppress his critical commentary. Frustrated, he quit in 1960 and started his own political weekly, Marmik.
Thackeray vehemently criticised Left-aligned politicians in his columns, a platform for his 'anti-outsider' rhetoric that came to define his politics.
He repeatedly urged the Marathi manoos, or the Marathi common man, against "bending down" before "outsiders" — his targets shifting over the years from South Indians to Muslims to North Indians.
To embody the 'angst' of the Marathi manoos, Thackeray created 'Kakaji'.
In the mid-60s, Thackeray first began pandering to a sense of alienation among Maharashtrians. He published lists of corporate workers employed in Mumbai, then Bombay, to highlight the number of "outsiders", specifically South Indians.
It sparked an avalanche of letters to Marmik, many sharing experiences of being "pushed out" by non-Maharashtrians. This solidified Thackeray's pro-Maharashtra slogan that later amplified into a louder pro-Hindu and anti-Muslim voice.
---
Also read: BJP's latest olive branch for Shiv Sena — Rs 100 cr memorial for Bal Thackeray
---
Shiv Sena and 'Saamana'
In 1966, Thackeray abandoned his longstanding aversion to party politics and formed the Hindu Right-wing political outfit, Shiv Sena.
Thackeray and Shiv Sena drew their inspiration from Shivaji, a 17th-century king of the Maratha kingdom.
Marathi newspaper Saamana was also launched as the party's mouthpiece. However, as the Shiv Sena chief got involved in full-time politics, the cartoonist in him had to take a backseat.
He set the tone for his politics, saying he wanted a "respectable" place for Maharashtrians in Mumbai's political and professional landscape.
Declaring himself as the pramukh (chief) of the Shiv Sena, he employed military metaphors and slogans advocating muscle power to mobilise his followers. Violence and intimidation were Thackeray's weapons against his enemies.
In 1970, Krishna Desai, a popular trade union leader was stabbed to death, allegedly by members of the Shiv Sena. Arrests followed: 16 people from the Shiv Sena were charged and convicted.
The Desai murder set the template for the Shiv Sena's activities.
Thackeray always sought and got attention by evocatively expressing his admiration for Hitler. In a 1993 Time magazine interview he said, "There is nothing wrong if Indian Muslims are treated as Jews were in Nazi Germany."
The most ghastly period in Sena's history of violence came in the aftermath of the Babri Masjid demolition on 6 December, 1992. The party was indicted by the Shri Krishna Commission for its role in the 1992-93 Bombay riots. The commission report highlighted Thackeray's role in commanding his troops to retaliate with organised attacks against Muslims.
Thackeray and Hindutva 
Electorally, Thackeray realised that a nativist 'sons of the soil' agenda would help the Shiv Sena in Mumbai. The party, therefore, gradually showcased a larger Hindutva ideology.
This led to an electoral alliance with Bharatiya Janata Party (BJP) in 1989. He intensified his criticism of Muslims and gave his followers the catchphrase, "garv se kaho hum Hindu hain".
In 1995, Thackeray's party secured its first major electoral victory when the saffron alliance won 138 assembly seats and formed the state government with a Shiv Sena CM – Manohar Joshi.
Although Joshi was CM, Thackeray was always in control. He demonstrated this more than once, the most emphatically when he removed Joshi in 1999 and replaced him with Narayan Rane, then a Shiv Sainik.
---
Also read: I asked Balasaheb Thackeray, "Are you a mafioso?" — and lived to tell the tale
---
The final decade 
The last decade of Thackeray's life was the most subdued, personally as well as politically.
The 2000s saw infighting within the Shiv Sena as several key leaders exited the party: Sanjay Nirupam and Rane joined Congress.
Thackeray also fell out with his aggressive, charismatic nephew Raj Thackeray when he named the shy and quieter Uddhav his successor. In 2005, an irate Raj quit the Shiv Sena with a handful of leaders and created his own party, Maharashtra Navnirman Sena.
Thackeray's health deteriorated with the years and his public appearances decreased.
A month before his death, too frail to attend the Shiv Sena's much-celebrated Dussehra rally, an annual tradition since 1966, Thackeray recorded his thoughts in a video that was played at the venue.
He died on 17 November, 2012. His supporters thronged the streets, waiting along the route of his funeral rally to get a last glimpse of their leader.
The man, known to stop Mumbai functioning at his will, halted the city for a day even death.
Get the PrintEssential to make sense of the day's key developments