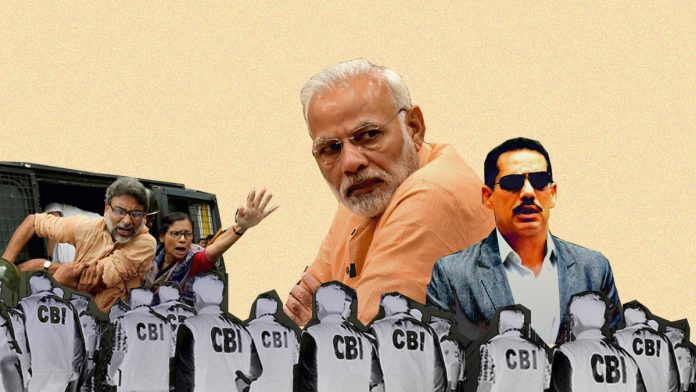 Text Size:
With months to go for the 2019 Lok Sabha elections, the Narendra Modi government is cracking down on high-profile cases of alleged corruption and money laundering.
As the ED grills Robert Vadra, husband of newly appointed Congress general secretary Priyanka Gandhi, the CBI is pursuing the Saradha case in Mamata Banerjee's West Bengal. Karti Chidambaram, son of P. Chidambaram was also questioned by the CBI Thursday in the INX media case.
ThePrint asks: Has Modi cracked down on Vadra, Saradha, Aircel too late or is it perfect campaign timing?

---
The thug-bandhan of BJP, CBI, ED will be defeated by the vikas-bandhan of Congress and its allies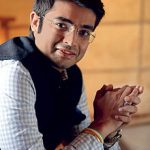 Jaiveer Shergill
National spokesperson, Congress
The BJP, which used to accuse the CBI of being a caged parrot, has now transformed it into a remote-controlled hawk. The BJP and the Modi-Shah duo have grown addicted to using the CBI and the ED as their musclemen to intimidate and arm-twist political opponents.
During Modi's rule, there have been at least 34 cases registered by these agencies against members of the opposition parties, and only four against members of the BJP.
The immediate summoning of Robert Vadra and the subsequent raids are a reflex action to the political entry of Priyanka Gandhi Vadra. Instead of finding the truth, the BJP wants to manufacture false evidence out of sheer political desperation. If there was any evidence against him, why has this not been put in public domain or led to a criminal case against him?
The Modi government, after failing on the development agenda, is either busy hiding data or creating smoke screens to divert people's attention. If Modi is so committed to fighting corruption, why is Anna Hazare still going on fasts? Where is the Lokpal?
The thug-bandhan of the BJP, the CBI and the ED will be defeated by the vikas bandhan of the Congress and its allies.
---
BJP gains nothing by politicising these probes while Congress is indulging in optics to draw mileage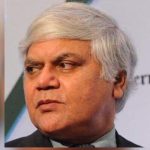 Narendra Taneja
National spokesperson, BJP
These investigations are being done by highly credible agencies like the ED and the CBI. Each investigation follows its own procedure and take its own course. How much time an investigation takes to reach its end, is beyond the ruling party's control.
The BJP respects the autonomy of these agencies. We know that an intervention by the BJP, even by mistake, will immediately be seen as political vendetta, and so we maintain our long distance from these investigations.
We stand to gain nothing by politicising these investigations. On the contrary, it is the Congress party which is trying to play the victim card just before the elections.
Mrs Priyanka Gandhi Vadra's move to drop her husband, Robert Vadra, to the ED's office was meant to serve this very purpose. It is the Congress which is trying to draw political mileage from these events. However, such optics won't help the Congress party very much.
Scrutiny is an important aspect of all investigations. If Robert Vadra claims he has done nothing unlawful, then what is the need for these optics?
The BJP doesn't need to employ any of these tactics. We have delivered an incredible performance on every count in these five years.
---
BJP will do everything to divert attention from Rafale hit Narendra Modi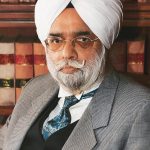 K.T.S. Tulsi
Senior advocate representing Robert Vadra
The timing of these probes is of course deliberate. The Vadra case has been going on for long now. The matter has been investigated by the Rajasthan Police and by the CBI. Nothing that could declare him guilty has been found. Robert Vadra is innocent, and that has been established time and again.
But the ruling party knows that this is the only way to divert attention from its own blunders — such as the Rafale scam. The public has begun to see past all their excuses, and so this is the last straw they are clutching on.
Prime Minister Narendra Modi's own credibility has been dented as a result of this scam. The BJP will not stop at anything to divert people's attention from it.
As far as the Vadra investigation is concerned, not even an inch of unlawful land as part of his foreign assets have been found. They have looked through his bank accounts, the balance sheets, the companies he is affiliated with and their shareholders, and have found all of it to be clean. Yet, they persist.
What is absolutely shocking is the manner in which these statements are being recorded and leaked to the media. It isn't an honest investigation; it is a smear campaign. The ED has been reduced to a propaganda machine.
---
Voters aren't gullible to believe Modi govt is seriously cracking down on corruption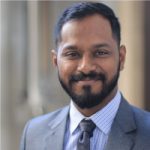 Manuraj Shunmugasundaram
Spokesperson, DMK
If a central premiere investigative agency, such as the CBI, can be used to crack down on political opponents or other persons at the behest of the government, then it further exacerbates the problem of autonomy that we have been trying to highlight as an opposition party. The CBI has essentially been reduced to a tool by the ruling party – a tool to be used for harassment, coercion and threat. A similar misadventure of the CBI panned out in West Bengal with regards to the Saradha case.
We have enough checks and balances within the system to ensure that such misuse of agencies is not allowed. The Supreme Court will certainly come down on any arbitrariness, or hastiness, or wrongful procedure by an agency.
Finally, voters of today are not so gullible that they will actually be convinced the Modi government is serious about cracking down on corruption. Considering their four-plus year track record, wherein we have seen defaulters like Vijay Mallya and Nirav Modi flee India at will, there is little faith in this government.
This is nothing but PM Modi trying to give himself an image makeover as an anti-corruption crusader at a time when he is unable to convincingly answer questions on the Rafale deal.
---
Agencies may cite due process to explain the delay but Modi had promised swift action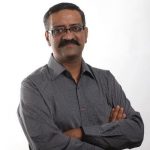 Maneesh Chhibber
Editor, Investigations and special projects, ThePrint
The renewed interest that the ED and the CBI are showing in summoning Sonia Gandhi's son-in-law Robert Vadra, former finance minister P. Chidambaram and his son Karti, and the Kolkata Police Commissioner isn't unexpected.
More such questioning of important leaders in the opposition may happen as Lok Sabha elections approach. All this is aimed at sending out a signal to Prime Minister Narendra Modi's support base that he hasn't forgotten about his 2014 commitment to deal with the "corrupt".
But even Narendra Modi's staunchest supporters are wondering why the agencies waited this long. A raid on former Haryana chief minister B.S. Hooda by a CBI team on the day he was scheduled to campaign in Jind for the bypoll raises questions.
The agencies may cite due process to explain the delay, but Modi promised swift action against the corrupt. So even his die-hard supporters are left wondering if the recent action by the agencies is another way to take them for a ride.
Four and a half years is too long a time to start questioning the accused in such high profile, politically sensitive cases. Especially when your core voters assumed that the trial would have been completed, convicts put in jails and the prison keys thrown into the Indian Ocean.
---
By Fatima Khan, journalist at ThePrint.
Check out My543, our comprehensive report card of all Lok Sabha MPs.