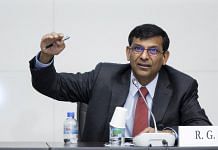 To revive growth, former RBI governor Raghuram Rajan says India should be cleaning up the mess in corporate & financial sectors. Read the full text of the Off the Cuff interaction here.
Uday Kotak, MD and CEO of Kotak Mahindra Bank and President, Confederation of Indian Industry was the guest at ThePrint's Off the Cuff. In a conversation with ThePrint's Editor-in-chief Shekhar Gupta, Kotak said India needs to spur private investment after years of disproportionately relying on government expenditure for economic growth. Kotak firmly opposed waiving off interest on loans under moratorium pointing out that this will mean that even depositors are not paid interest for their deposits. Kotak said he interprets Prime Minister Narendra Modi's call of an AtmaNirbhar or self-reliant Bharat to mean a competitive India engaged with the world and not necessarily protectionism. He also made a case for India to target a sustainable medium-term growth.
Watch this in-depth conversation between Rajasthan CM Ashok Gehlot with ThePrint's editor-in-chief Shekhar Gupta on coronavirus, politics, and keeping the government's popularity intact in times of a pandemic. The Rajasthan CM answered questions on the possibility of a Congress in-fighting, Jyotiraditya Scindia leaving the Congress for the BJP and how his state is fighting Covid-19. He also spoke about the Modi-Shah duo, and why he thinks their agenda is 'dangerous' for the country.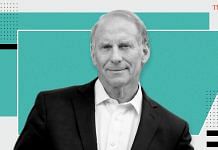 Speaking to ThePrint's Editor-in-Chief Shekhar Gupta at Off The Cuff, Richard N. Haass also said: 'If I were India, I would be much wiser in my approach to Indian Muslims.'
China has become much more assertive. This is a China that seem to care less for what the world thinks of it. This China has come a long way since Deng Xiaoping, says Richard N. Haass, President, Council on Foreign Relations and author of The World: A Brief Introduction, said Richard Haass, President, Council on Foreign Relations in a conversation with Shekhar Gupta, Editor-in-Chief, ThePrint at ThePrint Off The Cuff.
PM Modi was quick to order a national lockdown, deserves a 'decent grade' for not letting the virus spread, says Thomas Friedman, New York Times columnist and author at digital 'Off The Cuff' even as he cautioned that it won't be easy for India or the US to replace China in global supply chains.
Rajnish Kumar, Chairman, State Bank of India was the guest at ThePrint's digital 'Off the Cuff'. Kumar said a lifting of the lockdown could see a resumption in economic activity and this could translate into demand for bank credit. With both banks and borrowers preferring prudence, banks have been flush with liquidity, he said, pointing out that SBI does not really need fixed deposits at present. Kumar, who is also the chairman of the Indian Banks' Association, warned that indiscriminate credit growth like that seen post 2008 could lead to a fresh wave of non-performing assets or NPA. Kumar admitted that SBI's investment in Yes Bank was not purely a commercial decision and pointed out that it was a decision made to preserve financial stability. He also said there is no hope for finding any buyers for Jet Airways. Kumar added that only 15-20 percent of SBI's customers had opted for the 3-month...
Nitin Gadkari, road transport and highways and MSME minister was the guest at ThePrint's digital "Off the Cuff." Gadkari who had previously also held the post of BJP party president said that the coronavirus pandemic has hit government revenues. He added that one of the ways to protect a vast majority of the people economically was by saving the MSME sector, which provides them jobs. Gadkari pointed out that the government is supporting the MSME sector in all possible ways and will soon come up with a financial package. The minister further said that the only way to increase liquidity in the market in the prevailing economic situation is by investing in infrastructure sector, be it water, power, transport, communication, port and railways. Gadkari also highlighted that there is no dearth of funds in the road sector and how work has already resumed in 60-70% projects in the road...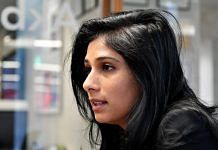 Speaking at the digital Off The Cuff, Gita Gopinath also said there was a lot of uncertainty around DGP forecasts, which are being revised based on ground realities. Read the full text here.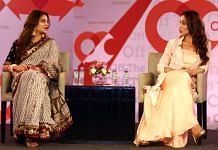 At ThePrint Off The Cuff, TMC MPs Nusrat Jahan and Mimi Chakraborty spoke on a range of issues, from 'burning Bengal' to their glamorous image.