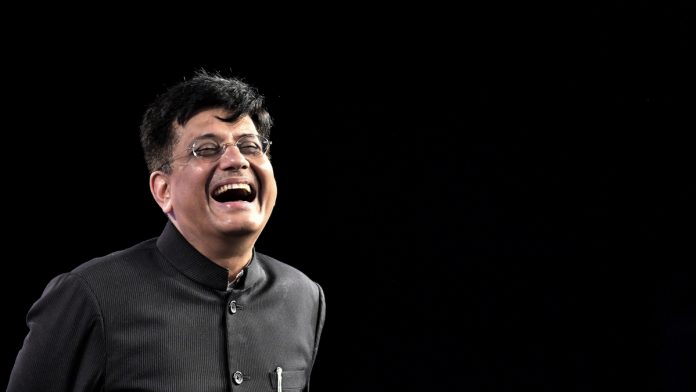 Text Size:
Towards end of Modi govt term, one minister reaped rewards
The buzz in the Bharatiya Janata Party (BJP) is that the minister whose stock has risen the most towards the fag end of the Modi government's tenure is Piyush Goyal. The leader who started off as minister of state (independent charge) for power went on to run many key ministries such as mines, coal, railways and finance & corporate affairs during the NDA term.
In the last few months, Goyal's profile has become more prominent. With finance minister Arun Jaitley taking ill, Goyal got to present the last — and, perhaps, the most crucial — budget of this government. Then last week, the minister got Indian Railways' Vande Bharat Express on track with Prime Minister Narendra Modi flagging it off.
Earlier this week, as BJP in-charge of Tamil Nadu for parliamentary polls, Goyal flew to the state and was a key figure in clinching the crucial alliance with the AIADMK. Several in the party are whispering about how the savvy Maharashtra politician's fortunes have been on the upswing as the government finishes it term.
However, Goyal missed out on attending the all-important meet of the Cabinet Committee on Security (CCS) after the Pulwama terror attack last week. While the CCS comprises the top four union ministers, Jaitley's resumption of office Friday meant Goyal could not go for the meeting.
---
Also read: Piyush Goyal: The chartered accountant and minister who became newsmaker of the week
---
On dais with Modi & Yogi — Congress leader from Punjab
On the occasion of the birth anniversary of Guru Ravidas, Prime Minister Narendra Modi was in Varanasi Tuesday to attend an event at which Uttar Pradesh Chief Minister Yogi Adityanath was also present. On the dais with them, however, was unlikely company — senior Congress leader from Punjab Shamsher Singh Dullo.
Guru Ravidas was a mystic poet-saint belonging to the bhakti movement. His hymns are present in the Guru Granth Sahib. Dullo, a follower of the Dalit saint, was invited by organisers of the event to be part of it.
In his speech, Adityanath mentioned the Congress politician from Punjab more than twice. Many felt there were deeper undercurrents to this, given that Dullo's turbulent equation with Punjab Chief Minister Captain Amarinder Singh are hardly a secret.
Mukesh Ambani visit leaves Tamil Nadu leaders curious
When Reliance Industries CMD Mukesh Ambani came visiting M.K. Stalin at his residence in Chennai last week to invite the DMK leader for the wedding of his son in March, political circles in the state were abuzz.
Many found it intriguing that Ambani did not call on Tamil Nadu Chief Minister Edappadi Palaniswami to extend an invitation. Curiously, the Reliance Group had not participated in the Global Investor's Meet in Chennai last month, raising several eyebrows.
---
Also read: Anil Ambani's wireless bankruptcy could have one clear winner — Mukesh Ambani
---
(Contributors: Ruhi Tewari and Rohini Swamy)
For ThePrint's smart analysis of how the rest of the media is doing its job, no holds barred, go to PluggedIn