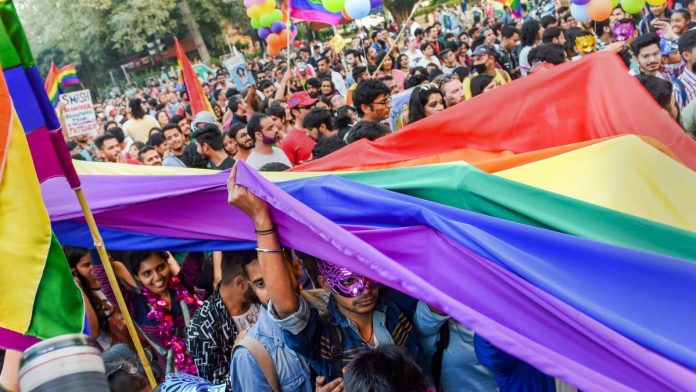 Text Size:
Shabnam Mausi, India's first transgender MLA, among six candidates who have highlighted issues such as lack of development, poverty among others.
Bhopal: Back in 1998, Madhya Pradesh gave India its first transgender MLA — Shabnam Mausi. Two decades later, six transgender candidates are contesting the assembly election Wednesday, promising development and welfare schemes for poor.
Shabnam, then a Congress candidate, had retained her Sohagpur seat in Shahdol district until 2003.
After a break, the 61-year-old has now returned to active politics. This time, Shabnam is contesting from Kotma in Anuppur district as an Independent. The five other transgender candidates in the fray are Neha Kinnar from Ambah in Morena, Shabbo Bua from Damoh, Sundar Singh aka Shalumausi from Jaisingh Nagar in Shahdol, Bala Veshwar from Indore 2 and Panchi Deshmukh from Hoshangabad.
Barring Panchi, who has been given ticket by the Akhil Bharat Hindu Mahasabha, the rest are all contesting as Independents.
Neha's constituency, Ambah, is dominated by upper caste voters, but she claims to have received a very good response from all sections of people.
Talking to ThePrint over phone, she says, "No development has happened in the area. Nobody has worked for the people."
Explaining why she is contesting as an Independent, Neha (28) said: "Sab party ka yaha virodh hai (All parties face people's wrath here). None of them has done anything for the people."
She is confident that people from all castes and communities will vote for her. When asked what motivated her to contest this election, she said, "Hum kinnar log hai, koi parivaar toh hai nahi, na hume dhan jaydaad se matlab hai. Bas logo ki seva karni hai. (We belong to the transgender community. We don't have any families nor do we care about money or property. We just want to serve the people)."
---
Also read: Madhya Pradesh is Shivraj Singh Chouhan's election – to win or lose
---
Development a key issue
Neha is fighting this election on issues such as development and the amended SC/ST (Prevention of Atrocities) Act. She believes that the Act has been misused a lot in the state.
The new law rules out any provision for anticipatory bail for a person accused of atrocities against SC/STs.
"Pehle jaanch ho, fir giraftar karna chahiye kyunki yaha haal bahut kharab ho chuka hai. (First an investigation should be conducted, only then arrests should be made (under the Act) because the situation is really bad here)," she argued.
In September, Chief Minister Shivraj Singh Chouhan assured that that no arrests will be made in Madhya Pradesh under the SC/ST Act without proper police investigation.
एमपी में नहीं होगा SC-ST ऐक्ट का दुरुपयोग, बिना जाँच के नहीं होगी गिरफ़्तारी।

— ShivrajSingh Chouhan (@ChouhanShivraj) September 20, 2018
But Neha dismisses such assurances. Fighting for the cause, she is certain that both upper and backward caste people will stand behind her in this election and she will be able to bring some real development to the region.
---
Also read: Shivraj Chouhan's Madhya Pradesh shows the more the Indian farmer grows, the angrier he is
---
Corruption, poverty
Another transgender candidate, Bala Veshwar (28), is trying her luck in Indore (2) constituency, a BJP stronghold. Confident about her victory, Bala highlights the rampant corruption in the region and how it has affected the weaker sections of the population.
"Neta apne ghar bharte hai, aur main gareebo ka pet bharne ke liye lad rahi hu. (Politicians are selfish. They just fill their homes, while I am fighting to help the poor)," she claimed.
She also highlights what she calls the rampant exploitation of the poor and the free run of the mafia and local gangs.
Bala assures that if she wins, she plans to create separate zones for the rickshawalas so that they can't be harassed and bring welfare schemes for the poor.
For ThePrint's smart analysis of how the rest of the media is doing its job, no holds barred, go to PluggedIn