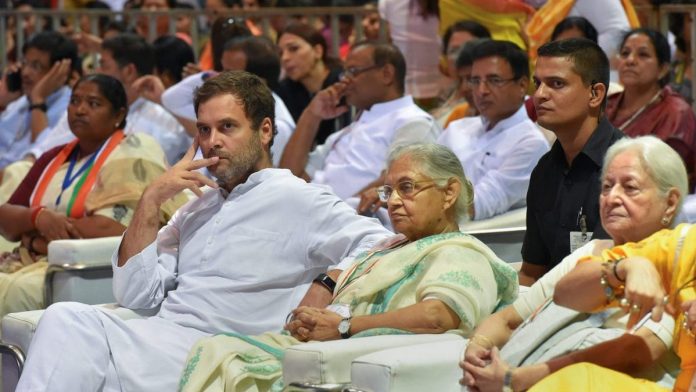 Text Size:
Congress also appoints three working presidents — Haroon Yusuf, Devender Yadav and Rajesh Lilothia — who will help Dikshit.  
New Delhi: Former Delhi chief minister Sheila Dikshit was Thursday appointed as the Congress' Delhi state unit chief, days after incumbent Ajay Maken resigned from the post.
The party also appointed three working presidents — former Delhi minister Haroon Yusuf, Devender Yadav and Rajesh Lilothia — to help Dikshit.
The move, announced by P.C. Chacko, the Congress' Delhi incharge, has been approved by party president Rahul Gandhi.
Former Delhi unit chief Ajay Maken was among the first to congratulate Dikshit, tweeting that he was confident that under her leadership the Congress will take on Modi and the Kejriwal government.
शीला दीक्षित जी को पुन: प्रदेश कांग्रेस अध्यक्ष बनने पर बधाई व शुभकामनाएँ!

उनके आधीन,मुझे संसदीय सचिव एवं कैबिनेट मंत्री के रूप में काम करके सीखने का सुअवसर मिला!

मुझे विश्वास है कि शीला जी की अगुआई में हम,मोदी+केजरीवाल सरकारों के विरोध में एक सशक्त विपक्ष की भूमिका निभाएँगे! pic.twitter.com/lFxuG2ScRE

— Ajay Maken (@ajaymaken) January 10, 2019
Congress relying on Dikshit's popularity
Dikshit had been voted out in 2013 after 15 years in power but still enjoys popularity in the national capital. She is credited with the transformation of Delhi. Although she hasn't been in the pink of health, at 80, and underwent surgery in France recently, the Congress is likely to fall back on her to ride on her personal popularity to bring the party back in power in Delhi.
"Dikshit has been appointed as she has experience of running the government in Delhi. She is also an acceptable face," said a senior Congress leader.
---
Also read: Open to alliance with Arvind Kejriwal if Congress high command wants: Sheila Dikshit
---
"Whatever you see in Delhi today, be it the metro or flyovers, everything came during the Sheila Dikshit regime," said a Congress leader. "People are remembering the good old days under her as the AAP government has done little, except playing politics."
The search for Delhi Congress chief began after Ajay Maken had resigned from the post on 4 January, citing health reasons.
Dikshit was open to a role in Delhi
Dikshit had earlier told ThePrint that she could play a more proactive role in politics, especially in Delhi. She had, however, said that the final call would have to be taken by the party high command.
"This decision of who does what has to be taken by the party high command. And whatever they ask whoever to do, they will do it (sic)," she had said in an interview to ThePrint last month. "Now, it is not a matter of my choice or individual choice, it is the party's request or order."
Asked if she could be positioned as the Congress' chief ministerial candidate in the next elections, due sometime in 2020, Dikshit had said: "The question of becoming the chief ministerial candidate is right now not there because this government is going to last another year and a quarter or something (sic). So, there's no hurry in that.
"And we already have a person who is the chairman of the Delhi Pradesh Congress Committee," she had added. "So, unless that is done, I am not even foreseeing anything or thinking of anything. When it happens, we will think about it, if it happens."
She had also said that if the Congress leadership wanted an alliance with the Aam Aadmi Party (AAP), she would be open to the idea even though the Delhi state unit is openly opposed to any such alliance.
In the past, both Maken and Dikshit had been against any tie-up with AAP in Delhi.
Read Global Pulse for a sampler of the big international stories, and why they matter.