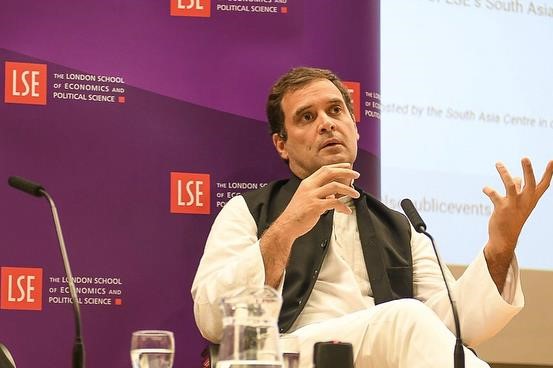 Text Size:
Rahul Gandhi was philosophical and theoretical on many questions even though it was clear this visit is a pre-2019 election tour.
London: "Thanks for your unscripted Mann ki Baat", screamed a voice from a 600-capacity audience at the London School of Economics where Congress President Rahul Gandhi was speaking, in his first series of public discourse ever, during his London visit Friday.
His speeches in Germany, and earlier in the day at the International Institute of Strategic Studies in London on the psychology of ISIS, comparing RSS with Muslim Brotherhood or the Doklam issue with China may have evoked the wrath of the BJP in India. And it can be argued why leaders from India, of all hues and parties, tend to address the Indian electorate on foreign soil. But Rahul Gandhi's LSE interaction did indeed expunge a sense of self introspection.
---
Also read: How many light bulbs does it take to change Rahul Gandhi?
---
Students from several prestigious universities across Britain had travelled to attend the interaction compered by LSE's Assistant Professor Dr Mukulika Banerjee.
Rahul Gandhi said Congress has learnt a lesson from the debacle in the 2014 general elections, adding that "a certain degree of arrogance" had crept into the party after 10 years in power. "That's what went wrong", he said, and noted that there has to be "a merger between the past and the future", which did not happen in 2014 but is now being rectified.
When asked by a member of the audience about the 1984 riots and killing of Sikhs in India, given the recent growing pro-Khalistan voices in Britain by certain groups urging a 2020 referendum, Rahul Gandhi said, "I condemn that a 100 percent", and advocated the strictest punishment for those involved in it.
"Dr Manmohan Singh spoke for all of us. I am a victim of violence so I am against any kind of violence."
That this visit is a pre-2019 election tour could not have been clearer when he said the forthcoming elections are a straightforward battle between BJP and the entire opposition. "What we are defending is the onslaught on the Indian constitution and the encroachment on institutions. We and the opposition parties see it as defending Indian institutions, the idea of one man, one vote, stop division and poison from spreading."
He, however, evaded the leadership question, saying, "All conversations can be done after we cross that stage."
While he is on a whirlwind tour in this part of the world, the British parliament is in recess, and as a result he met a handful of Labour MPs of Indian origin. There has been no confirmation on who he is meeting from the government. Wrong choice of time, Mr Gandhi?
One senior source, a British MP, quipped, regarding his talk at IISS, the first on foreign policy, "He was reasonable, he had the opportunity, he could do better. It's lack of experience." But as Rahul Gandhi said, "Leadership is about listening, it's about learning."
While being philosophical and theoretical on many questions, Gandhi made sure he pushed in part of his electoral plan, while mentioning the "job crisis" in India and the Rafale deal. He noted that India can punch above its weight only by creating jobs, but India has a "job crisis".
He said that while China produces 50,000 jobs every 24 hours, India produces 450 jobs during the same period. "How can India punch above its weight when you ignore fundamentals? You do not support your agriculture sector," he said.
"If you look at India's success, it has achieved when there is decentralisation. Best and most successful leaders in India decentralised power," Rahul Gandhi said and added that for the last 70 years, it is through decentralisation that India achieved success and cited examples of the Green Revolution, white revolution and telecom revolution. "When India opens up, India's power surges. But during the last four years there is a massive centralisation of power."
---
Also read: Rahul & lieutenants frolic in Germany, Congress back home worried about 'bad optics'
---
However, he did not spare a moment to raise the Rafale issue when asked about corruption. "Our government gave the contract to Dassault at the price of Rs 520 crore. But something happened, Modi government changed the contract from 126 to 36 planes, changed the pricing structure from Rs 520 crore to Rs 1600 crore and magically Mr Anil Ambani got the contract and he is in Rs 45,000 crore in debt, never made a plane in his life and the company that won the biggest defence contract was made one week before the contract was signed. And the media in India won't pick it up."
But the question remains unanswered, can Rahul Gandhi run a country as complex, varied and large as India? After his first five-odd minutes of awkwardness at the start of the session, he came into his own, but is that enough to lead a nation?
The author is a London-based freelance journalist.
Check out My543, our comprehensive report card of all Lok Sabha MPs.