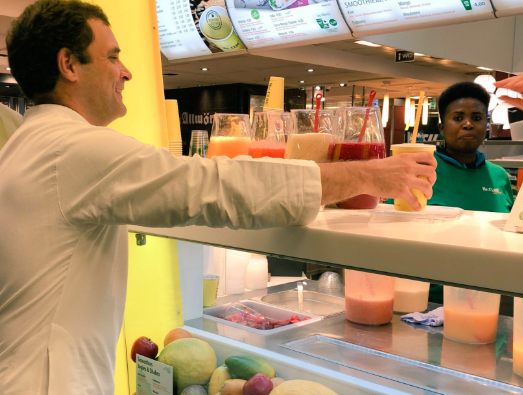 Text Size:
Leaders are concerned about the tweets and pictures at a time when Kerala is battling floods, and the party itself is mourning senior leader Gurudas Kamat.
New Delhi: Congress president Rahul Gandhi and his trusted lieutenants are having a rollicking time in Germany, tweeting pictures of their fun trip. But this has caused unease in a section of the party that is grieving the death of senior leader Gurudas Kamat.
Some party leaders are also questioning the "bad optics" of party colleagues enjoying themselves in Hamburg and Berlin at a time when the country is dealing with the tragic Kerala floods.
---
Also read: Kerala floods show how Modi's got his spending priorities all wrong
---
"Rahulji had a pre-scheduled tour of Germany and London to deliver lectures and interact with the Indian diaspora. But how could Ramya (Divya Spandana) and Milind Deora tweet those pictures?" a senior Congress leader told ThePrint.
I began my 2 day visit to Germany with a speech at the Bucerius Summer School in Hamburg, yesterday. Today, I am in Berlin to meet members of the German Bundestag, NGO's & Business Leaders. I will also be addressing a public meeting organised by the Indian Overseas Congress. pic.twitter.com/11omr91GI3

— Rahul Gandhi (@RahulGandhi) August 23, 2018
Fun, frolic, and a bit of grief
The reason for the leader's outrage were the pictures tweeted by Spandana, the party's social media in-charge, spokesperson Priyanka Chaturvedi, former MP Milind Deora, and other Congress leaders who are accompanying Gandhi. Some of the others with Gandhi on the two-day trip are Sam Pitroda, Shashi Tharoor and Madhu Goud Yaskhi.
Tweeting her picture in which she is hugging Deora, Spandana wrote, "18 years on, still my bestest!"
18 years on, still my bestest! @milinddeora pic.twitter.com/RLuRJPHe08

— Divya Spandana/Ramya (@divyaspandana) August 22, 2018

"Always the most important question- what should we eat?" she said in another tweet, with a picture showing Gandhi and Deora looking at food items in a restaurant.
Always the most important question- what should we eat? ???? pic.twitter.com/e7J07Xapuc

— Divya Spandana/Ramya (@divyaspandana) August 22, 2018

"And then this happened — a fellow Indian offered us some fresh juice on the house," Spandana added in another tweet, with a picture showing Gandhi standing with a couple of Indians.
Deora, who retweeted Spandana's first tweet, posted that he woke up in Hamburg to learn about Gurudas Kamat's untimely death.
"We had our political differences, but I always respected & admired Gurudasji. May his soul RIP," he stated in a tweet, adding that he "also learned about the tragic death of my friend & fellow blues guitarist Rahul Chatterji…. As I said earlier, only the good die young. RIP 'Chatz'."
Chaturvedi posted a series of tweets and retweets from Germany, with pictures of Gandhi delivering a lecture at Bucerius Summer School in Hamburg, Sonia Gandhi paying her last respects to Gurudas Kamat, and of herself speaking alongside two other panellists on how to foster women leadership "in a setting so beautiful".
She retweeted the post from the party's official handle about how the "Congress president's hugs are in demand" at the Bucerius school.
---
Also read: Today's lesson for Rahul Gandhi: Anti-BJPism won't be good enough for 2019
---
Congress's defence
A party spokesman in New Delhi sought to dismiss suggestions of Congress leaders having fun in Germany, saying: "It's wrong to criticise Rahul Gandhi for this. Some of the people who are with him are there because they also got invitations for different events, while others are there to facilitate his interactions with overseas Indians. What's wrong in that? It's just some pictures that have got people's attention."
Gandhi himself had earlier condoled the death of Kamat in a tweet: "The sudden passing away of senior leader Gurudas Kamat ji, is a massive blow to the Congress family. Gurudas ji helped build the Congress party in Mumbai & was greatly respected & admired by all. My condolences to his family in their time of grief. May his soul rest in peace."
From interviews to news reports, catch ThePrint live in action on our YouTube channel. Subscribe here .