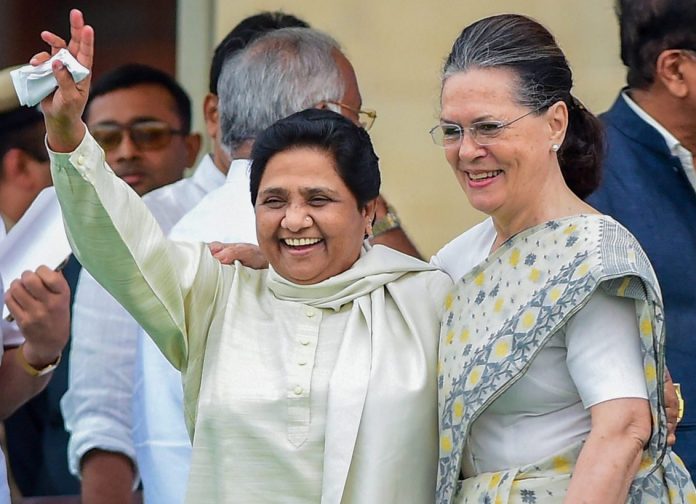 Text Size:
Talks are stuck as Mayawati wants a 'package deal', which includes seat-sharing in both assembly and Lok Sabha elections. 
New Delhi: The Bahujan Samaj Party (BSP)'s decision to abandon the Congress and join hands with Ajit Jogi's Janta Congress Chhattisgarh (JCC) is giving jitters to Congressmen in Madhya Pradesh and Maharashtra where Mayawati's party has a significant presence.
Congress leaders from these two states are building pressure on the party high command to forge an alliance with the BSP even if it means ceding a few seats.
Last week, Mayawati announced 22 candidates in Madhya Pradesh, which has a 230-seat assembly, even as central Congress leaders were in talks with her for an alliance in the state.
ThePrint spoke to multiple sources in both parties who said Mayawati wanted a 'package deal', which includes seat-sharing in both assembly and Lok Sabha elections in states such as Madhya Pradesh, Rajasthan, Punjab, Haryana and Maharashtra.
---
Also read: Why Mayawati won't break her alliance with Samajwadi Party in Uttar Pradesh
---
This is where the talks are stuck at the moment. The Congress wants to forge an alliance in the assembly elections at the moment and decide for the Lok Sabha elections later.
But state leaders have started putting pressure on the leadership to close the deal with the BSP as soon as possible. There is fear among Congress lawmakers that the BSP might go it alone in Madhya Pradesh, which could damage the party's prospects.
"For the last three elections we have been losing elections because of the BSP," said a Congress MLA who did not wish to be named. "We have tried to forge an alliance with the BSP in the past too but couldn't happen. However, this time it looked like a possibility. If it is not happening this time, we might lose again."
In 2013 assembly elections, the BSP got more than 10,000 votes on 60 seats and the BJP won 39 out of those 60 seats. Party sources said there are 82 seats out of 230 which the Congress hasn't won for the past three elections and the party doesn't have a chance in case an alliance with the BSP doesn't materialise. In that case, the Congress' fight is limited to 148 seats.
Any party needs at least 116 seats to form a government in Madhya Pradesh.
"It would be very difficult for the party to win 116 seats out of 148, especially when BJP is in fight on all 230 seats," said another Madhya Pradesh leader who did not wish to be named.
No effort
The Congress is trying to forge an alliance with the BSP, Samajwadi Party (SP) and Gondwana Gantantra Party (GGP) in order to stop division of opposition votes.
However, SP sources confirmed to ThePrint that no effort has been made by the Congress to reach out to them for a possible alliance.
"Our leader Akhilesh Yadavji has always maintained that Congress being the largest party should be large-hearted to accommodate parties in the state they have some presence," said Sunil Yadav Sajan, senior SP leader and party spokesperson.
"But we are preparing to contest good number of seats. We can't wait for the Congress," said Sajan. "Right now, this is the situation. If something has to happen, it will happen at the top level."
Congress state leaders confirmed that Madhya Pradesh party president Kamal Nath, despite making statement on alliance, has also not reached out to GGP as yet.
Weighing options
The pressure is not restricted to Madhya Pradesh only. On 24 September, Congress alliance committee headed by A.K. Antony met leaders of various states over possible alliances. In the meeting, some of the Maharashtra leaders strongly advocated for an alliance with BSP in the state.
The Congress has the Sharad Pawar-led Nationalist Congress Party (NCP) as an ally in Maharashtra.
"An alliance with BSP is crucial especially when Asaduddin Owaisi and Prakash Ambedkar have decided to come together," said a Maharashtra Congress leader on condition of anonymity.
---
Also read: This is why Mayawati's BSP is such a valuable political ally
---
"We need the BSP on our side to attract the Dalit voters," added the leader.
Owaisi's All India Majlis-e-Ittehadul Muslimeen (AIMIM) and Ambedkar's Bharipa Bahujan Mahasangh (BBM) have announced they will forge an alliance in Maharashtra and will do a joint rally in Aurangabad on 2 October.
The Congress leadership currently is weighing all the options and maintaining silence over alliance discussions.
The BSP too is waiting for some last-minute arrangements. "Chhattisgarh is gone from Congress but they still have a chance in Madhya Pradesh and Rajasthan if they approach it in a right manner," said a BSP leader who did not wish to be named.
Get the PrintEssential to make sense of the day's key developments