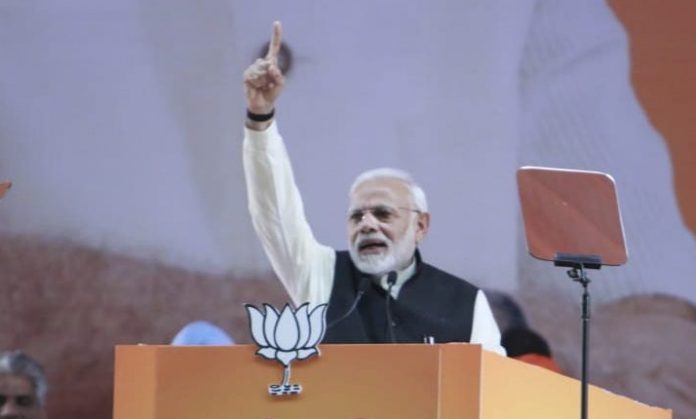 Text Size:
SP-BSP alliance dominates discussions at BJP's national convention, PM says opposition wants weak govt
New Delhi: Prime Minister Narendra Modi Saturday lambasted the opposition parties for their attempt to forge alliances "against one individual (referring to himself)", and said while they want to install a "majboor sarkar (weak government)" to indulge in corruption and scams, the BJP wants a "majboot (strong) government" to implement welfare schemes for the people.
His remarks at the BJP national convention came barely a couple of hours after the Bahujan Samaj Party (BSP)'s Mayawati and the Samajwadi Party (SP)'s Akhilesh Yadav announced their alliance and Lok Sabha seat-sharing agreement in Lucknow.
The alliance dominated the discussion at the BJP national convention in Delhi's Ramlila Maidan, and the party sought to put up a brave face.
While presenting the political resolution, Union Minister Nitin Gadkari launched a scathing attack on the BSP-SP alliance.
Hitting out at BSP supremo Mayawati, who, earlier in the day said that the "guru-chela (referring to Prime Minister Narendra Modi and BJP chief Amit Shah)" are having "sleepless nights" after her party's tie-up with the SP, Gadkari said that the BJP does not fear the alliance. He said people with no hope have joined hands in UP.
"Why would we be fearing the alliance when it is we who are kingmaker of this alliance? It is because of their fear of us that people from two different ideologies have come together. These are the people who could not even stand each other and now wrapping arms around each other," he said.
"Jitne logo ko ikkhate hona hai ho jao, tum sabko pathakhani denge aur jeet kar ayenge (those who want to join hands against us should do it. We will defeat all of you and will emerge victorious)," Gadkari further added.
Finance Minister Arun Jaitley too took a dig at the alliance.
"This alliance is an alliance of mutual rivals where the ideology and ambition of the leader don't match. We have seen this in cases of Choudhary Charan Singh, Chandrashekhar, V.P. Singh, I.K. Gujral and Deve Gowda. Soon, ambitions of tallest leaders start colliding and the result was weak crumbling governments," said the minister.
---
Also read: Four things the BJP could do to counter the SP-BSP alliance in 2019
---
Shah, Yogi Adityanath confident of win
In his presidential message, BJP chief Amit Shah said that if leaders work as per the chart given by the party, "no gathbandhan (alliance) can defeat BJP".
UP Chief Minister Yogi Adityanath said the SP-BSP tie-up was an ineffective one. "There would be no subtraction in the (BJP) seats but only addition. We will get more seats than what we got in 2014," he said.
His deputy, Keshav Prasad Maurya, called the new alliance that of "snake and mongoose". "Yeh saanp aur nevala ka gathbandhan hai, chalega nahi (this is collaboration of snake and mongoose who prey on each other). The BJP will come out in flying colours," Maurya added.
Countering Mayawati's "sleepless nights" remark, BJP spokesperson Sudhanshu Trivedi said, "If we were the ones having sleepless nights, why did two arch rivals come together?"
The same sentiment was echoed by senior leaders of the party.
---
Also read: Four things the BJP could do to counter the SP-BSP alliance in 2019
---
On action by armed forces
Gadkari and Defence Minister Sitharaman spoke extensively on the "decisive action" taken by the armed forces to contain terrorism and secure borders.
"Pakistan has begun proxy war against us. It has been sending terrorists to challenge law and order situation in the country. But it is historically proven that if a weak coward speaks about non-violence, violence cannot be curbed. It takes a brave one to put an end to violence. We believe in non-violence but we cannot tolerate terrorists in our soil…" said Gadkari.
"Maoists too were challenging internal security and we managed to tame them," he added.
Speaking on the Rafale issue, Sitharaman said the Congress was deliberately trying to mislead the public.
Read Global Pulse for a sampler of the big international stories, and why they matter.