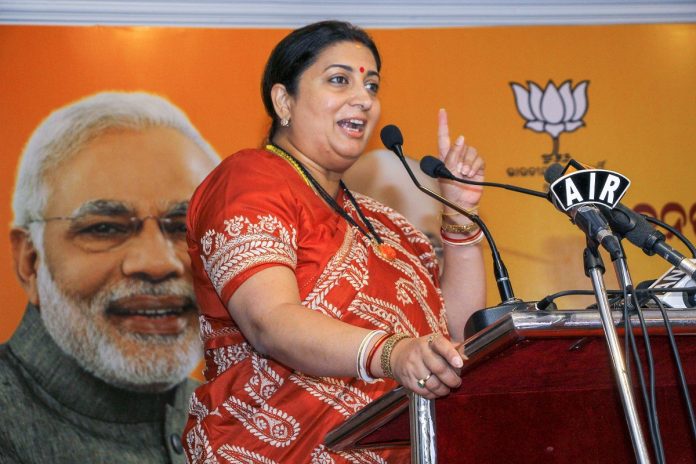 Text Size:
The BJP Sunday declared a list of key committees that will lead it into the 2019 Lok Sabha election campaign.
New Delhi: As the Bharatiya Janata Party (BJP) declared an elaborate list of 17 committees Sunday to facilitate its campaign for the 2019 Lok Sabha elections, and the party leaders who would constitute them, conspicuous by their absence were the names of some important Cabinet ministers.
Agriculture Minister Radha Mohan Singh, Science and Technology Minister Harsh Vardhan, Health Minister J.P. Nadda, Rural Development Minister Narendra Singh Tomar, Tribal Affairs Minister Jual Oram, Drinking Water and Sanitation Minister Uma Bharti, Steel Minister Chaudhary Birender Singh and Textiles Minister Smriti Irani do not find a place in the key committees, which include those that would look after the party's 2019 manifesto, publicity, outreach to various groups, media, social media and content generation, among other things.
---
Also read: Smriti Irani feels victimised, hits back with Instagram post of her mouth tied
---
The missing names
Among the big surprises is the absence of Irani.
The minister was once the gen-next, firebrand face of the party, having been fielded from Amethi against Congress president Rahul Gandhi in 2014 and given a key portfolio like human resource development in the Narendra Modi Cabinet.
However, her frequent run-ins with bureaucrats and the media, as well as her impulsive decisions, cost her the crucial ministry in due course.
Irani was later given the Information and Broadcasting Ministry, but lost that as well. Her successor, Rajyavardhan Rathore (Minister of State, Independent Charge), has been included in the BJP's publicity committee.
In fact, as Irani put up a spirited electoral fight against Gandhi, she was often fielded by the party to take him on or respond to him on issues. Sources in the BJP say Irani might be fielded from Amethi again and may have been left out to focus on that task.
Both Radha Mohan Singh and Tomar hold perhaps the two most politically crucial portfolios, dealing with issues that will dominate the poll discourse till 2019, but find no place in these committees.
For a party that is looking to battle farmer discontent, portray itself as a pro-rural party, and find a way to endear itself to these communities, the absence of its agriculture and farmers' welfare as well as rural development ministers from important committees like the ones for manifesto and publicity is particularly jarring.
Tribals constitute yet another crucial constituency, and, yet, minister Jual Oram seems to have been given a miss. As has Nadda, despite his ministry handling the flagship Ayushman Bharat health insurance programme.
Harsh Vardhan, senior party leader and once the face of the Delhi BJP, has been left out as well, along with Birender Chaudhary, a farmer leader.
Another minister whose name isn't in the list is Bharti. A veteran party leader who was initially given charge of this government's ambitious Ganga rejuvenation task, Bharti has been a key Hindutva face for the BJP, having been part of the Ram janmabhoomi movement, which catapulted the party to the centrestage of national politics.
Her ministry handles Prime Minister Narendra Modi's marquee Swachh Bharat Mission. Bharti, a Lok Sabha member from Jhansi, however, recently announced that she wouldn't contest the 2019 Lok Sabha polls.
Petroleum Minister Dharmendra Pradhan hasn't been included in key committees either, but party sources say he will lead the charge in Odisha, where the BJP is focusing extensively, hoping to make concrete inroads. The state is likely to go to polls alongside the general elections.
---
Also read: Indian farmers need a new deal and not just loan waivers
---
The Gadkari factor
Former BJP president Nitin Gadkari, who holds three big portfolios, has been given the charge of the committee for social and NGO outreach. His absence from the more important committees like manifesto and publicity, however, is glaring.
Over the past few weeks, Gadkari, also known to be close to the Rashtriya Swayamsevak Sangh (RSS), has been taking cloaked yet unmistakable jibes at the party's top leadership, leading to a perception that he may be positioning himself as the BJP's prime ministerial face if things don't go according to plan for incumbent Narendra Modi.
Read Global Pulse for a sampler of the big international stories, and why they matter.