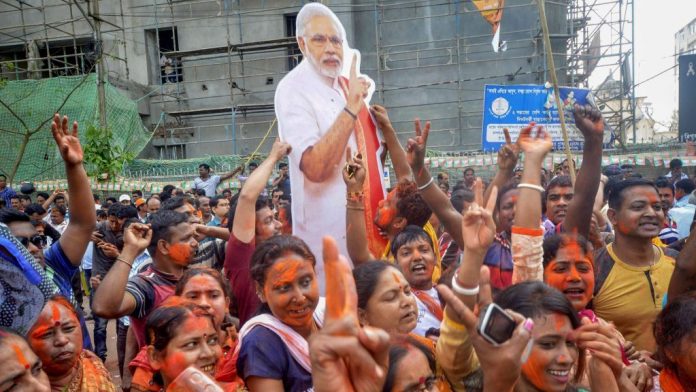 Text Size:
BJP feels volunteer groups help create a buzz on social media with their tentacled network and reach a wider section of voters, especially the youth.
New Delhi: With just a few months to go for the Lok Sabha elections, the Bharatiya Janata Party (BJP)'s volunteer base has sprung into action, as the party hopes to tap into this network to spread its campaign, reach a wider audience and push its bid to get re-elected.
The party feels these volunteer groups help create a buzz on social media with their tentacled network and reach a wider section of voters, especially the youth, that it cannot manage on its own.
In the run-up to the 2019 general elections, the BJP is looking to use its volunteer network extensively, even getting its leaders to encourage and endorse their campaigns, much like it did in 2014.
Party sources say it also helps the BJP to cash in on Prime Minister Narendra Modi's name, given most of the volunteer-driven campaigns are centred entirely around him.
'Modi Once More'
On Thursday, a group of volunteers launched the campaign 'Modi Once More', starting a website by the same name, along with a Facebook page. On Twitter, a two-minute campaign video launched by these volunteers saw the hashtag #ModiOnceMore score close to one lakh tweets.
The campaign video was even endorsed by Modi who posted a tweet which said, "Our party is blessed to have the support of such hard-working volunteers. My best wishes to everyone. Happy volunteering :)"
Our party is blessed to have the support of such hard-working volunteers.
My best wishes to everyone. Happy volunteering 🙂https://t.co/Vo5PaLEWzK

— Narendra Modi (@narendramodi) January 3, 2019
The website modioncemore.in, meanwhile, invites those who wish to see Modi as prime minister in 2019 to join hands.
"A Citizens initiative to bring back the Man we all love, the man this country needs – Narendra Modi. The time has come to put aside differences and do all we can for bringing back Narendra Modi as PM in 2019. We did it in 2014, we will do it again. Please fill your details, if you want to do anything and everything for the cause and seal your spot in the journey of making history once again," says the website.
Vijay Chada, part of the volunteer group behind the campaign, says, "This is an entirely volunteer driven network. The idea is to bring together people who want to help with the campaign in whatever way they can."
"Our aim is simple — we want Modi back," he says.
Chada had also worked as a volunteer for the BJP's 2014 campaign.
---
Also read: Narendra Modi blew hot at election rallies, but was Mr Cool in his interview
---
Multiple groups, one aim
'Modi Once More' isn't the only such campaign.
'Modi 2.0', another campaign, claims to be "India's biggest volunteer platform". In its advertisements, it gives out a phone number through which one can join the platform, and says "Mission 2019 activated". Another one of its advertisements says "PM Modi needs you" and claims this is an "opportunity for India's best brains to work for PM Modi's campaign in 2019".
There are several other platforms that specifically target the youth — a section which the BJP believes it has a grip on because of Modi's popularity.
'My first vote for Modi' is one such and caters specially to the first-time voter. Through its campaign #MyFirstVoteForModi, this volunteer group is active on Twitter, Facebook, Instagram and WhatsApp, and urges "first time voters to register and cast their first votes for Modi".
Its campaign was launched in December after the BJP's defeat in three heartland assembly state elections (Rajasthan, Madhya Pradesh and Chhattisgarh) to "boost the morale of its volunteers and infuse fresh energy".
Ashutosh Muglikar, a practicing Company Secretary who has been volunteering for the BJP since the 2014 polls, says, "We are a group of 10-15 professionals united one by one factor — we are all Modi supporters and have a common ideology."
"The objective of this campaign is dual — to urge first-time voters to register and guide them as to how to do it, as well as tell them the value of their vote and why it's important for them to vote for Modi. We are targeting the first-time voters just right in time for the 2019 polls," says Muglikar.
He claims this campaign managed to get around 20,000 unique tweets "organically".
'Mission 360 Plus', yet another campaign by a group of volunteers, is active across social media platform and even has a website. The volunteer group behind it calls the 2019 elections the "mother of all electoral battles" and says "everyone is required to forget the differences and get together to ensure that we see BJP back in government with Narendra Modi as PM in 2019".
The Overseas Friends of BJP — the party's foreign cell headed by Vijay Chauthaiwale — is activating volunteers in the Indian diaspora across 25 countries for assistance in its 2019 campaign.
'More than helpful'
The party, meanwhile, believes tapping into its volunteer base helps enhance its campaign ahead of the Lok Sabha polls.
Top party leaders have been asked to give visibility to various volunteer campaigns by promoting them on social media, but specifying that these are all self-driven and not created by the party.
"These are more than helpful. They are not imposed by the party and are self-driven, so have greater acceptability," says a highly placed source in the BJP who did not wish to be named.
"Since the volunteer groups are spread out geographically as well as in terms of appeal base, it helps us target a wide range of voters," says the source.
---
Also read: Modi takes 'tough' questions but has no good answers
---
Get the PrintEssential to make sense of the day's key developments