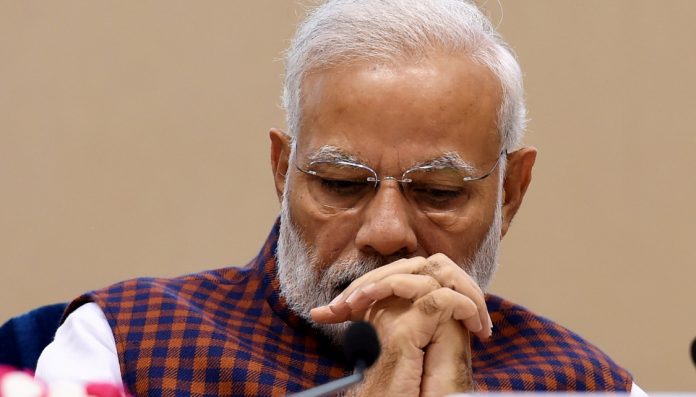 Text Size:
His interviews offer a sharp contrast to his campaign speeches, and must be seen together to get a measure of Narendra Modi.
It was Prime Minister Narendra Modi's "first interview of 2019", proclaimed CNN News18 and WION. Since it was telecast on 1 January 2019, it couldn't have been anything else. However, that wasn't the only first. For 90 minutes starting at 6 pm Tuesday, each and every news channel in India suspended regular broadcasts and dutifully tuned into ANI's interview with the PM. That was a first too.
During the Rafale debate in the Lok Sabha, Wednesday, Rahul Gandhi said that the "PM's interview was scripted" and truly, never had he spoken more truthfully. It was very well-scripted.
After he became the Prime Minister in 2014, Modi granted audience to editors from individual channels like Times Now, CNN News18, Zee News for that TV favourite, 'the exclusive' interview.
On Tuesday, a simulcast across news channels was a first and an exclusive too, just differently.
This strategy, along with the early evening scheduling of the conversation with ANI editor Smita Prakash ensured two results: first, there was no other news across channels to divert attention from Modi; second, the channels had sufficient time, thereafter, to replay excerpts from the interview, as they all did, debate the interview at prime time for the next three hours – as most did – and then replay the entire interview post 10:30 pm, as some chose to do.
Modi magic was still at work and so was his media management.
---
Also read: Modi takes 'tough' questions but has no good answers
---
As for the rest, it was another day at the office for Modi. He was seated opposite his interlocutor in a cavernous room, so spartan that it drew attention to the sole decorative piece, a vase of flowers. The camera remained in extreme close-up for the better part of the interview: this allowed us to peer deeply into his bespectacled eyes clearly, and that could be a distraction – for some.
It was another polished performance by the PM. Always fluent with figures at his fingertips, he spelt out the many accomplishments of his government from sports and health insurance to demonetisation and GST.
Modi spoke on many of his favourite things, electricity, for instance. In previous interviews and his Independence Day speeches, he has referred to the electrification of the entire country. He did so again Tuesday, first using it as an accomplishment of his government: "In this year, every village was electrified" and then as a lightning rod for the NDA's secularism: "18,000 villages didn't have electricity. We didn't do this by asking which villages are of which community."
---
Also read: Power distribution companies are slowing down Narendra Modi's Saubhagya scheme
---
This was the kind of connection he made throughout the interview.  'Janata v/s mahagathbandhan' was a new, rousing call for the 2019 Lok Sabha elections, but his repeated references to 'janata' and his connect with them is a constant refrain in his interviews: "Modi is just a manifestation of public love and blessings', was how he put it on Tuesday. Yes, speaking in that third person again.
He was composed, calm except when Prakash had the temerity to interrupt his answer on farmer's debt: "Let me finish," he admonished her, "You cannot just set it (what I am saying) aside."
His interviews, not press conferences because he is yet to hold one, offer a sharp contrast to his campaign speeches, and they must be seen together to get a measure of Narendra Modi. At poll meetings, he blows hot; with the media, he's Mr Cool.
See this contrast in his replies to questions on demonetisation and the surgical strikes: on the latter, Modi spoke, as he was asked to, about his feelings during the strikes. Here, he was all emotion and very personal: "I won't let my soldiers die… there was a rage inside me…''
On DeMo, he calmly claimed it was a "success" not a "jhatka" to the people. He did not refer to the distress of millions of Indians thereafter, or display any empathy for any collateral damage.
Hot and cold, once again.
---
Also read: Surgical Strike Day shows Modi govt has little to celebrate on national security front
---
The framing of the interview was also interesting. Unlike Arnab Goswami and Sudhir Chowdhury, two editors who have interviewed him in recent years, Prakash asked difficult, direct questions: "You are losing elections. If your narrative is so successful, why are you losing elections, shouldn't the leadership take responsibility for these losses?"
Modi did not answer the question. Just as he ignored her question on his reaction to Rahul Gandhi's hug-and-wink stunt during the last session of Parliament. In fact, as is his wont, he did not take the "parivar" or "pappu" by name.
Prakash, on the other hand, mentioned the Congress party and its president, repeatedly. This could be read in two ways: Prakash used Rahul's accusation to ask questions she might have otherwise hesitated to ask herself – after all, the questions must have been vetted well in advance.
In a more devious reading, the questions were so framed to allow Modi to attack Rahul Gandhi in response to questions, not unilaterally – and without naming him. This robbed Rahul Gandhi of his primacy. And also, in the process, defanged the questions.
However, Rahul Gandhi ought to be happy that he was present almost throughout the interview, in spirit at least, instead of at 'Lodhi Gardens' where many economic offenders could be found, Prakash observed.
Modi did not directly reply to questions about cows and lynching, or about Naseeruddin Shah's comment on Muslims "not safe in India", either. This is another trait of his: he rarely speaks specifically on communal issues.
At the end of the interview, the viewer had mixed feelings: Modi seemed to have put in a command performance, but he was seemingly oblivious to all that had gone wrong during his tenure as PM. At one point he said, "The country has belief that so much has happened in five years, that is why they have so much faith in Modi''.
Get the PrintEssential to make sense of the day's key developments