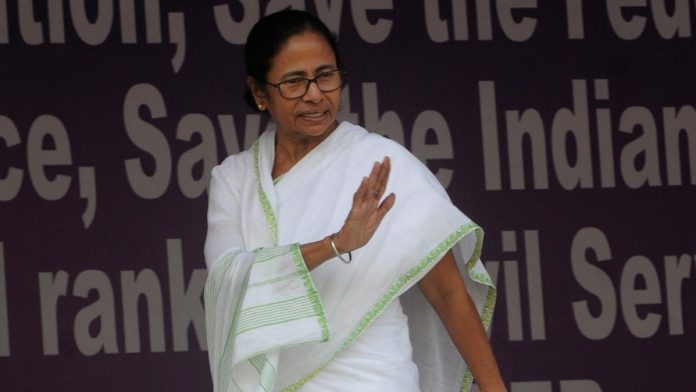 Text Size:
Mamata Banerjee is known for turning adversity into an advantage, and the CBI-Kolkata police scuffle gave her the perfect opportunity for it.
Kolkata: For West Bengal Chief Minister Mamata Banerjee, the CBI's attempt to question and presumably detain Kolkata police chief Rajeev Kumar turned out to be a blessing in disguise.
Known to turn adversity to her advantage, Banerjee immediately swung into action to highlight the issue as an unauthorised trespass by a central agency, and as an attack on her state's democratic institutions.
After her roadside press conference outside the top cop's house, instead of heading home as expected at the end of a cold, eventful winter Sunday, she went to an area often used as an outdoor protest venue and started a sit-in demonstration. This served to create such an impact — the unfolding events being broadcast live by national news media — that within seconds, Banerjee started getting calls and messages from political leaders from around the country expressing their solidarity.
'Didi', who has been trying to mobilise a united opposition to stand up to the BJP in the general elections this year, couldn't have asked for a better opportunity to turn the tide in her favour.
---
Also read: Mamata Banerjee says protest against CBI is non-political but welcomes political support
---
Leader of the united opposition
Political commentators point out that ever since the 'united opposition' idea came to the fore — it was catapulted to the national stage when on 19 January, Banerjee held a mega rally in Kolkata attended by top opposition politicians — there has been a tacit scuffle about who will lead the pack.
"It is well known that everyone is in the fray as a possible prime ministerial candidate," political scientist Prof. Biswanath Chakraborty told ThePrint. "Didi, as the most aggressive advocate of this union if not its engineer, is understood to be laying the biggest claim."
Congress president Rahul Gandhi who, it is believed, is unwilling to allow anyone other than himself to be considered the face of such a front, also called up Banerjee after the CBI-Kolkata police standoff.
"This itself is a victory for Mamata because it indicates that Rahul too had to concede that she is the leader," Chakraborty observed. "In fact, she emphasised that he had called her. She told the reporters gathered that she would have to call Rahul back as he had called her while she was speaking to BSP chief Mayawati. She wanted to ensure that the message gets sent across that she is the boss."
Most significantly, even Odisha chief minister Naveen Patnaik, who has not been an active participant of the opposition unity and did not attend the 19 January rally, spoke out against the high-handedness of the CBI — the emphasis being on 'Central'.
---
Also read: Mamata Banerjee says Supreme Court order is a moral victory for her govt
---
Diverting attention
Other than thus mobilising the opposition and positioning herself as the face of the emerging 'united opposition' front, Banerjee has achieved something else too.
"She has tactfully diverted attention from the key issue of the CBI investigation and Ponzi scheme scam, in which several of her party colleagues are named," Chakraborty observed.
"Indeed, Didi has made sure that it boomerangs on the BJP by calling out the names of BJP leaders who also have been named in the scam. She has gone to the extent of fishing out a letter written by chit fund company owner Sudipto Sen mentioning current Assam minister Himanta Biswa Sarma as a recipient of funds."
Denying the allegations, Sarma has tweeted that unlike Didi's police commissioner, he has been cooperating with the CBI.
Furthermore, by highlighting the CBI indiscretion of arriving uninvited to the house of the commissioner of police, Banerjee managed to ensure that questions about the manhandling of CBI officials by her police do not raise their ugly heads.
"She is an astute politician and will turn anything in her favour," Chakraborty said. "She doesn't miss opportunities. If she was on the other side she would possibly have done the sit-in against packing central officials into police vans or for detaining them. Or against the administration evidently trying to protect officials who were allegedly obstructing investigation into a scam. She would have no doubt highlighted that the scam involved duping hundreds of poor people out of their hard-earned money."
But clearly, Banerjee is cunning enough to let the alleged indiscretions of her political rivals overshadow those of her own.
---
Also read: SC says can't arrest Kolkata police chief, but directs him to cooperate with CBI probe
---
Moral victory
In the end, she called off the strike with claims of a "moral victory". The Supreme Court order that the commissioner cannot be arrested was enough for her. She managed to have her cake and eat it too, and this was the icing on top of that cake.
In the last three days, Banerjee has become a national hero with all the leaders of the opposition. She has become, willy-nilly, their leader. And she got to keep her police commissioner.
Before the elections, Banerjee could not have asked more.
Opponents react
The BJP dismissed the notion that the last three days' events were positives for Banerjee.
"The machinations of Mamata are by no means new," said BJP leader Chandra Kumar Bose. "When it suits her, she can stand up for a cause, but then she can do a complete about-turn if that cause does not suit her. In Singur, she was agitating against the creation of a car factory because it hurt farmers, but in Bhangar, she is calling the construction of a plant 'development'."
The Communist Party of India (Marxist), which has often accused the Trinamool and BJP of being hand-in-hand to prevent a Left resurgence, dismissed the entire episode as a "staged drama".
Mohammed Selim, CPI(M) Politburo member and MP told ThePrint: "On 3 February, the Left held a huge rally in Kolkata which was a big hit. It unnerved both Didi and Modi. To overshadow the success of our brigade rally, the Trinamool and BJP planted the entire thing.
"Why else would the CBI sleuths stealthily land up on the doorsteps of the Kolkata police commissioner? Don't they know any better? And Didi ensured that the entire evening news was dedicated to her."
Calling the allegation as "baseless", Trinamool leader Dola Sen said: "The Left has become irrelevant, so it is engaging in such banter."
Check out My543, our comprehensive report card of all Lok Sabha MPs.