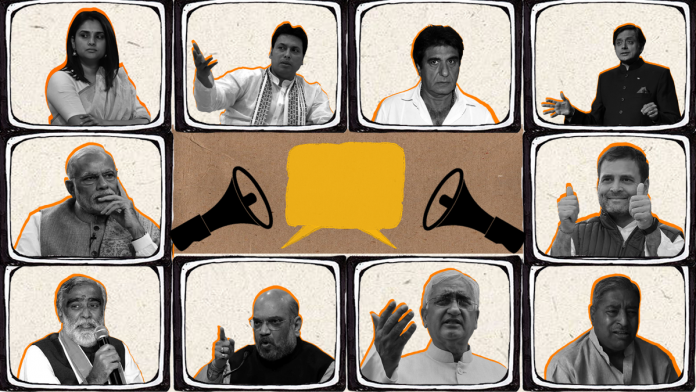 Text Size:
ThePrint looks back at some of the remarks made by leaders this year that started a row 
New Delhi: From Prime Minister Narendra Modi to Congress president Rahul Gandhi, politicians threw caution to the wind and made statements that triggered rows. Here's a recap:
The Congress' 'vidhwa'
4 December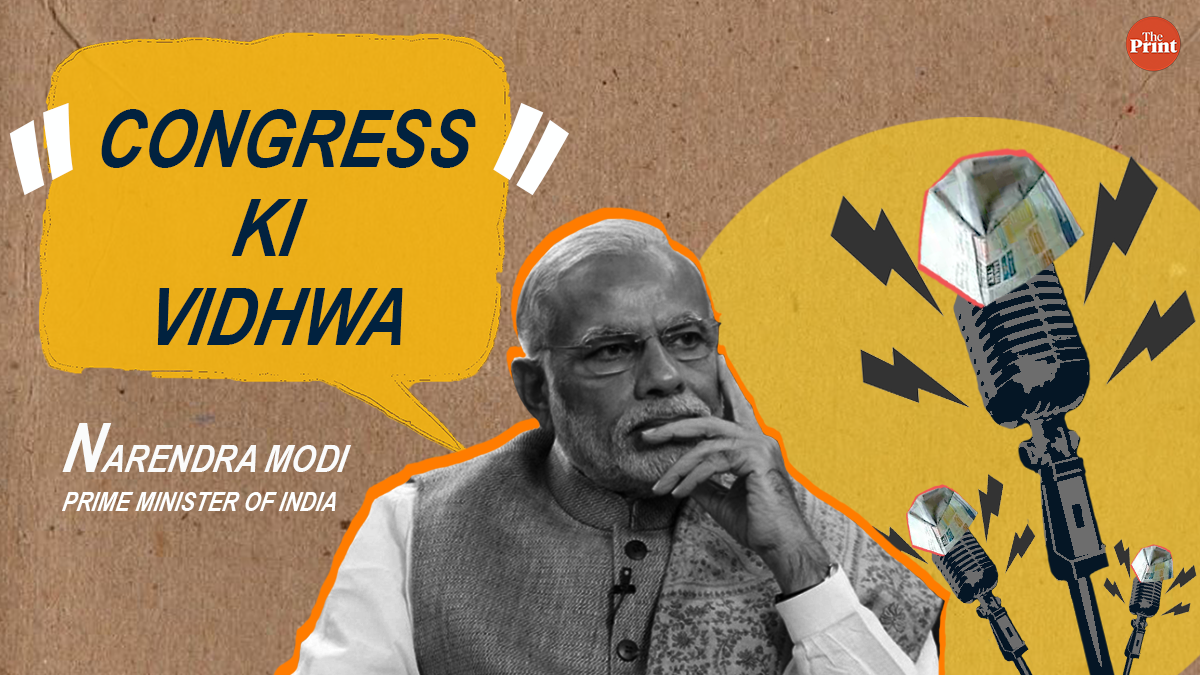 While addressing an election rally in Jaipur, Prime Minister Modi indirectly called former Congress chief Sonia Gandhi a "widow".
"…Ye Congress ki kaunsi vidhwa thi, jiske khaatey mein rupaya jata tha (who was that widow in the Congress in whose account this money used to go)," Modi said, alleging a scam under Congress rule in which unborn girls were listed as "widows" and allegedly "received a pension".
Ali and Bajrang Bali
24 November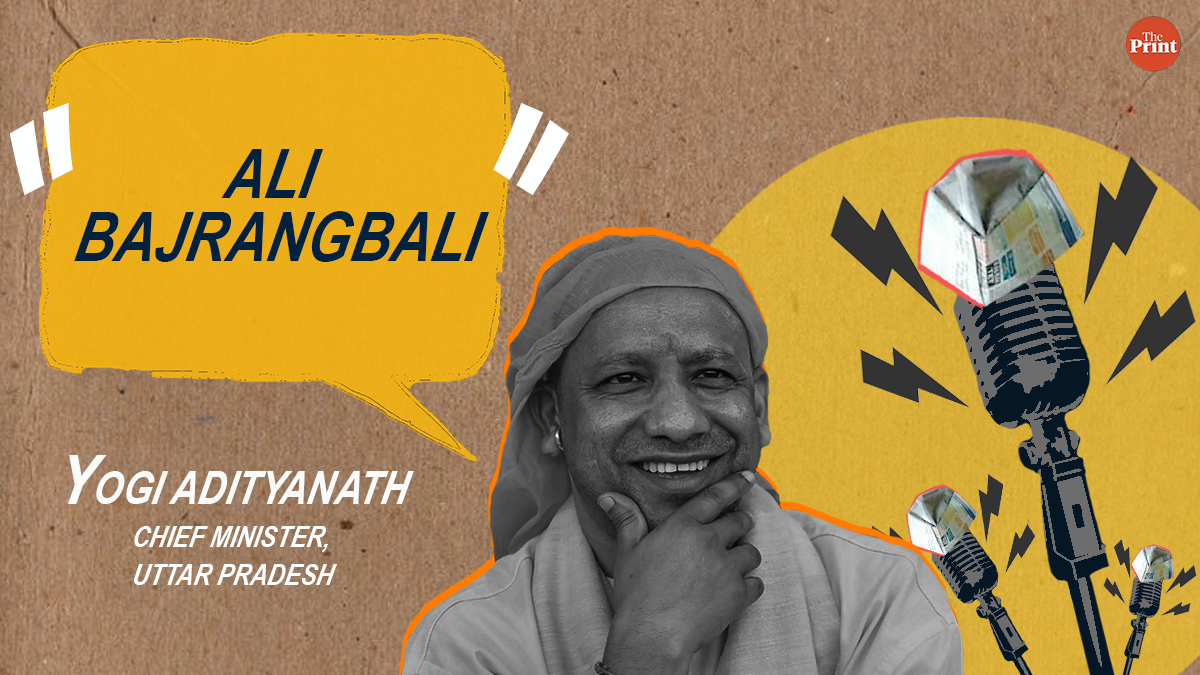 Uttar Pradesh Chief Minister Yogi Adityanath, while addressing a rally in Bhopal, said, "Kamal Nath Ji aap ko yeh Ali Mubarak, hamare liye Bajrang Bali paryaapt honge" (Kamal Nath you hold on to Ali, we have our Bajrang Bali)."
A few days before the rally, a video had emerged that showed Nath urging Muslim leaders to ensure as much as 90 per cent voting for the Congress from Muslim-dominated areas.
Falling rupee and Modi's mother
22 November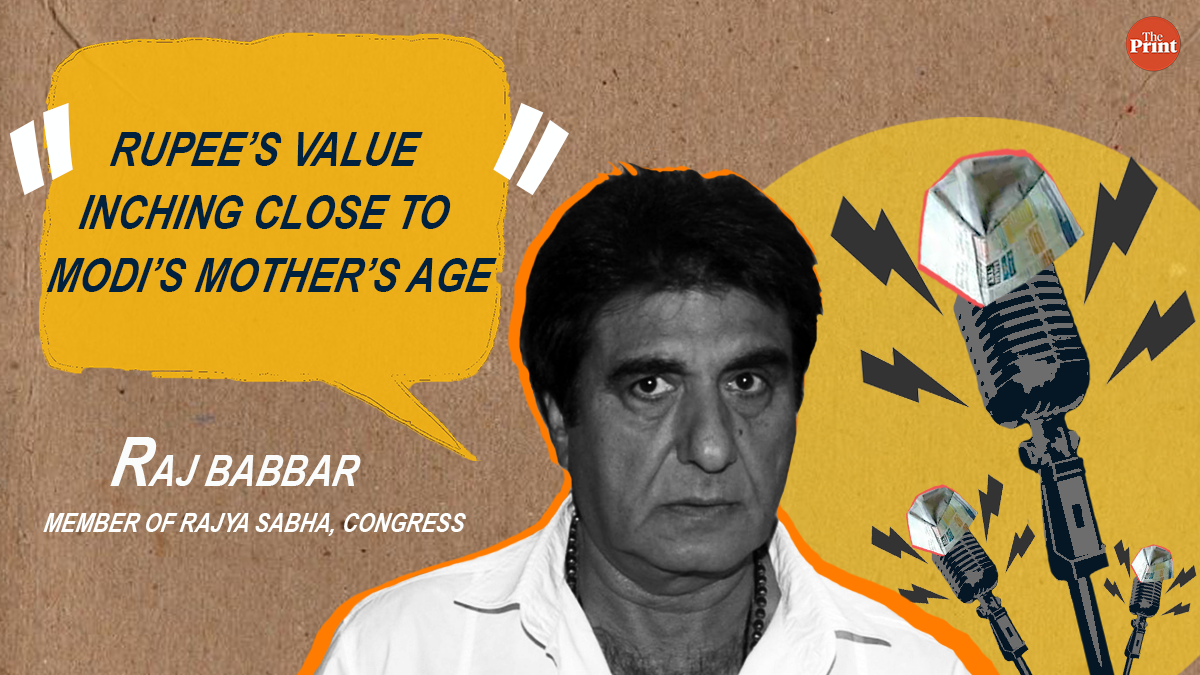 While addressing a rally in Madhya Pradesh's Indore, Congress leader Raj Babbar, compared the rupee's falling value against the dollar with PM Modi's mother's age. He said: "He (Modi) used to say that the rupee has fallen so much against the dollar that it was nearing the age of the then Prime Minister (Manmohan Singh). Today, the rupee's value has dropped so low, that it is inching closer to your (Modi's) beloved mother's age."
The remarks led to a bitter spat between the parties, with the BJP demanding an apology from Babbar and Rahul Gandhi.
The Brahmin brouhaha
20 November 
Amid the uproar over Twitter CEO Jack Dorsey holding a poster that read "Smash Brahminical patriarchy", Congress leader Manish Tewari waded into the row and called Brahmins the "new Jews of India".
"Why blame @CreatorOfTwitt. Anti-Brahminism is the reality of Indian politics. Got accentuated in the North post Mandalisation of Indian politics. We are the new Jews of India and we should just learn to live with it."
---
Also read: Move over angry young man, 2018 was ruled by angry young women in Bollywood
---
Divya Spandana ruffles feathers
1 November 
Congress social media head Divya Spandana sparked a row with her tweet mocking a photo of Modi, clad in white at the Statue of Unity inauguration, as a 'bird dropping'.
Is that bird dropping? pic.twitter.com/63xPuvfvW3

— Divya Spandana/Ramya (@divyaspandana) November 1, 2018
She later retweeted the message saying she meant actual bird droppings.
Shah, SC, and Sabarimala  
27 October
Days after the Supreme Court verdict allowing entry of women of menstrual age into the Sabarimala temple, BJP president Amit Shah remarked in Kerala: "I want to tell the (state) government and those who pronounce orders in court that you should issue orders that can be implemented, not the ones that break the faith of people…"
His support of Ayyappa devotees protesting against the state government's decision to implement the order was met with criticism from several quarters.
Shah and 'termite infiltrators'
6 October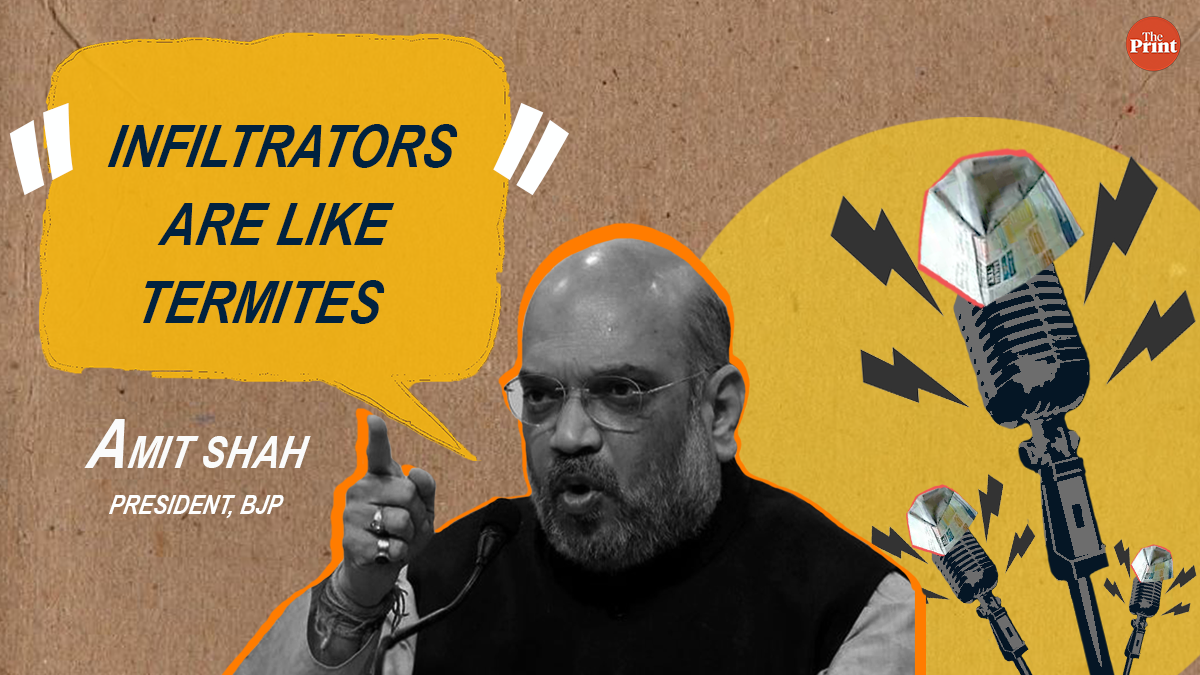 While addressing a rally in poll-bound Madhya Pradesh, Amit Shah said, "Lal Bahadur Shastri had given the slogan 'Jai Jawan, Jai Kisan'. While you (farmers) feed the people, they (soldiers) guard our borders. But infiltrators are like termites who eat away at the country's security. They need to be removed."
---
Also read: Amit Shah's 'termite' jibe: Human Rights Watch draws Nazi Germany, Rwanda parallel
---
Choubey and 'Naali ka Keeda'
1 September 
Political discourse hit another low when Union minister Ashwini Kumar Choubey told reporters in Sasaram, Bihar, that Congress chief Rahul Gandhi suffers from "some mental disease like schizophrenia" and "is no more than a naali ka keeda (a gutter worm)".
Choubey was responding to questions about Gandhi's Kailash Mansarovar visit.
Rahul's 'chor chowkidar' jibe
20 September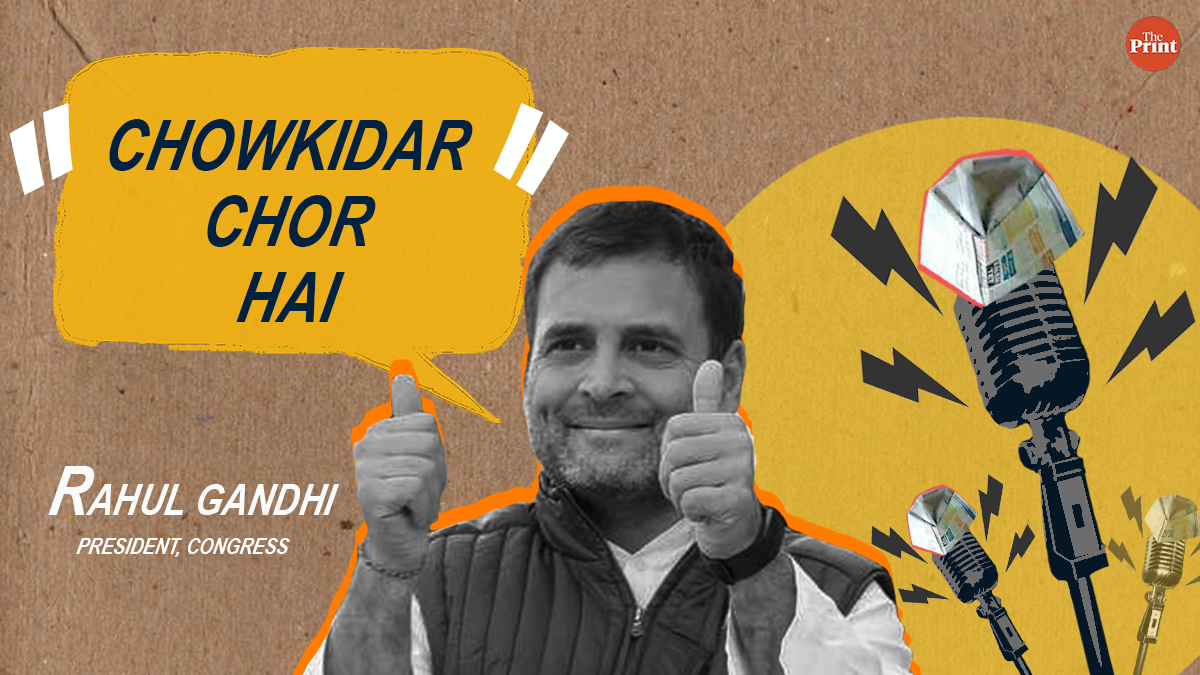 Alleging a scam in the Rafale deal, Rahul Gandhi slammed Modi at a public rally in Dungarpur, Rajasthan, saying, "Gali gali mein shor hai, Hindustan ka chowkidar chor hai (There is talk everywhere that India's guard is a thief)."
Modi later hit back at Gandhi, calling him a "naamdaar (dynast)".
Tharoor's warning of 'Hindu Pakistan'
11 July
Congress leader Shashi Tharoor's Facebook post led to yet another controversy: "If they have been able to win a repeat of their current strength in the Lok Sabha, then frankly, our own democratic Constitution, as we understand, will not survive," he wrote. "Because then they will have all the three elements they need to tear up the Constitution of India and write a new one… And that will enshrine the principle of Hindu Rashtra, that will remove equality for the minorities, and that will create a Hindu Pakistan."
Tharoor again
July
While addressing a rally at Thiruvananthapuram in July, Shashi Tharoor said, "Have they started a Taliban in Hinduism itself? What the BJP is saying and the talks they give on Hindu Rashtra are actually very dangerous and will destroy our country."
---
Also read: By lecturing Tharoor on 'Hindu Pakistan', Congress again reveals its ideological confusion
---
Modi's dig at Rahul
1 May
PM Modi, at an election rally in Chamarajanagar, Karnataka, challenged Gandhi by saying, "For 15 minutes, without taking a paper in your hand, can you please talk about the achievements of your government in Karnataka? You can speak in any language as you please — English, Hindi or your mother's mother tongue."
Khurshid's 'blood on our hands' comment
24 April
Speaking at an event in Aligarh Muslim University, Congress leader Salman Khurshid triggered a huge row when he said, "I am a part of the Congress. So, let me accept that we have the blood of Muslims on our hands."
Khurshid was answering a question by an AMU student about the 1984 anti-Sikh riots and the 1992 Babri Masjid demolition.
Deb's cow suggestion for grads
28 April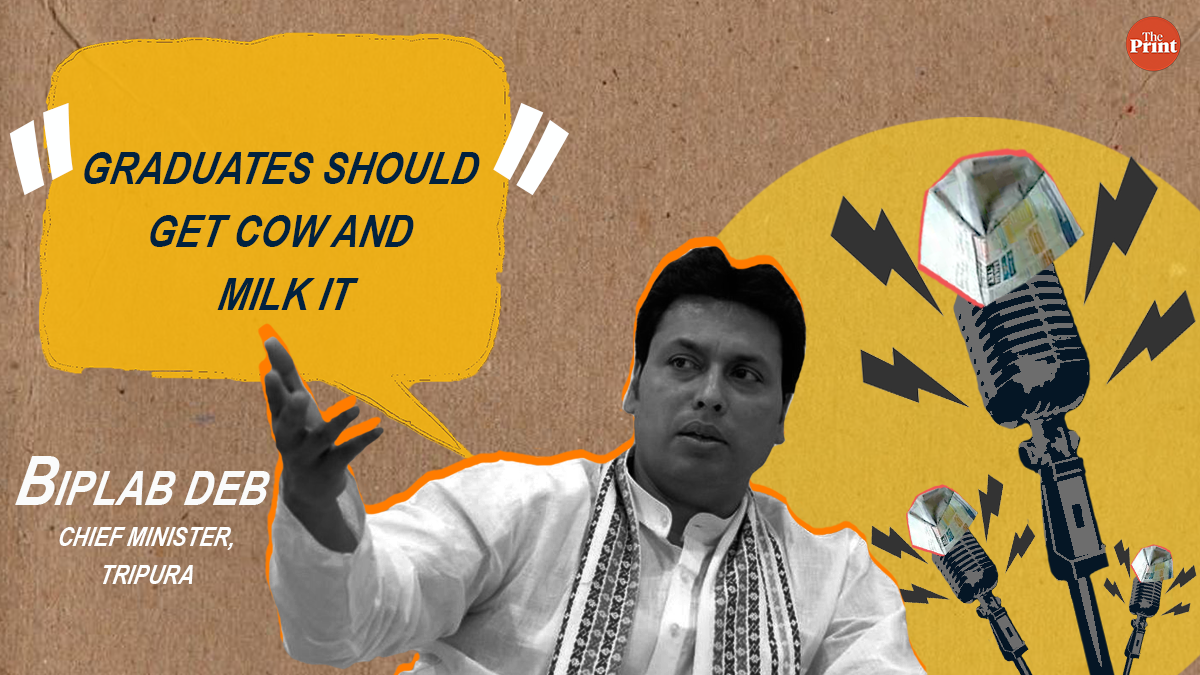 Tripura Chief Minister Biplab Deb, while addressing a seminar hosted by the Tripura Veterinary Council Deb, said, "There should be a cow in every house. Why run after netas for government jobs? Milk is being sold at Rs 50 per litre. Graduates should get cows and milk it to earn Rs 10 lakh in 10 years instead of running after political parties."
Katiyar rakes up mandir
18 March
BJP parliamentarian Vinay Katiyar, raising the Ram Mandir issue yet again, said in Faizabad: "I believe Ram Janmabhoomi is demanding another sacrifice, and the Hindu community should get ready for this… Our Hindu community must be ready for martyrdom."
Note: the specific date for 'Tharoor again' quote is unclear, but it was after his 'Hindu Pakistan' one.
Compiled by Ratnadeep Choudhary
Separate fact from fiction, the real from the fake going viral on social media, on HoaXposed .