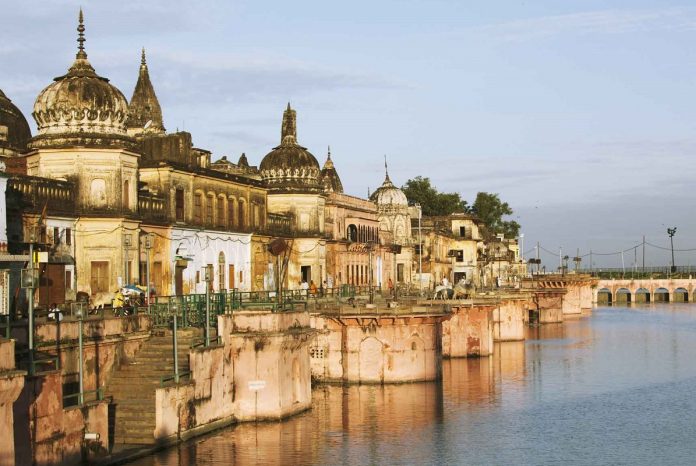 Text Size:
Local residents say the current generation has little memory of the events of 1992 but are reminded of it by outfits such as the VHP and RSS.
Ayodhya: Some 26 years after it witnessed the destruction of Babri Masjid, Ayodhya appears to have moved on — but for external disruptions.
With key litigants in the case having passed away, their family and successors are looking to the country's highest court for a final solution.
They also dismiss the recent efforts by Hindu Right-wing groups to galvanise support for the construction of a Ram temple at the disputed site as "poll gimmicks" and "an effort to cause a Hindu-Muslim divide".
The memory of how events unfolded on 6 December 1992, and of the days leading to the demolition, seems to have been left behind by locals, except when prodded for details.
"It has been so many years since that day. People from that generation have passed away," says Mohammad Shahid, whose house was among over 200 Muslim households burnt down on that day. "Those like us who were young at the time are the only ones who remember what happened in 1992. No one in the families of the men who were burnt alive wants to go over what had happened.
"Everything you see in the house has been bought and built after 1992. They did not even leave a spoon," Shahid adds.
Iqbal Ansari, son of Hashim Ansari, the oldest litigant in the case who passed away in 2016, says his family doesn't support politicking over the issue.
"Dangaiyon ki koi jaat nahi hoti, koi mazhab nahi hota (Rioters do not have a caste, do not have a religion). Their only concerns are loot-paat (robbery)," he said. "In this country, people will not stage demonstrations for employment and development."
Ansari further said that they would accept whatever the Supreme Court "decides in the matter". "There will be some who celebrate Shaurya Diwas and there will be others who will observe 6 December as a Black Day," Ansari says. "I don't consider such things as being appropriate. We do not want to indulge in politics on this."
Bablu Shukla, a resident of Ayodhya who runs an eatery, voices similar sentiments.
"These political parties have no intention of constructing the Ram temple. Whenever elections come close, they rake up the issue," he says. "Locals in Ayodhya, be it Hindus or Muslims, live together, celebrate festivals together, and attend each other's weddings and death ceremonies. Like that time (1992), it is outsiders and politicians who try to create communal tension here."
The detachment with the 1992 incident, by a large section of Ayodhya's population, finds mention in the VHP spokesperson Sharad Sharma's views.
"The dharma sansad that took place in Ayodhya last month was a measure to awaken the government and the court on the Ram temple issue," he says. "It was also an initiative to connect our youth to the Ram Temple movement. Many of them do not know about the movement and the struggle that Hindus went through."
---
Also read: Don't just blame Hindutva for Ayodhya dispute, Muslim elite politics also responsible
---
At the other end of Ayodhya, Shaurya Diwas and a back day
At Karsewakpuram, located on the other end of Ayodhya, radical Hindu organisations observed Shaurya Diwas at a banquet hall.
"The celebrations are limited to a banquet hall for only 400-500 people. We just held the Dharma Sabha in Ayodhya, so this year, Shaurya Diwas is not going to be celebrated on a very grand scale," says Sharma.
A public meeting at Delhi's Ramlila Maidan scheduled to take place on 9 December is a bigger priority for Sharma. "That is going to be a big event from where seers will decide the next course of action," he says.
Less than three kilometres away, in the courtyard of Haji Mehboob's house, rows of red plastic chairs are neatly arranged in front of a wall that carries two banners of Babri Masjid.
At around 11 am, more than a dozen Muslim clerics and local residents were assembled for the condolence meeting, marking 26 years of the mosque's destruction. The house of Mehboob, a litigant in the Ram Janmabhoomi-Babri Masjid case, is also located a kilometre from the disputed site.
"It has been 26 years but the matter has not moved towards any resolution," Mehboob says. "Parties and organisations such as the Vishwa Hindu Parishad do not want to find a solution. They have opened a business on this issue."
He adds that the issue is now being raised as the 2019 general elections are just six months away. "But I am thankful to the governments at the state and centre level. They did not let any untoward incident take place this time," Mehboob says. "Otherwise, these people had wanted to create the same atmosphere that we had seen in 1992."
---
Also read: What Liberhan panel said about Babri Masjid demolition conspiracy, and those involved
---
Get the PrintEssential to make sense of the day's key developments