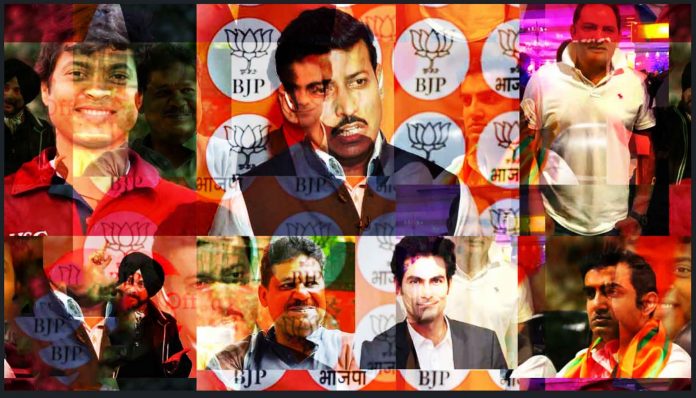 Text Size:
New Delhi: Former India cricketer Gautam Gambhir made his debut in politics last week as he joined the Bharatiya Janata Party (BJP). He is likely to contest the Lok Sabha elections from Delhi.
The former opener, though, is not the first Indian sportsperson to try his luck in politics. In the past, several others have tried, and while some of them succeeded and were elected to Parliament, others didn't make much of a mark.
As the political parties keep churning out lists ahead of 2019 Lok Sabha elections, ThePrint takes a look back and picks some of the prominent sportspersons who jumped into politics and won or lost a Lok Sabha seat.
---
Also read: Left-hander turns right: Gautam Gambhir pads up for BJP weeks before Lok Sabha elections
---
Successful candidates
Kirti Azad (cricket)
Son of former Bihar chief minister Bhagwat Jha Azad, Kirti was not new to politics.
A successful right-handed batsman and a right-arm spinner of his time, Kirti was a part of the 1983 Cricket World Cup-winning squad.
He became a member of the Delhi assembly in 1993. Five years later, he was elected to the Lok Sabha representing the BJP from Darbhanga, Bihar.
He won the Darbhanga seat again in 2009 and then 2014 general elections.
However, last month he left the BJP to join the Congress.
Navjot Singh Sidhu (cricket)
Sidhu made his international debut in the 1987 World Cup. He went on to play over 50 Tests and 100 ODIs for India, scoring more than 7,000 runs in international cricket.
His father Bhagwant Singh, also a cricketer, was Patiala district president of the Congress while his mother Nirmal Sidhu twice fought the assembly elections on a Congress ticket.
After his political entry, Sidhu won elections from the Amritsar parliamentary constituency on a BJP ticket thrice — in 2004, 2007 and 2009. He also served as a member of the Rajya Sabha for a brief period.
He moved to the Congress ahead of the 2017 Punjab elections, and is currently a state cabinet minister.
Last year, he grabbed headlines when he hugged Pakistan's Prime Minister and former cricketer Imran Khan during the inauguration of Kartarpur corridor in November 2018.
Dilip Tirkey (hockey)
Former India hockey captain Dilip Tirkey has played over 400 international matches for India, including three consecutive Olympics — 1996, 2000 and 2004.
Tirkey, who was born in the small town of Sundergarh in Odisha, went on to become the most capped hockey player in the world. The Hindu called Tirkey a "shining symbol of adivasi resurgence in sports".
In 2012, the former hockey player was elected unopposed to the Rajya Sabha from Odisha.
Two years later, he unsuccessfully contested the Sundargarh Lok Sabha seat on a Biju Janata Dal (BJD) ticket. He lost to BJP's Jual Oram.
For the upcoming elections, the BJD has given his name a miss.
Rajyavardhan Singh Rathore (shooting)
The former Army official came into limelight when he won the first individual silver medal for India in the 2004 Athens Olympics. He achieved this feat in the Men's Double Trap event.
Nine years later, Rathore decided to quit the Army and join the BJP to help the nation face a "different kind of threat".
Rathore won the Jaipur (Rural) parliamentary seat in the last general elections by defeating Congress leader C.P. Joshi.
The Modi government named him the minister of youth affairs and sports in September 2017. He was given the charge of the Information and Broadcasting Ministry, too, in May last year.
For the upcoming elections, Rathore will contest on a BJP ticket from the same seat.
Prasun Banerjee (football)
Former India football team captain Prasun Banerjee became the first professional footballer to become a Member of Parliament.
After leading India in the 1979 Olympic qualifiers, Banerjee was part of the Asian Games squad in 1974, 1978 and 1982.
About three decades later, Banerjee was elected to the Lok Sabha on a Trinamool Congress ticket in the 2013 bypoll from Howrah. He was re-elected from the same constituency for a second term during 2014 general elections.
Mohammad Azharuddin (cricket)
One of India's greatest captains, Mohammad Azharuddin played for the Indian cricket team in three consecutive World Cups — 1992, 1996 and 1999.
However, his cricketing career came to an abrupt end after he was accused in a match-fixing scandal and a lifetime ban was imposed on him in 2000 by the Board of Control for Cricket in India (BCCI). The ban was lifted later.
In the 2009 Lok Sabha polls, Azharuddin contested and won from Moradabad, Uttar Pradesh, on a Congress ticket. Five years later, he contested as a Congress candidate from Tonk-Sawai Madhopur, Rajasthan, where he faced a crushing defeat at the hands of BJP's Sukhbir Singh Jaunapuria.
---
Also read: Navjot Singh Sidhu is the Congress' new star campaigner, even in Telangana & Rajasthan
---
Failed attempts
Mohammad Kaif (cricket)
Former India middle-order batsman Mohammad Kaif will always be remembered for his match-winning knock of 87 alongside Yuvraj Singh in the 2002 Natwest Trophy final against England. However, his political run didn't turn out to be that memorable.
Kaif joined the Congress in 2014 and contested Lok Sabha polls for the first time the same year from Phulpur, Uttar Pradesh. However, he failed to garner votes and Congress came a distant fourth. BJP's Keshav Prasad Maurya won the seat by a comfortable margin.
After a brief stint with Congress, Kaif quit politics.
At an event in 2018, he said, "I found out that politics divide people. I wanted to serve the people and do something for the society, that is why I fought elections."
However, he added, "I am not thinking of joining politics…but you will never say never."
Bhaichung Bhutia (football)
Footballer Bhaichung Bhutia captained the Indian team for over 10 years and is one of the few players to have played over 100 matches for the country.
Under his captaincy, India won South Asian Football Federation thrice — 1997, 1999 and 2005.
However, his political stint didn't last that long.
Bhutia was fielded by the Trinamool Congress from Darjeeling in 2014 Lok Sabha polls and also in the 2016 West Bengal assembly elections from Siliguri. He was unsuccessful on both occasions.
Last year, he floated his own political outfit, Hamro Sikkim Party (HSP). The small Himalayan state is going for simultaneous polls on 11 April.
Bhutia is going to contest assembly elections from Gangtok, Sikkim, for which he has filled his nomination.
M.A.K. Pataudi (cricket)
Mansoor Ali Khan Pataudi, also known as 'Tiger Pataudi', became captain of the Indian cricket team at the age of just 21. Under him, India clinched its first overseas series victory against New Zealand in 1968.
He took an early political plunge, and fought the Lok Sabha elections twice — first in 1971 and then in 1991. He lost on both occasions.
In his first political fight, he jumped into the elections after the "privy purse" was abolished by then prime minister Indira Gandhi. Pataudi unsuccessfully contested the 1971 parliamentary elections from Gurgaon on a Vishal Haryana Party ticket.
Two decades later, Pataudi contested the Lok Sabha polls on a Congress ticket and again lost to BJP's Sushil Chandra Verma.
Hindustan Times wrote of his defeat, "He lost the elections because of adverse circumstances arising from Ram Janmbhoomi movement, which was at its peak, and polled second."
For ThePrint's smart analysis of how the rest of the media is doing its job, no holds barred, go to PluggedIn