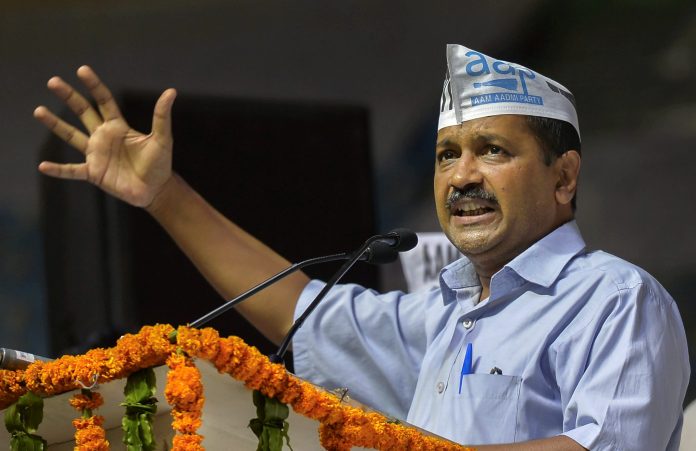 Text Size:
Alok Agarwal has listed 30 promises, which include waiving farm loans, giving free electricity to farmers and employment allowance to youth.
New Delhi: The Aam Aadmi Party's chief ministerial candidate for Madhya Pradesh presented on Sunday his list of 30 promises to the electorate on a non-judicial stamp paper of Rs 100.
Alok Agarwal was anointed the CM candidate by AAP convenor and Delhi chief minister Arvind Kejriwal at an event in Indore Sunday. Madhya Pradesh is gearing up for assembly elections at the end of this year.
The move to use stamp paper, probably the first of its kind in the country, does not, however, make the promises legally enforceable.
Doles galore
Agarwal's promises include waiving off all farmer loans in the state while providing free electricity for agricultural purposes. It also proposes granting compensation of Rs 10 lakh to families of farmers who have committed suicide.
For other sections, he has proposed to waive all pending electricity bills in the state, while promising to effect a massive cut in power tariff.
Agarwal has also promised to provide a grant to every unemployed youth in the state. According to the 'manifesto', those who have passed Class 12 will get Rs 1,500 a month, graduates will receive Rs 2,000 a month while postgraduates will get Rs 3,000 per month. He has also promised to provide employment to every youth in the state.
Kejriwal also promised to develop Madhya Pradesh "like the way he has been developing Delhi". He recounted uninterrupted power supply, mohalla clinics and better education facilities in the Capital's government schools as his successes of the past three years in Delhi.
Legal sanction
Agarwal's innovative presentation comes amid calls for poll promises to be made legally enforceable.
Speaking at a conference in 2017, then Chief Justice of India J.S. Khehar criticised political parties for treating their poll manifestos like pieces of paper and advocated for parties to be held accountable for what they promise.
While the Supreme Court in 2015 ruled that the manifesto was not legally enforceable, it has in other judgments, most notably in S Subramaniam Balaji Vs Govt. of TN (2013), directed the Election Commission of India to consult political parties and frame guidelines for the election manifesto.
The EC has issued broad guidelines about what could be included in the manifesto. It has some very general instructions like "the election manifesto shall not contain anything repugnant to the ideals and principles enshrined in the Constitution …"
It further says "…it is expected that manifestos also reflect the rationale for the promises and broadly indicate the ways and means to meet the financial requirements for it. Trust of voters should be sought only on those promises which are possible to be fulfilled."
Read Global Pulse for a sampler of the big international stories, and why they matter.