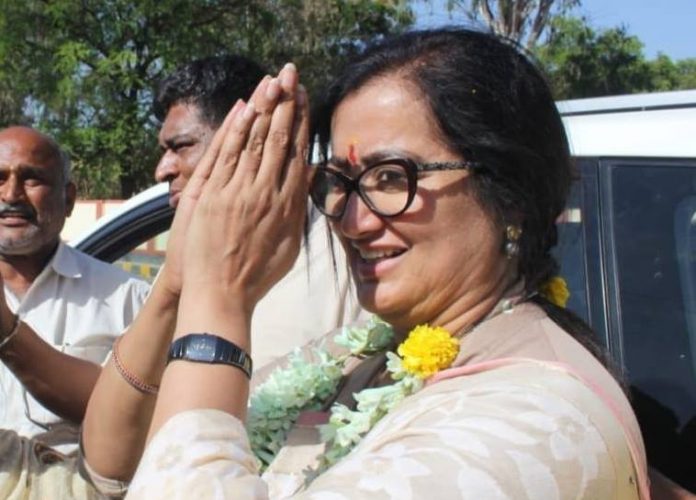 Text Size:
Bengaluru: Whether he was playing a character on screen or practicing politics off it, Kannada superstar M.H. Ambareesh was always the rebellious kind, earning the moniker 'Rebel Star'. Ambareesh passed away four months ago, but the rebellion continues through his wife Sumalatha, who is taking on the Congress-JD(S) alliance and demanding a ticket to fight the Lok Sabha elections from Mandya, her late husband's former constituency.
According to the seat-sharing formula drawn up by the leadership of both parties, Mandya is in the JD(S)' kitty, since it won all eight assembly segments in the 2018 state polls. The party has announced that its candidate will be Chief Minister H.D. Kumaraswamy's 29-year-old son Nikhil Gowda.
However, Sumalatha's insistence on contesting from Mandya, and the massive support she seems to have among local Congress workers, is giving the Gowda family some jitters.
---
Also read: Third generation of Gowda dynasty set for poll debut as former PM to vacate seat for grandson
---
Warmth of the crowds
Sumalatha is not just the wife of Ambareesh, but also an accomplished actor in her own right. She worked in more than 200 films in Kannada, Telugu, Tamil and Malayalam, and won several awards. She is best known for her role in the Malayalam superhit Thoovanathumbikal, which attained cult status.
But now, far removed from the silver screen, Sumalatha breezes through the villages of Mandya wearing a crisp cotton saree. She is received with the same warmth her husband enjoyed — Ambareesh was a three-time MP and a one-time MLA from Mandya.
"I am here to continue the legacy of Ambareesh. I don't have any party; Ambareesh is my party, the people of Mandya are my party," a confident Sumalatha says.
"I bow my head in respect as you all have always supported Ambareesh, and as I stand in front of you, please bless me."
She obliges for selfies and handshakes, and quietly listens to people speak about their love for Ambianna, as Ambareesh was fondly called.
She then stops at a protest near the Mandya Deputy Commissioner's office, where Dr Raveendran, a local Congress office-bearer who has been spearheading the 'Go back Nikhil' campaign, is sitting on a hunger strike. Raveendran says his protest is against the Deve Gowda family, who are bent on creating a dynasty without giving others an opportunity.
Sumalatha sits among the protestors for a short while, and assures that she will work for the people, and they should not trust what is being shown in the media.
"Follow your heart," she says while departing, as the young and old alike run behind her SUV.
---
Also read: These are India's 34 most powerful political families
---
Congress workers' support
A party leader who did not wish to be identified says if the Congress had kept Mandya as part of the seat-sharing arrangement, Sumalatha would have been the first choice for a ticket. However, Congress workers are even willing to back her as an Independent candidate, instead of transferring their support to the JD(S).
"Let her stand as an Independent. We will support her," says Somashekhar, president of the Nagamangala block Congress, who has been facilitating Sumalatha's visits to 40 destinations in the district.
For the Congress workers, this is just the latest in a series of compromises they're being forced to make. First, during the assembly elections, the JD(S) and the Congress fought aggressively against one another on each of Mandya's seats, but then party workers were forced to come together for the sake of the alliance. Now, yet again, Congress workers are not being allowed to elect the leader of their choice.
M. Jayaram, another Congress leader from Mandya, says this has turned into a fight between the people of Mandya and the "people of Hassan", a reference to the Gowda family.
To combat this sentiment, CM Kumaraswamy has asked Water Resources Minister and senior Congress leader D.K. Shivakumar to convince local party workers and ensure support for his son. Kumaraswamy said "those active on social media are not the voters of Mandya", which was a clear indication that the JD(S) MLAs had enough clout to ensure Nikhil's victory.
"Our party workers will follow what Shivakumar says. The Congress and JD(S) will work in tandem. We should look at the bigger picture of winning maximum seats as a coalition and reduce the BJP to single digits. We should keep our emotions and choices aside for now," a senior Congress leader told ThePrint.
Opposition to Nikhil's candidature
The buzz against Nikhil's candidature seems to be growing among the people of Mandya, with the main objection being built around his youth and lack of experience.
"It is not about our pride… We don't want a green horn to be fielded, especially when we have so many deserving senior politicians. Why only Nikhil? We have nothing against him personally, he is young and has a long way to go. He is not even married, how will he manage a constituency if he does not know how to handle responsibility?" asks Congress leader Jayaram.
---
Also read: Astrologers & rituals — the Gowdas are leaving nothing to chance
---
Taranath, who runs a medical shop in Kodishettypura, says: "We are largely JD(S) voters here. But we are hurt that we were not consulted before pitching Kumaraswamy's son from Mandya. He is way too young and does not have any political experience. He should have worked and shown us his capabilities first."
Chandrakant, who runs a grocery store, says if it comes down to a head-to-head battle between Sumalatha and Nikhil, it would be "50-50".
"Akka (older sister) is trying hard, and everyday we see the news and how things are influencing people. However, we in Mandya will vote for the 'swabhimaana' (pride) of Mandya. We are a very smart electorate and we know who will do us good," he says.
Kumaraswamy's brother and state PWD minister H.D. Revanna recently accused Sumalatha of "displaying political ambition" instead of grieving for her late husband, but this has not gone down well with the electorate, locals say. It's the same case with JD(S) MLA D.C. Thammanna's jibe that people should not fall for "colourful" talk.
The support for Sumalatha seems to be growing, even though she herself is a greenhorn. But her own popularity, combined with Ambareesh's goodwill and the question-marks against Nikhil Gowda are making Mandya an interesting electoral battle to watch.
Sumalatha, though, is not worried about taking on the might of the Gowda family.
"I have no money to fight this election. But I am rich with the love of the people of Mandya, and that is enough for me," she says.
Get the PrintEssential to make sense of the day's key developments