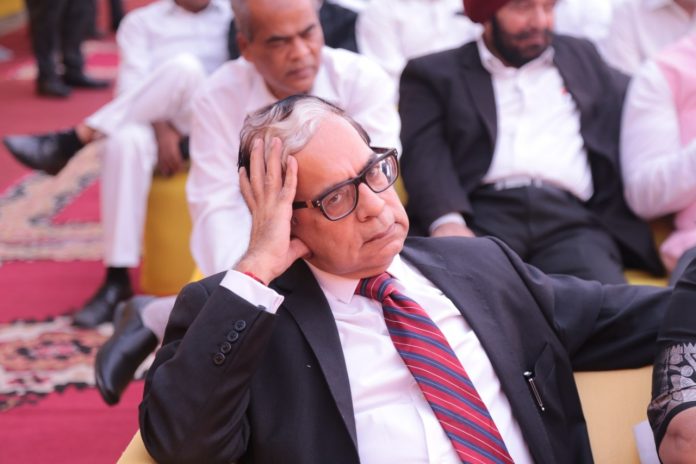 Text Size:
Front Page
Sunday makes Monday's headlines. And the Times of India's missing flap, lightweight 16-page edition is the curio of the day.
The lead Monday follows the ThePrint's Sunday report that Justice A.K. Sikri, who voted along with the prime minister for the removal of Alok Verma's as Central Bureau of Investigation (CBI) director, had been selected as a member of the Commonwealth Secretariat Arbitral Tribunal (CSAT), post retirement, and the subsequent Indian Express report that he had turned down the offer late Sunday.
Hindustan Times, alone, felt that "Plans afoot to make it easier to walk in Delhi" deserved higher billing.
The Hindu's "Justice Sikri turns down offer" and Times Of India's "SC Judge who voted against CBI chief declines C'wealth post", report Sunday's developments from Justice Sikri's viewpoint: "Pained by the suggestion that he voted to remove Alok Verma, as a quid pro quo" for his CSAT selection. TOI quotes him: "(I was) deeply distressed" by the connection between the two being made. "I am repenting why I gave consent for taking up this insignificant post".
Neither paper credit ThePrint or the Express for their reports on Sikri. TOI does not bother to attribute the "suggestion" of a "quid pro quo" to any source. The Hindu simply says "media reports" but HT and Express both source the cause of Justice Sikri's "pain".
Congress's decision Sunday to "contest all 80 seats in UP on its own" (HT) was the other main lead. Each paper chooses its own slant. "Congress says SP-BSP snub a boon," writes TOI, "A day after it was 'dumped'…" Contrast this with Hindu's "Congress to contest all 80 in U.P., but doors open for allies", which says the decision comes a day after SP-BSP "announced" their alliance.
 The Express says Congress was "left out" by BSP and SP. It highlights UP in-charge Ghulam Nabi Azad comments: "While admitting that the party was keen on being part of the grand anti-BJP alliance," he said nothing could be done if "'someone doesn't want to walk along"'.
 Opinion
It's all about the BSP-SP alliance in Uttar Pradesh, today. TOI headlines its editorial "Bua-Bhatija Alliance", the Express "Lucknow Alliance" —both statements more than opinion. HT deems the BSP-SP alliance, "A key part of the jigsaw in place" while Hindu castigates the two for, "Sharing but not caring", adding that the alliance does little for pre-poll opposition unity.
The Express disagrees: it is "a moment bristling with possibilities — and challenges". It asks for the allies to make "credible" case for their alliance.
The Hindu says the alliance has "thrown a serious challenge" to the BJP "in a state that could well determine which political formation forms the next Central government".
While TOI saw BSP-SP "snub" Congress on Page 1, its edit feels "the door might still be open for Congress… in a post poll arrangement". It adds, "this alliance in the bellwether state…should give Modi-Shah combine some sleepless nights."
Other stories
The mining disaster in Meghalaya is increasingly ignored by the media so Express's "Meghalaya govt colluded with miners: Report to SC" is a welcome although distressing story on how the state government and coal miners "actively colluded… to illegally extract coal".
Its second lead, "Gujarat first to act on 10% quota", on the new Bill being implemented by the state from today, finds a one-column report in TOI but is missing from HT and Hindu front pages.
TOI's second lead  on "3 yrs on, Kanhaiya, 9 others to be charged with sedition" is the second distressing story on the issue after Friday's news of sedition cases in Assam against three people, including a journalist.
Prime Time
Sunday's prime time was unusually sober by its usual standards. Maybe that's because, other than Arnab Goswami, leading TV anchors rest their vocal chords on the day of rest.
So instead of deafening debates, the focus shifted to individual interviews.
CNN News18 termed its 7-8 minute Q&A with Congress president Rahul Gandhi in Dubai at 7 pm "the biggest interview of the year". That Prime Minister Narendra Modi's ANI interview, telecast across news channels, had already been hailed as the "biggest" interview of 2019, didn't seem to bother the news channel, in the least, as it promoted the interview all afternoon.
As is his habit, nowadays, Rahul found a way to introduce "Rafale-Anil Ambani" into each of his replies. Besides that, he paid his respects to "Akhilesh ji" and "Mayawati ji" before announcing that Congress would fight all 80 seat in UP.
On India Today, Uttar Pradesh chief minister Yogi Adityanath offered him a helping hand: "We will smash BSP, SP," he told anchor Rohit Sardana, in his "first interview" since Saturday's announcement of the SP-BSP alliance.
What it is with interviews which must always come 'first', like they're still at school?
Adityanath was the target of India Today anchor Pooja Shali: she wondered how he could take the moral high ground on the SP-BSP alliance by calling it, "opportunistic" when BJP had entered into several such alliances, too. BJP leader Tuhin Sinha evaded Pooja's question, saying instead, "Who saved Mayawati when she was attacked by Samajwadi Party goons in 1995? It was a BJP MLA. Eventually, Mayawati sided with BJP. BJP is not opportunistic…"
Samajwadi Party spokesperson Juhie Singh was more cutting: "Chief Minister of Uttar Pradesh is a criminal. His total lack of governance and non-implementation of policy is his agenda."
Rajat Sharma went soft on actor Alia Bhatt during his Aap Ki Adalat (India TV), lobbing gentle questions about Ranbir Kapoor at her.
Meanwhile, Aaj Tak's Sweta Singh was somewhat overawed by her Seedhi Baat guest — former Delhi chief minister Sheila Dikshit.
Dikshit was urbane, calm and firm: she refused to comment on the development work done by current Delhi chief minister Arvind Kejriwal, other than a wry comment:  "AAP is good in advertising  (itself) and…  media houses buy that."
संविधान के अनुसार दिल्ली सरकार के अधिकार सीमित हैं: @SheilaDikshit #SeedhiBaat
देखिए पूरा कार्यक्रम @SwetaSinghAT के साथ: https://t.co/7ED2pzPEkL pic.twitter.com/doOTlzUWeD

— आज तक (@aajtak) January 13, 2019
Asked if her age might weigh with voters in the next state assembly elections due in 2020. Dikshit said tartly, "I cannot reduce my age by just lying."
Republic TV's anchor Arnab Goswami began his Sunday debate with self congratulation: he referred to the previous Sunday's debate where he had nailed BJP leader Narendra Taneja on BJP's "lies". "It is our job to ask tough questions to both sides,: he said, "I am glad people are watching."
Tweets of the day
One big mistake by CBI Director Alok Verma was that he didn't expose the CVC at the time he came to meet him to do a deal on behalf of Asthana & govt. If Verma had gone public then the CVC wouldn't have had any credibility left to even conduct an inquiry against Verma.

— M K Venu (@mkvenu1) January 13, 2019
I'm in the White House, waiting. The Democrats are everywhere but Washington as people await their pay. They are having fun and not even talking!

— Donald J. Trump (@realDonaldTrump) January 13, 2019
Get the PrintEssential to make sense of the day's key developments