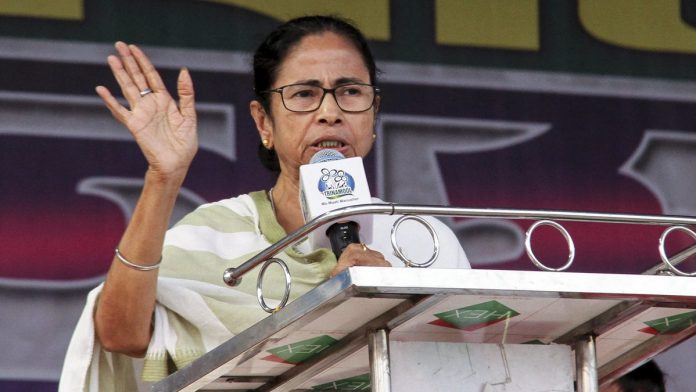 Text Size:
Prime Time
Actor Kamal Haasan's remark that Nathuram Godse was India's first terrorist, Mayawati's attack on PM Modi abandoning his wife and the arrest of BJYM worker Priyanka Sharma in West Bengal for allegedly sharing a meme on Chief Minister Mamata Banerjee, held sway on the prime time debates on most channels led by Times Now and Republic.
ABP News: On Masterstroke, Hindu Sena leader Ashok Sharma was so enraged by Haasan's attack on Godse that he launched his own: Godse is a "hero", Mahatma Gandhi is the "first terrorist" of the country, he declared. Anchor Rubika Liyaquat said Haasan was playing "divisive'' politics.
Times Now: Anchor Padmaja Joshi wondered how someone could be jailed for sharing a meme on Mamata Banerjee.
"Sharing memes, making wall cartoons is very traditional in West Bengal", agreed BJP's Anirban Ganguly.
However, TMC loyalist Monojit Mondal backed Mamata to the hilt: "Any message which divides society must be seen differently".
NDTV India: Anchor Ravish Kumar was less generous: Mamata's action was an insult to democracy. She frequently criticised the BJP for its dictatorial behavior – her offer of a 'slap of democracy' to the PM, her arrest of a professor for sharing a cartoon on her, her denial of landing rights to helicopters carrying BJP leaders for rallies in Bengal and the continuing poll violence all point to a disrespect for democracy, he added. `'What she did is not right — Mamata's accusations ring hollow''.
India Today: In 'Maya v/s Modi', anchor Rajdeep Sardesai asked BJP's Amit Malviya if Mayawati and Modi's poll rhetoric had reached another new low.
"Mayawati is unfit to be in public life," Malviya replied nastily. "She has realised that the gathbandhan has collapsed, so she has attacked the PM".
Vivek Kumar, JNU, a Mayawati supporter, took great offense, saying Malviya's language betrayed his "upper caste arrogance".
INDIA TV: Anchor Rajat Sharma ignored the day's controversies; instead, he drew attention to political manoeuvres by the third front.
Sharma pointed to Telangana Chief Minister K Chandrashekhar Rao meeting with DMK chief Stalin in Chennai — Rao wants to form a non-BJP, non-Congress front– and the proposed opposition parties meet planned for 21 May, two days ahead of vote-counting on May 23.
Tiranga TV: Anchor Barkha Dutt interviewed journalist Aatish Taseer who had described Modi as the "divider-in-chief" in Time magazine's cover story last week.
Did Modi's 2014 victory arise out of Congress's status quo politics "that could not survive", Taseer agreed that it did. He criticised Rahul Gandhi for launching his sister into politics — "it is a shocking" way to respond after five years. They represent a "clubbish, clannish Delhi… Modi was right to criticise it".
On Modi, he said his rise was "pure reaction" to the Congress culture. "BJP doesn't have a programme", he added. He said Modi was propelled by a desire to build India on the South Korean model and promote Hindu nationalism — the more the former failed, the more the latter grew.
He added that Yogi Adityanath's elevation to UP chief minister, the merging of criminality and nationalism with the candidature of Pragya Thakur were the two low points of a five-year Modi term.
Front page
Newspapers on Tuesday morning are not on the same page.
For The Indian Express and The Hindu, diplomatic ties lead the way. The Hindu's "China hits back, imposes tariff hike on US goods worth $60 bn" says "Despite the retaliation, Beijing appeared to give time to find a resolution by setting the June 1 date".
When the US warned China to not retaliate, "Beijing appeared to dig in", it adds.
Hindustan Times puts this news on page 17 under its 'Business' section.
Express looks closer to home in "Amid US-Iran heat, Tehran sends its foreign minister to New Delhi for talks" following the US's decision to ban oil imports from Iran.  "The two sides are likely to discuss the impact of the US decision….", it writes, adding that Iran's Mohammed Javad Zarif and Sushma Swaraj, "are likely to discuss the future of the Chabahar project because the Trump administration has promises that exemption on Chabahar will continue''.
The Times of India puts the Iranian foreign minister's visit on page 8, and gives it a completely different spin: The purpose of the meeting is for Iran to "explain it's N-deal stand".
"As Tehran begins the process of distancing itself from the nuclear deal in response to US sanctions, Iranian foreign minister Javad Zarif arrived ….to explain Tehran's point of view…", it writes.
Express doesn't mention this or that Zarif is expected to meet National Security Advisor Ajit Doval as well.
Pollution
"No summer respite from air pollution this season" is Hindustan Times' lead. It attributes the rising pollution to "westerly winds bringing dust from neighbouring states, stubble burning from parts of Punjab and Haryana, and forest fires in Uttarakhand".
Express gives this fourth billing, but blames "a delayed harvest of wheat crop in Punjab and Haryana and most pollution control board officials deployed on election duty" for the "spike in crop residue burning". It calls it a "worrying new trend" in its 'Explained' box.
KCR – Stalin meet
"Stalin remains unswayed by KCR on ties with Congress" reads a headline in The Hindu.
Its sources said Rao, who "had propounded the idea of a Federal Front, was insistent that regional parties have their voice heard in the future government", but Stalin "stuck to his stand on the Congress."
Express and HT put the news on their front pages too, accompanied by photographs of the two greeting one another with smiles.
Other news
BSP chief Mayawati makes it to the front pages of the Express and HT. Express says "just six days" before voting concludes, Mayawati "launched a bitter personal attack" on Prime Minister Narendra Modi, saying men from the party might be inspired by the PM and leave their own wives. The BJP has demanded she apologise for the "slur".
HT's second lead is "Rural incomes slow down, may necessitate stimulus". It writes: "Rural wages, critical for the overall economy, barely rose during 2018-2019, stoking a slowdown in demand, consumption, and corporate earnings".
The Hindu's second lead is that the "Auto sales plunge 16% across segments to a 10-year low''—Express, however, says it is `Steepest dip in 8 years…' in its Page 15 report.
Opinion
HT in 'The conflict in the opposition' is skeptical of the efforts to form a government comprising the opposition parties if the NDA falls short of a majority – "…in key states, broad opposition unity remained an illusion, once competitive politics took over," it writes, citing UP, Delhi and Haryana.
"And there will be the inevitable clash of ambitions" on who will be the PM. There are four sets of claimants already: Mayawati, Mamata, KCR and Rahul Gandhi. HT says the belief that Modi will fall short —"which may well be untrue" — sees "the competitive game in their ranks…set to begin".
Business Standard in 'The Facebook question' supports the suggestion by one of its co-founders, Chirs Hughes, that the social media giant ought to be 'broken up into multiple companies' as this will foster competition, increase investment in creating competing social networks, see the creation of new models, and "every player would be more vigilant about privacy", while offering consumers more choice.
As of now, Mark Zuckerberg with 60 per cent voting stock in Facebook — which also owns WhatsApp and Instagram — has absolute power to set "the direction of FB's algorithms" and since FB is also the world's biggest global platform for aggregated news, "this level of media control" in one man's hands is 'unprecedented'.
Tweet of the day
STOP. BREATHE. THINK. OPEN YOUR EYES. If we lose ourselves in violence, racism, thuggery and hatred we lose our country. Unite as Sri Lankans, be peaceful, keep each other safe. Do not give into shameful, divisive political agendas. WE HEAL AND RISE TOGETHER AS ONE NATION

— Kumar Sangakkara (@KumarSanga2) May 14, 2019
With inputs from Shailaja Bajpai
Get the PrintEssential to make sense of the day's key developments